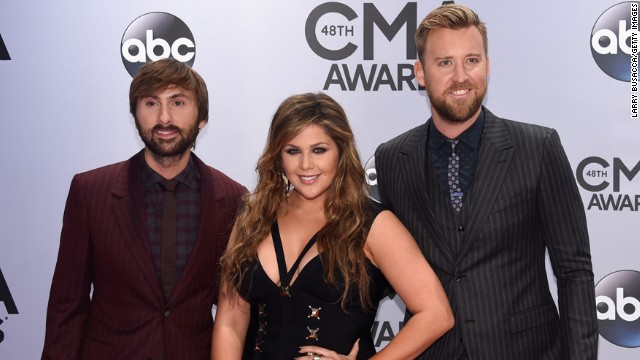 Dave Haywood, Hillary Scott, and Charles Kelley of Lady Antebellum attend the 48th annual CMA Awards at the Bridgestone Arena on Wednesday, November 5, in Nashville.
Blake Shelton and Miranda Lambert. The "Somethin' Bad" songstress leads this year's group of nominees with nine nominations, matching the number of nods she got in 2010.
Carrie Underwood is co-hosting the CMA Awards with Brad Paisley.
Faith Hill and Tim McGraw
Neil Perry, Kimberly Perry and Reid Perry of The Band Perry, with Steven Tyler.
Nicole Kidman and Keith Urban.
Kacey Musgraves is nominated for female vocalist of the year.
Kimberly Williams-Paisley
Tyler Hubbard and Brian Kelley of Florida Georgia Line.
Cole Swindell is nominated for new artist of the year.
Patrick Simmons, John McFee, Michael McDonald, and Tom Johnston of the Doobie Brothers.
Natalia Starzynski and Dallas Davidson
Jennifer Nettles
Trisha Yearwood and Garth Brooks
Lily and Ruby Aldridge
Chaley Rose
Patty Hanson and Chip Esten
Brandy Clark
John and TJ Osborne of Brothers Osborne.
Eric Gunderson and Stephen Barker Liles of Love + Theft.
Luke Bryan
Jason Aldean and Brittany Kerr
Dierks Bentley and Cassidy Black
2014 CMA Awards: Red carpet
2014 CMA Awards: Red carpet
2014 CMA Awards: Red carpet
2014 CMA Awards: Red carpet
2014 CMA Awards: Red carpet
2014 CMA Awards: Red carpet
2014 CMA Awards: Red carpet
2014 CMA Awards: Red carpet
2014 CMA Awards: Red carpet
2014 CMA Awards: Red carpet
2014 CMA Awards: Red carpet
2014 CMA Awards: Red carpet
2014 CMA Awards: Red carpet
2014 CMA Awards: Red carpet
2014 CMA Awards: Red carpet
2014 CMA Awards: Red carpet
2014 CMA Awards: Red carpet
2014 CMA Awards: Red carpet
2014 CMA Awards: Red carpet
2014 CMA Awards: Red carpet
2014 CMA Awards: Red carpet
2014 CMA Awards: Red carpet
2014 CMA Awards: Red carpet