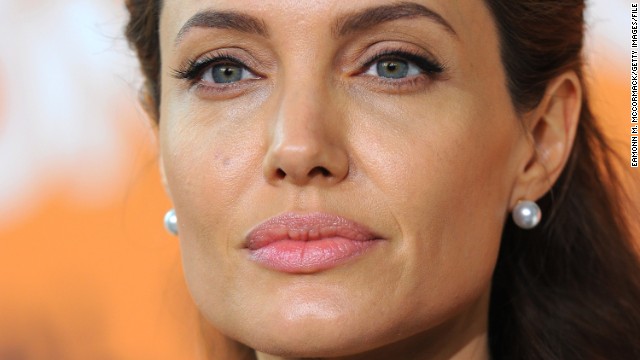 Angelina Jolie didn't just make a fan happy; she helped comfort her.
According to the New York Daily News
, Jolie was leaving the "Daily Show" studios on Thursday, December 4, when a waiting fan named Techne exclaimed that she was having a panic attack. Jolie took time to wipe her tears, signed some memorabilia and took two selfies with her. She's not the only celebrity to join the rest of us in real life.
Peter Capaldi, who plays the 12th incarnation of Doctor Who, sent a video message to a 9-year-old fan grieving the loss of his grandmother. "You should know that we're on your side. So you look after yourself, take care and be happy."
When Benedict Cumberbatch wanted to share news of his engagement to director and actress Sophie Hunter, he kept it delightfully traditional. The announcement was made with nothing more than a six-line notice in the UK's The Times. Way to keep it real, Sherlock!
some schoolkids
in October. Invoking his "Lord of the Rings" character Gandalf the Grey, McKellen warned a gaggle of British students gathered outside a library window that they'd better buckle down. "If you don't do your revision properly, do you know what will happen?" McKellen said to his rapt audience. "YOU SHALL NOT PASS!" Cue the cheers, and extra points for McKellen for not being too famous to encourage young fans.
Sir Ian McKellen had a laugh with
Is there a better surprise for a Trekkie than a visit from Patrick Stewart? The actor took some time out from his appearance at Atlanta's Dragon Con on August 29 to meet a fan named Dawn Garrigus. The young girl has mitochondrial disease and asked to meet Stewart through the Make-A-Wish Foundation. Stewart talked with her for a while, signed autographs and gave her a heartwarming hug.
According to E! News
, the Oscar nominee got behind the grill and learned how to flip burgers for a role in an upcoming movie.
Bradley Cooper wasn't just stopping by a London Burger King for a Whopper run on July 29. He was actually doing work -- and in more ways than one.
Gellar tweeted
, along with a snapshot of the roadside watering hole. (No word on how much she earned on the job.)
With the cancellation of Sarah Michelle Gellar's CBS show "The Crazy Ones," the actress has turned to less glamorous career options. On July 13, the mother of two joked that a lemonade stand was her newest way to bring home the bacon. "Got to earn a living somehow (right)?"
of
our parties. Not only does the superstar singer show up when called --
as she did when fan Gena Gabrielle
sent the star an invite to her bridal shower in Columbus, Ohio -- but she comes bearing gifts
.
Gabrielle, pictured here with Swift on the day of her bridal shower,
was gifted with plenty of cooking supplies
from the singer, including a KitchenAid mixer.
Taylor Swift should be invited to all
Cranston agreed to help one teen ask a girl to prom
: "Maddy, if you don't go to the prom with Stefan," Cranston intoned, "then maybe your best course of action would be to tread lightly." Obviously Maddy must be a "Breaking Bad" fan, because she said yes.
Bryan Cranston has gone from "Breaking Bad" to Broadway, but the actor is happy to turn himself back into Walter White for a fan. While signing autographs after a recent performance of "All the Way,"
After an online effort to make it happen,
Jon Bon Jovi walked Australian bride-to-be Branka Delic down the aisle before her wedding to Gonzalo Cladera at the Graceland Wedding Chapel in Las Vegas on October 12, 2013.
Despite being one of the biggest celebrities around, Tom Hanks has a reputation for being a man of the people. Case in point: The actor quietly reported to jury duty in September 2013 before the case came to an abrupt end.
Dave Matthews gave one of his fans the experience
of a lifetime when he hopped into the back of her car after his bike broke down on his way to a concert in July 2013. The fan, Emily Kraus, has said how kind Matthews was, inviting her and her boyfriend to dinner and giving them front-row seats to the concert.
Jay Z proved that he's not too famous for NYC's subway
when he took the train to a performance at Brooklyn's Barclays Center in 2012. The artist chatted with another artist, Ellen Grossman, along the way.
New York Post
that it was "one of the most inspiring speeches we've had."
Most celebrities will announce their presence months before they arrive anywhere, especially if it's an event that will bring them positive press. But when Tom Cruise gave a commencement speech last year to aspiring actors at Joanne Baron/D.W. Brown Studio in Santa Monica, California, he showed up completely unannounced. One source told the
Since her relocation to New York City, Katie Holmes has been seen taking full advantage of the city that never sleeps. Aside from frequently strolling the streets of New York like a regular Joe, Holmes was also photographed
When stars get real
When stars get real
When stars get real
When stars get real
When stars get real
When stars get real
When stars get real
When stars get real
When stars get real
When stars get real
When stars get real
When stars get real
When stars get real
When stars get real
When stars get real
When stars get real
When stars get real