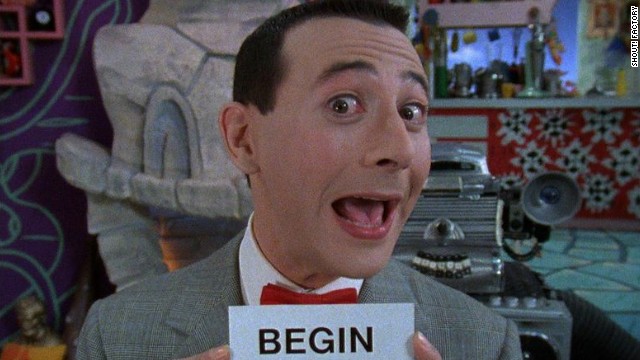 "Pee-wee's Playhouse" has been released for the first time on Blu-ray. The children's TV show ran from 1986-1990, winning 22 Emmys in its 45-episode run. Here, Pee-wee (Paul Reubens) is pictured displaying the day's secret word. So for the rest of the day, kids, whenever anyone says the word "begin," scream real loud, OK?
that Laurence Fishburne).
Chairy, Mr. Window, Pee-wee and Cowboy Curtis (Laurence Fishburne -- yes,
"Mecka-lecka hi, Mecka-hiney ho!" Jambi was the Playhouse's genie-in-residence. John Paragon, or rather, his disembodied head, played Jambi. He was also a writer on the series.
Pee-wee and the window box flowers have a heart to heart-to-heart-to-heart.
The beatnik puppet band (left to right): Dirty Dog, Chicky Baby and Cool Cat.
was their last name -- lived in the Playhouse wall, like mice.
The miniature Dinosaur Family -- Dinosaur
Globey the globe reads The Boston Globe as Pterri the pterodactyl, Randy the marionette puppet and Pee-wee look on.
Chairy the chair gave a whole new meaning to the word "armchair," because she lovingly wrapped her arms around those who sat on her.
Pee-wee wears his giant underpants on his head.
Globey, Conky, Pee-wee and Miss Yvonne (Lynne Marie Stewart).
The late, great Phil Hartman as Captain Carl.
Chairy envelopes Reba the mail lady (S. Epatha Merkerson of "Law and Order" fame) in an embrace.
Pee-wee and pals: Life in the 'Playhouse'
Pee-wee and pals: Life in the 'Playhouse'
Pee-wee and pals: Life in the 'Playhouse'
Pee-wee and pals: Life in the 'Playhouse'
Pee-wee and pals: Life in the 'Playhouse'
Pee-wee and pals: Life in the 'Playhouse'
Pee-wee and pals: Life in the 'Playhouse'
Pee-wee and pals: Life in the 'Playhouse'
Pee-wee and pals: Life in the 'Playhouse'
Pee-wee and pals: Life in the 'Playhouse'
Pee-wee and pals: Life in the 'Playhouse'