'Lady Ganga': What she did with just a few months to live
Join the conversation
CNN iReport
updated 8:32 AM EDT, Fri October 31, 2014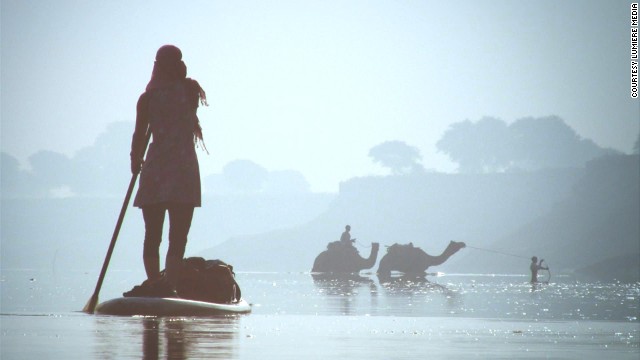 Michele Baldwin was 45 years old when she was diagnosed with terminal cancer. The single mother decided to do something extraordinary before her death: Break a world paddle boarding record on the Ganges River.
Someone You Love: The HPV Epidemic
," but her story was "too amazing and too epic," said filmmaker Frederic Lumiere. So he set about raising money to make a film solely about Baldwin.
Baldwin was supposed to be featured in the documentary "
Baldwin paddle boarded over 700 miles down the Ganges River, followed by a cameraman.
The camera captured vibrant footage of India as well as Baldwin's feat on the river.
The film documents Baldwin's courageous fight to raise awareness of HPV, the cause of most cervical cancers, and how preventable it is.
After Baldwin passed away in 2012, Lumiere struggled to finish the film. He now hopes to release it by summer 2015 with help from Kickstarter funds.
Lady Ganga
Lady Ganga
Lady Ganga
Lady Ganga
Lady Ganga
Lady Ganga
STORY HIGHLIGHTS
Michele Baldwin was given only a few months to live after her cervical cancer diagnosis
She paddle boarded down the Ganges River to raise awareness
A Kickstarter project is raising money to produce a documentary about her journey
(CNN) -- "I had to film her death," Frederic Lumiere says softly. "In the film, I'm behind the camera, and you can hear me crying."
This is a man who makes documentaries for a living, who shoots World War II specials on Normandy and the Battle of the Bulge for the History Channel.
But he broke down telling Michele Baldwin's story.
Baldwin, a 45-year-old single mother, was diagnosed with late-stage cervical cancer in 2011. Doctors gave her just a few months to live. So she decided to use the time she had left to make a difference.
Lumiere met Baldwin shortly after she returned from India, where she broke a world record paddle boarding more than 700 miles down the Ganges River to raise awareness of cervical cancer. The first time they spoke it was for hours, and the pair became instant friends. Baldwin was originally supposed to be a part of Lumiere's documentary, "Someone You Love: The HPV Epidemic," but her story was "too amazing and too epic," he says.
He decided instead to use footage a freelancer cameraman Nat Stone had shot of Baldwin's journey down the Ganges to create another documentary called "Lady Ganga."
He isn't taking the traditional route with this film -- selling it to a TV network or production studio. He didn't want the outside pressure. Instead, he and co-producer Mark Hefti are raising the money on Kickstarter. They plan to donate 100% of the profits from the film to the Michele Baldwin Memorial Fund, which is managed by the American Sexual Health Association.
Cervical cancer is a highly preventable cancer, according to the Centers for Disease Control and Prevention. It's caused by the human papillomavirus, or HPV, which has a vaccine. Yet every year more than 270,000 women die worldwide from the disease.
Baldwin passed away in February 2012. After her death, Lumiere couldn't bring himself to work on the film.
"Any time I tried to start it, I felt incredibly inadequate. Whatever I did, it wasn't good enough for her," he says.
His wife finally convinced him to see a therapist, who helped him realize his grieving was normal.
As Lumiere spoke early Thursday afternoon, the number of donations on his Kickstarter page continued to climb. In less than 12 hours, his project had raised more than $12,000.
Lumiere, who has contributed to CNN iReport since 2008, hopes to have the film out by summer 2015. He is writing Baldwin's story now "as if this is the last film I'll ever make."