STORY HIGHLIGHTS
NEW: The molten rock advances about 270 feet overnight
NEW: It's flowing at an average rate of between 15 and 30 feet per hour
At that rate, houses could be hit on Wednesday or Thursday
Are you affected by the lava? Share your images and stories with CNN iReport, but only if it is safe to do so.
Pahoa, Hawaii (CNN) -- A 2,000-degree river of lava could swallow a dozen Hawaiian homes in the next couple of days -- and there's nothing anyone can do about it.
The flow advanced overnight into Wednesday some 270 feet, said Darryl Oliveira, director of the Hawaii County Civil Defense. It speeds up and slows down, but on average is moving at a rate of between 15 and 30 feet per hour, he said.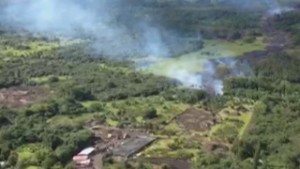 Chasing the lava in Hawaii
"Right now where the flow is moving, we're very fortunate because the number and concentration of structures is very low in that particular area. So it's hopeful that we'll have very little property loss, structure wise, as the flow advances," Oliveira told reporters Wednesday.
However, he cautioned, the flow is likely to widen as the eruption continues, and it's not clear what path the lava will take.
Molten rock from the Kilauea Volcano was about 350 yards from the nearest cluster of homes late Tuesday night, said Troy Scott of the Hawaii County Civil Defense Agency.
Authorities went door-to-door warning residents of the fiery ooze, but so far no mandatory evacuations are in place.
"As it moves across soil, you can hear and smell the fire," Scott said. "It is incredibly hot ... the heat is very strong."
Getting out ... or staying in
While many residents have already evacuated or moved their belongings, some might stay to watch the lava envelop their houses.
Scott said those people would be taken to a safe distance "to allow them to have their closure."
"We're going to be very sensitive to the fact that they'll be losing their home, and this would be a catastrophic event," Scott said.
The slow-moving lava flow began moving toward Pahoa in June, when a volcanic crater vented and released the river of liquid rock.
"Our goal is to work with the residents and business owners, as the lava flow goes through their area," said Oliveira. "There will be an opportunity for them to stay on site as long as it's safe to do so."
Oliveira also said authorities would issue additional advisories in the case of other health hazards.
As the flow continues, it is eating up whatever is in its path. On Tuesday, a pile of tires was consumed, which sent plumes of black smoke into the sky, he said.
Chest-high lava in some places
The dark ooze has already swallowed fences, flowed over a cemetery and neared major roads. On Tuesday, it set a wooden garden shed ablaze.
In some parts of this community of about 950 residents, the lava is chest high.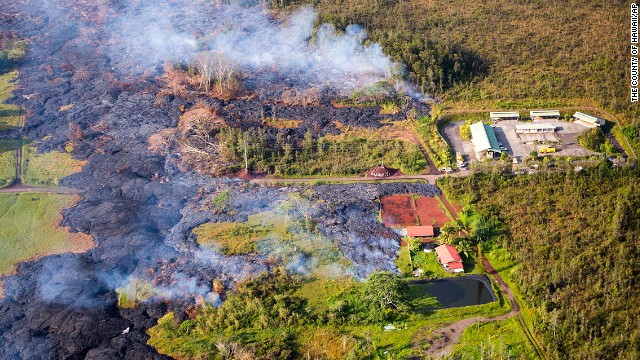 Lava flows near a residential structure in Pahoa, Hawaii, on Monday, November 10. The lava flow from the Kilauea Volcano is advancing on the community of about 950 people on Hawaii's Big Island and claimed its first home in the town, which has been watching the slow-moving flow approach for months.
Lava burns near the town of Pahoa on Sunday, November 9.
Lava flows over a fence marking a property line near the town of Pahoa on Friday, October 31.
Lava burns vegetation as it approaches a property boundary early on the morning of Tuesday, October 28.
Pictured here on Tuesday morning, October 28, lava had crossed into two privately owned properties.
Smoke rises near Apa'a Street and Pahoa Village Road in Pahoa, Hawaii, on Monday, October 27.
The horizontal incandescent cracks seen in the center and right portions of the photo, taken October 25, indicate that the flow was inflating: Fed by a continuing supply of lava beneath the cooling crust, the surface slowly rises.
Hawaiian Volcano Observatory geologists walk over the surface of the flow to track surface breakouts along a portion of the flow margin, about a kilometer (0.6 miles) up the slope from the flow front, on October 24.
Another view of the leading tip of the flow as it moves into the open pasture on October 24.
Pu'u O'o Crater, in the eastern rift zone of Kilauea, remains filled with thick fumes, but recent views with the naked eye and thermal camera confirm that little change has occurred in the crater over recent weeks. The fumes mask a handful of small, glowing openings on the crater floor.
A closer view of surface activity on September 15. "A lot of smoke (is) coming off the front, a lot of cracking noises, methane explosions are going on," said Tim Orr of the U.S. Geological Survey (USGS). "So, it's a noisy situation out there just from all the burning vegetation."
A view of the sinuous, channelized flow that was moving to the northeast from Kilauea on June 27. The flow threatening Pahoa has advanced about 13 miles (21 kilometers) since then. Kilauea is one of the world's most active volcanoes.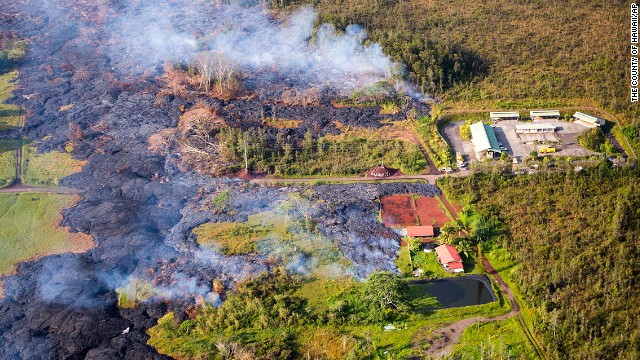 Lava crawls from Kilauea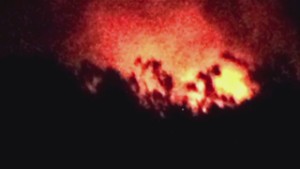 Up close as lava inches towards homes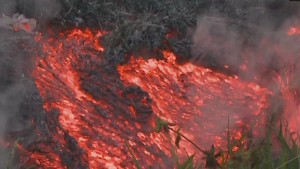 Lava flow threatens Hawaiian town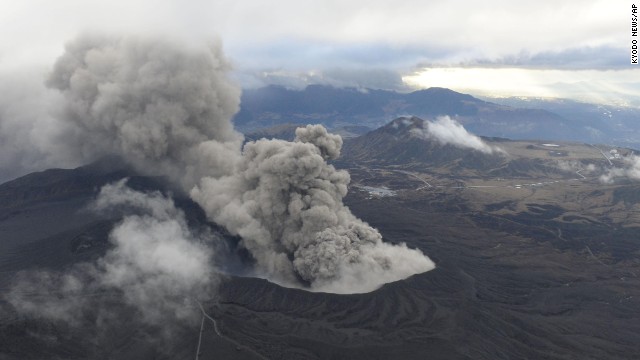 Volcanic smoke billows from Mount Aso on the southern Japanese island of Kyushu on Wednesday, November 26. The volcano is blasting out chunks of magma in its first eruption in 22 years, prompting flight cancellations and warnings to stay away from its crater.
The Turrialba volcano in Costa Rica spews ash on November 1.
Lava flows from the Kilauea volcano October 3 in Pahoa, Hawaii. The flow has recently picked up speed, prompting emergency officials to close part of the main road through town and tell residents to be prepared to evacuate.
Japan's Mount Sakurajima erupts on September 29. It was the second volcano in two days to erupt in Japan.
Dense white plumes rise high in the air as Mount Ontake erupts in central Japan on September 27.
Mount Slamet spews lava and gas during an eruption in Brebes, Indonesia, on September 18.
Fountains of lava spurt from a fissure in the ground on the north side of the Bardarbunga volcano in Iceland on September 2.
Mount Tavurvur erupts August 29 in eastern Papua New Guinea, forcing local communities to evacuate and international flights to be rerouted.
The Tungurahua volcano, as seen from Ambato, Ecuador, spews a column of ash on April 4. The volcano emitted a 6-mile-high column of ash after a powerful, five-minute explosion that shot pyroclastic material onto its northern and northwestern flanks. The volcano has been active since 1999, with several major eruptions in that span.
A villager in Karo, Indonesia, bathes in a river while Mount Sinabung erupts, spewing lava and giant clouds of ash on January 21.
Mount Etna, as seen from the town of Acireale, Italy, spews lava during an eruption on November 16.
Smoke and ash spew from Mount Sakurajima, in Kagoshima, Japan, on October 7, 2013.
Lava from the Puu Oo cone of the Kilauea volcano reaches the Pacific Ocean on the southeastern coast of Hawaii Island in January 2013. Puu Oo has been erupting for more than 30 years. This eruption, on the volcano's east rift, began in January 1983.
The Karymsky volcano erupts in Kamchatka, Russia, in January 2013.
The Copahue volcano emits smoke and ash above Caviahue, in Argentina's Neuquen province, in December 2012.
Western Mexico's Colima volcano emits lava in October 2004. The Global Volcanism Program reported "a bright thermal anomaly" as well as gas emission in November 2013.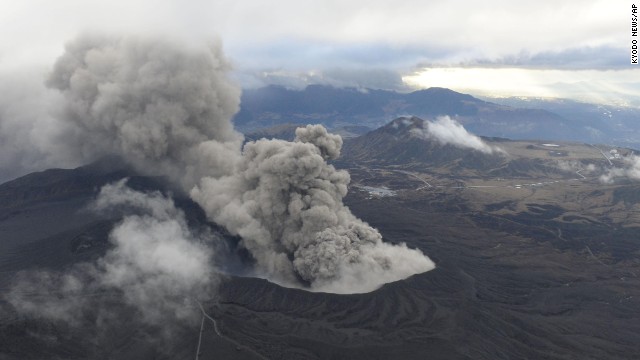 Photos: Recently active volcanoes
Alii Hauanio has started packing his things, including his parents' memorabilia, CNN affiliate KHNL reported. His mother and father lost their dream Kalapana beach home to lava flow in 1991, and Hauanio never thought he'd see his home meet the same fate, he told the station.
He hopes to watch the lava pass through, if it does.
"To see it, in actuality, I think it might bring closure to know that it's done and turn that page, and we're starting another chapter," Hauanio told the affiliate.
Oliveira said authorities weren't going to try to divert the flow.
"No matter how you would turn it, you would direct it toward someone's property," he said.
Taking precautions
The Hawaii County Civil Defense Agency has rebuilt two gravel roads to give residents escape routes from the lava flow. Power company crews are installing 70-foot-tall poles with heat resistant protection to raise cables higher off the roads.
Kristen Okinaka, a spokeswoman for the Hawaii Electric Light Company, said there were no outages due to the lava flow.
Bay Clinic said those needing medication will still be able to get it.
"If for some reason someone can't get to our clinic, we will be there with the mobile unit," CEO Harold Wallace said.
'There's no stopping it'
The lava flow is not exactly a surprise, because it started June 27 and has advanced about 13 miles since then. Kilauea is one of the world's most active volcanoes.
What could change, though, is the pace of the flow. If the lava channels through a narrow area, the flow could accelerate.
Either way, "this lava flow is going to continue," Scott said. "There's no stopping it."
CNN's Martin Savidge reported from Pahoa; Holly Yan reported from Atlanta. CNN's Ralph Ellis, Michael Pearson and Steve Almasy contributed to this report.