STORY HIGHLIGHTS
Tim Stanley: It's depressing to hear people talking about Jeb Bush and a possible 2016 run
He says Bush has merits compared to GOP newbies
But a Bush vs. Clinton race would be a giant step backward in time, Stanley says
Stanley: Washington exhausted by old policy battles, players; needs fresh ideas, new start
Editor's note: Timothy Stanley is a historian and columnist for Britain's Daily Telegraph. He is the author of the new book "Citizen Hollywood: How the Collaboration Between L.A. and D.C. Revolutionized American Politics." The opinions expressed in this commentary are solely those of the author.
(CNN) -- I've returned to Washington after a long time away in my home in Britain to get a sense of the political mood in the run-up to the 2016 presidential election. And I'm pretty depressed to discover that everyone is talking about Jeb Bush.
It's not that he wouldn't make a strong candidate for the GOP. It's that the thought of a third Bush in the White House feels distinctly un-American. Like you're all giving up on the whole "revolution" thing in favor of English-style aristocracy.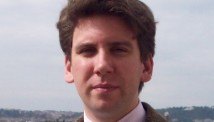 Timothy Stanley
Speculation was reignited -- one suspects entirely by accident -- when George P. Bush told ABC that his father is "giving [the presidency] serious thought and moving ... forward." I've heard the opposite, that the candidate hasn't quite got the requisite enthusiasm. He also has plenty of weaknesses hidden by the fact that he hasn't declared yet (voters are always far keener on people who aren't officially running than those who are).
As Chris Cillizza wrote in The Washington Post, the former Florida governor's polling is unspectacular, he disagrees with the GOP base on some important issues and his patrician tone is better-suited to a general election than to a primary campaign.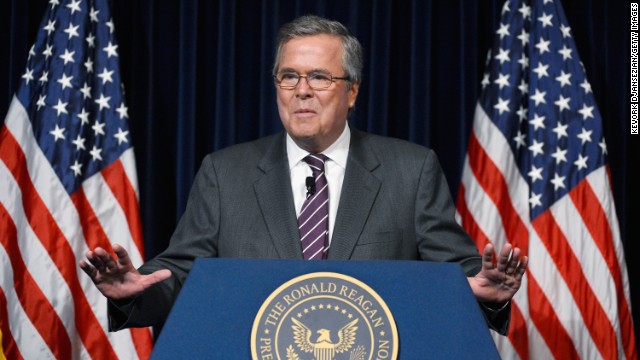 Former Florida Gov. Jeb Bush has said his decision to run for the Republican nomination will be based on two things -- his family and whether he can lift America's spirit. His father and brother formerly served as President.
Gov. Scott Walker of Wisconsin, recently re-elected to a second term, is considered a possible Republican candidate.
Republican Texas Gov. Rick Perry announced in 2013 that he would not be seeking re-election, leading to speculation he might mount a second White House bid.
Mitt Romney probably won't be running for president again in 2016. He has suggested the chances of a third run are close to a million to one. But that hasn't kept some Republicans from encouraging him to enter the race if another legitimate candidate doesn't step up. Ann Romney, for her part, is not excited at the prospect. She told the LA Times Oct. 14th that she and her husband are "done done done" with running for office. Romney is still a draw on the campaign circuit. He is shown here stumping for senate candidate Joni Ernst in Iowa Oct. 11, 2014. (Photo by David Greedy/Getty Images)
Hillary Clinton continues to have an overwhelming lead over other possible 2016 Democratic presidential candidates. Although the former first lady and secretary of state has not said whether she'll run, a group of PACs and advocacy organizations have begun the process of raising money and aiding a hypothetical campaign.
Vice President Joe Biden has twice before made unsuccessful bids for the Oval Office -- in 1988 and 2008. A former senator known for his foreign policy and national security expertise, Biden made the rounds on the morning shows recently and said he thinks he'd "make a good President."
Sen. Marco Rubio, a Republican rising star from Florida, was swept into office in 2010 on the back of tea party fervor. But his support of comprehensive immigration reform, which passed the Senate but has stalled in the House, has led some in his party to sour on his prospects.
New Jersey Gov. Chris Christie has fallen out of the top spot among potential Republican presidential candidates with a political scandal roiling his administration.
Rep. Paul Ryan, a former 2012 vice presidential candidate and fiscally conservative budget hawk, says he's "keeping my options open" for a possible presidential run but is not focused on it.
Sen. Rand Paul has said that he was seriously considering a run for president in 2016. If the tea party favorite decides to jump in, he likely will have to address previous controversies that include comments on civil rights, a plagiarism allegation, and his assertion the top NSA official lied to Congress about surveillance.
Texas Sen. Ted Cruz plans to travel to states that factor into the early nomination process. The first-term Republican and tea party darling is considered a gifted orator and smart politician. He is best known in the Senate for his marathon filibuster over defunding Obamacare.
Maryland Democratic Gov. Martin O'Malley released a "buzzy" political video in November 2013 in tandem with visits to New Hampshire. He also headlined a Democratic Party event in South Carolina, which holds the first southern primary.
Louisiana Gov. Bobby Jindal said recently it's too early to announce whether he'll run. Jindal has said he wants to focus on "winning the war of ideas" before making a decision on his presidential ambitions.
Former Pennsylvania Sen. Rick Santorum, a social conservative, gave Mitt Romney his toughest challenge in the nomination fight last time out and has made trips recently to early voting states, including Iowa and South Carolina.
Political observers expect New York Gov. Andrew Cuomo to yield to Hillary Clinton should she run in 2016, fearing there wouldn't be room in the race for two Democrats from the Empire State. Should she not jump in, Cuomo would then be a potential candidate.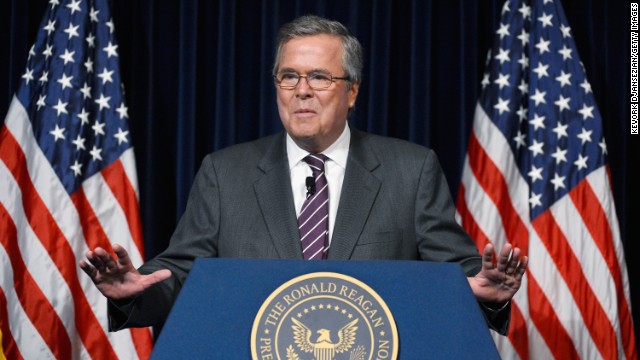 Potential 2016 presidential candidates
Having said that, Jeb would still be a more than worthy addition to the race that right now is full of newbies to national politics (Ted Cruz, Rand Paul, etc.). He has gravitas, executive experience in a major state and a record of winning votes among the groups to which Republicans know they need to reach out.
Bush speaks Spanish, his wife was born in Mexico and he took an astonishing 61% of the Hispanic vote in the 1998 governor's race. There's a case for putting Jeb on the ticket just to win Florida back: its growing, non-Cuban, Hispanic population helped give it to Barack Obama in 2008 and 2012.
But there is one big argument against a Bush candidacy: his name. I hate to sound so superficial, but I sense that it does matter for a whole host of complex psychological reasons.
It brings back memories of his brother, George W., who polls suggest is blamed by a significant number of people for America's problems. If the race is Bush vs. Clinton in 2016, then it's a clash of nostalgias -- and Americans' feelings about the Clinton years are probably a lot warmer than they are about the Bush ones. It's job security vs. credit crunch and relative peace vs. endless war.
The irony is that Jeb is probably politically a little more polished than either his brother or even father (he doesn't suffer from the strange verbal tics of George W. and George H.W. -- recall that the family patriarch once told people that he'd had "some sex" with Ronald Reagan). But by sheer coincidence of running for office after them, he will be associated with their myriad weaknesses.
Moreover, family matriarch Barbara Bush was quite correct when she said that there was something innately unsettling about the thought of yet another Bush running for the presidency.
Last year, she told Matt Lauer that although Jeb was the best candidate available (that's a proud mom speaking): "I think it's a great country, there are a lot of great families, and it's not just four families whatever. There are other people out there that are very qualified, and we've had enough Bushes." The same could be said about the Clintons, but you probably won't find a Clinton modest enough to say it. Barbara has stopped saying it, according to The New York Times, because the family has asked her to quit.
America is supposed to be a democracy and, as such, its citizens should not tolerate aristocratic oligarchs lightly. If Jeb Bush ran and won, there would have been no decade without a Bush in the White House since the 1970s. And no Republican ticket would have won without a Bush or a Nixon on it since 1928.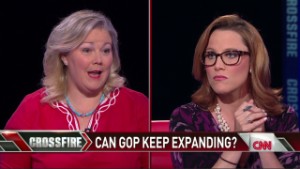 Is Jeb Bush Dem's worst nightmare?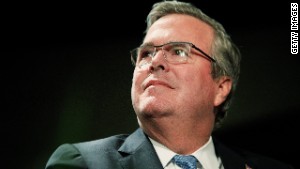 Jeb Bush sounding like a candidate
It's perfectly possible that the Bush family is uniquely talented. But it's more likely that a dearth of political talent in the United States has allowed them to concentrate far too much power in their hands. That they might go up against the Clintons in 2016 makes journalists salivate at the prospect of a "grudge match." But is it really healthy for American democracy forever to be looking backward?
Especially at a moment in time when politics is defined by gridlock, I sense that Washington, and the rest of the country, is exhausted by old battles over policy. What's needed is a fresh new start. That might translate into a vote for youth (Marco Rubio), for a new philosophical direction (Elizabeth Warren or Rand Paul) or for the elevation of a "common man" who gets the middle-class (Chris Christie).
What I doubt it'll mean is the keys of the White House returning to the Bush family. For all their undoubted service to the presidency, they don't own it.
Read CNNOpinion's new Flipboard magazine.
Follow us on Twitter @CNNOpinion.
Join us on Facebook.com/CNNOpinion.