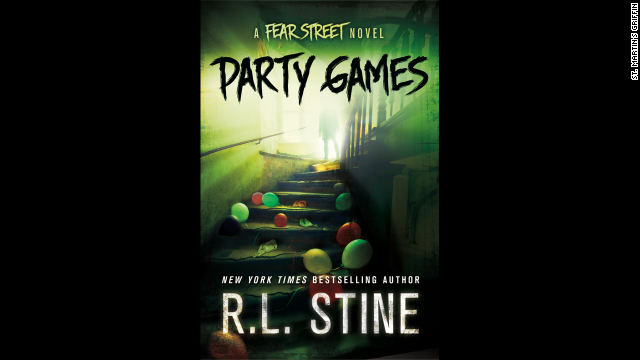 R.L. Stine's "Fear Street" series for teens has always been a favorite with fans, who are pretty attached to the book covers, too. Here are some top covers, according to the
official R.L. Stine fan forum
, along with some of his thoughts on terrifying teenagers.
"Close point of view, that's my big secret," Stine said. "You're in one character's head, and everything in the book happens through her. Everything she sees, you see. It all goes through her, every smell, every sound. You come to identify with her and that's how you really make something scary."
"Reading the same thrilling books together creates this shared experience," Kendare Blake, author of YA horror novel "Anna Dressed in Blood," said. "When young readers get a hold of it, they feel like they're doing something maybe a little illicit and older than what they are. When I was in school, those R.L. Stine books were passed around like bubblegum."
"How many hundreds of teenagers I have I killed?" Stine ponders, referring to his "Fear Street" series. Too many to count, apparently.
"In order to write a horror series, we realized that you can't have continuing characters," Stine said. "So the 'Fear Street' basis was a normal town with this one street where terrible things happen to people. The location became the star."
"Series keep you going," Stine said. "There was a time when I was writing a 'Goosebumps' and a 'Fear Street' novel a month."
"I've been criticized for not having much characterization in my books," Stine said. "It's deliberate, I don't want to create a whole character, I want the reader to feel like the character. So I'm great at full-blown cardboard characters."
"Fears never change," Stine said. "It's dark, someone's chasing you, that thrill never changes."
"When we first started doing the teen horror novels, I wasn't allowed to kill anyone," Stine said. "We started getting bolder, one per book, maybe two or three. Then, it's a bloodfest." Click through the rest of our gallery to see more fan favorite "Fear Street" covers:
"Cheerleaders: The Third Evil"
"99 Fear Street: The Third Horror"
"Final Grade"
"The Overnight"
"The Perfect Date"
"Ski Weekend"
"The Secret Bedroom"
"What Holly Heard"
"The Surprise Party"
"Trapped"
"Who Killed the Homecoming Queen?"
"Fear Street Sage #1: The Betrayal"
Favorite 'Fear Street' covers
Favorite 'Fear Street' covers
Favorite 'Fear Street' covers
Favorite 'Fear Street' covers
Favorite 'Fear Street' covers
Favorite 'Fear Street' covers
Favorite 'Fear Street' covers
Favorite 'Fear Street' covers
Favorite 'Fear Street' covers
Favorite 'Fear Street' covers
Favorite 'Fear Street' covers
Favorite 'Fear Street' covers
Favorite 'Fear Street' covers
Favorite 'Fear Street' covers
Favorite 'Fear Street' covers
Favorite 'Fear Street' covers
Favorite 'Fear Street' covers
Favorite 'Fear Street' covers
Favorite 'Fear Street' covers
Favorite 'Fear Street' covers
Favorite 'Fear Street' covers