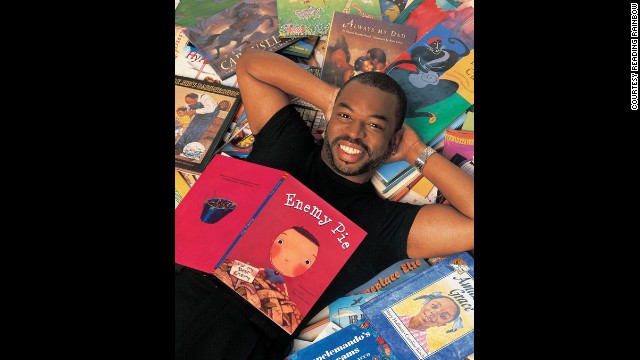 Actor LeVar Burton has devoted 30 years to promoting literacy and encouraging children to read with his TV show -- and now the app -- "Reading Rainbow." Here are some of his thoughts on the importance of reading:
On "Reading Rainbow," Burton often took viewers on "field trips" based books. " 'Reading Rainbow' was a matter of introducing the idea that books can be a terrific way to entertain and inform yourself, and that picking up a book will introduce you to the myriad wonders of the world in which we live," he says.
The TV show, which aired from 1983 to 2009, often drew celebrities such as Whoopi Goldberg. Here, Goldberg and Burton promote "Amazing Grace" by Mary Hoffman as well as the actress' own book "Alice."
It was a beautiful day in the neighborhood when the "Reading Rainbow's" Burton and Fred Rogers met. Rogers hosted the public television show "Mister Rogers' Neighborhood" from 1966 to 2001.
Kwame, the character Burton voiced on the '90s children's cartoon "Captain Planet and the Planeteers," could often be found with his nose in a book.
Burton signs his sci-fi novel, "Aftermath," at a Los Angeles bookstore in 1997.
Burton reads to elementary school students in Land O' Lakes, Florida, in 2005.
"There is no system that can imprison you or dominate you with darkness or ignorance if you have the capacity to read in at least one language," Burton said. "It's a very serious idea to me, freedom through literacy." The actor appears here at the TV Land Awards in 2007.
Burton first appeared as himself on the TV show "Community" in 2010. The character Troy, played by Donald Glover, was such a fan that he couldn't speak while in Burton's presence -- and cried when the actor sang the "Reading Rainbow" theme song.
"In a children's book, you combine the visual and the written word. It is made whole by the storyteller," Burton told CNN. "You bring the human element into it, and it makes that two-dimensional object a three-dimensional object of magic." Here, Burton reads during a "Let's Read. Let's Move" summer reading event in Washington in 2012.
When a new film version of "The Great Gatsby" arrived in 2013, "The Colbert Report" featured a comedy sketch in which neither host Stephen Colbert nor actress Carey Mulligan, who played Daisy in the film, had read the F. Scott Fitzgerald book. The solution? Burton gave them the "Reading Rainbow" version.
Burton reads to children during the "Reading Rainbow's" 30th anniversary celebration in Los Angeles in June 2013.
"What I've learned from 'Reading Rainbow' is that everybody's got a story," Burton said. "People are infinitely interesting. We are entertainment, information, insight and inspiration." Here, Burton speaks from the children's stage at the Los Angeles Times Festival of Books in April.
LeVar Burton's 'Reading Rainbow'
LeVar Burton's 'Reading Rainbow'
LeVar Burton's 'Reading Rainbow'
LeVar Burton's 'Reading Rainbow'
LeVar Burton's 'Reading Rainbow'
LeVar Burton's 'Reading Rainbow'
LeVar Burton's 'Reading Rainbow'
LeVar Burton's 'Reading Rainbow'
LeVar Burton's 'Reading Rainbow'
LeVar Burton's 'Reading Rainbow'
LeVar Burton's 'Reading Rainbow'
LeVar Burton's 'Reading Rainbow'
LeVar Burton's 'Reading Rainbow'