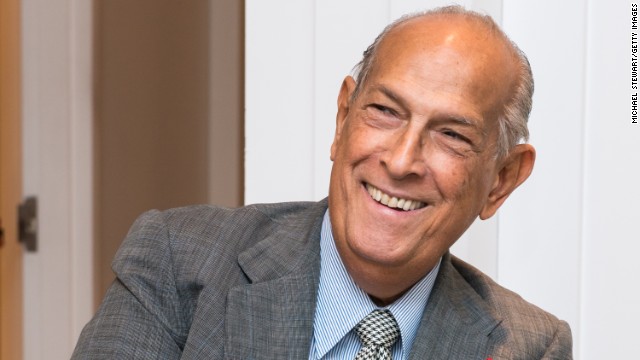 He's been called the "Sultan of Suave" and a fashion powerhouse. Oscar de la Renta died Monday, October 20, after half a century as a legendary designer. "I'm a very restless person," he once said. "I'm always doing something. The creative process never stops." Celebrities, too, loved him for his approach to design. Take a look at some of his red-carpet creations:
In 2011, Penelope Cruz stole the spotlight at the Metropolitan Museum of Art's Costume Institute Gala. The actress, who attended the event with de la Renta, wore a black silk organza gown from the designer's fall 2011 collection.
Jennifer Lawrence's dress at the 2011 Screen Actors Guild Awards was as bright as her rising star in Hollywood. Lawrence's hot-pink de la Renta number landed the actress on People magazine's best-dressed list for the event.
The handcrafted Oscar de la Renta gown that Amy Adams wore to the 2013 Oscars was so ethereal it almost looked as though the actress was floating on air.
While de la Renta was known for his show-stopping dresses with full skirts or elongated trains, he could also make a simple shift sing. Anne Hathaway wore this short, breezy and sparkling de la Renta number to the Sydney premiere of "Love & Other Drugs" in 2010.
De la Renta wasn't just the designer of choice for actresses -- musicians adored him, too. His penchant for bold designs attracted Nicki Minaj, who donned one of his creations for the 2011 American Music Awards.
De la Renta knew his way around a floral pattern, inventing silhouettes that wouldn't overwhelm the wearer. Look at the clean lines he gave this eye-catching gown, which Scarlett Johansson wore to the 2009 premiere of "He's Just Not That Into You."
For an occasion as big as her final "Harry Potter" premiere, actress Emma Watson chose a designer she knew would have a timeless and memorable look. Seen here at the 2011 premiere of "Harry Potter and the Deathly Hallows -- Pt. 2," Watson's voluminous de la Renta dress perfectly matched the emotional scale of the event.
At the 2013 Screen Actors Guild Awards, Tina Fey turned heads -- and landed on best-dressed lists -- in a sleek column gown from de la Renta. The sweetheart cut of the strapless dress was alluring without being overtly provocative, a combination that the designer nailed every time.
This kicky black de la Renta dress, worn to the 2005 Golden Globes, is one of Eva Longoria's most memorable red-carpet looks. The actress was starring on "Desperate Housewives" at the time, and her impeccably detailed cocktail number was like the luxe item a '50s housewife would kill to add to her collection.
Sarah Jessica Parker is one of de la Renta's more ardent supporters, often choosing to wear the designer on the red carpet. One of our favorite all-time Emmys looks is the feathery pink de la Renta dress SJP wore to the 2000 event. It was fun and, perhaps more importantly, it was unique.
Jessica Biel is another actress you'll often see rocking a de la Renta label. At the 2009 Vanity Fair Oscars party, Biel's gown had all the designer's hallmarks: bold use of color and flattering to the female form.
Cameron Diaz could've been mistaken as the night's top prize at the 2010 Oscars, where she wore a golden de la Renta gown that was breathtaking thanks to its layers of tulle and embroidery.
Garner told USA Today
upon the designer's death. "The sketches that he did for me at the Oscars last year, every single one of them he sketched my face in. It wasn't just a sketch of some dress — it was how it would be on me, specifically. I was so lucky to get to work with him and to know him even just a little bit."
Jennifer Garner looked stunning at the 2014 Oscars, thanks not in small part to the tiered, fringed de la Renta dress she wore. "He always wanted women to be the star of the look,"
Of all the dresses de la Renta has placed on celebrities over the years, this navy blue item, worn by Oprah Winfrey to the 2010 Costume Institute Gala at the Metropolitan Museum of Art, is easily one of the most memorable. Taken separately, the elements have the potential to sound boring: a navy color, long sleeves and a skirt that's floor-length. But tailored properly and with attention to special details, this is a de la Renta gem.
De la Renta's designs were loved among political figures, too. Hillary Clinton joined de la Renta onstage at the CFDA Fashion Awards last year in New York.
And in 2005, first lady Laura Bush wore a sophisticated silver de la Renta gown to celebrate the inauguration of her husband, President George W. Bush.
De la Renta even made his stamp among brides. Most recently, he designed the wedding gown worn by George Clooney's bride, Amal Alamuddin.
And in 2010, Chelsea Clinton -- the daughter of President Bill Clinton and Hillary Clinton -- went with a de la Renta dress when she wed Marc Mezvinsky.
Oscar de la Renta: Dressing the stars
Oscar de la Renta: Dressing the stars
Oscar de la Renta: Dressing the stars
Oscar de la Renta: Dressing the stars
Oscar de la Renta: Dressing the stars
Oscar de la Renta: Dressing the stars
Oscar de la Renta: Dressing the stars
Oscar de la Renta: Dressing the stars
Oscar de la Renta: Dressing the stars
Oscar de la Renta: Dressing the stars
Oscar de la Renta: Dressing the stars
Oscar de la Renta: Dressing the stars
Oscar de la Renta: Dressing the stars
Oscar de la Renta: Dressing the stars
Oscar de la Renta: Dressing the stars
Oscar de la Renta: Dressing the stars
Oscar de la Renta: Dressing the stars
Oscar de la Renta: Dressing the stars
Oscar de la Renta: Dressing the stars
Oscar de la Renta: Dressing the stars
Oscar de la Renta: Dressing the stars