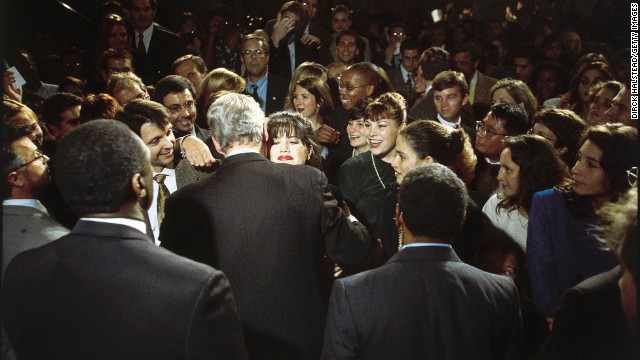 Monica Lewinsky embraces U.S. President Bill Clinton at a Democratic fundraiser in Washington in October 1996. Lewinsky, the White House intern who had a sexual relationship with Clinton during his time in office, has finally
broken her silence
on the affair in a Vanity Fair article.
Lewinsky sits in a car after meeting with her lawyers in 1998.
Lewinsky is escorted by police officers, federal investigators and attorney William Ginsburg, second right, as she leaves the Federal Building in Westwood, California, in 1998. She was there submitting evidence on her relationship with Clinton, who was impeached by the House of Representatives on charges of perjury and obstruction of justice. He was later acquitted.
Lewinsky's father, Bernard, hugs her in front of his home in Brentwood, California, in 1998.
In 1998, Lewinsky arrives at her attorney's office in Washington, where her immunity agreement with independent counsel Kenneth Starr was announced.
Lewinsky poses for a photo with President Clinton in this image submitted as evidence by Starr's investigation and released by the House Judiciary Committee in September 1998.
Another image submitted as evidence in September 1998 shows Lewinsky meeting President Clinton at a White House function.
Another photograph submitted as evidence shows Lewinsky working in the White House office as President Clinton looks on.
Lewinsky, far left, is seen with President Clinton at the White House.
Lewinsky is pushed in a crowd of reporters after meetings with her attorneys in Washington in 1999.
Lewinsky speaks with young fans as she signs copies of her autobiography, "Monica's Story," in 1999.
Lewinsky gestures during her deposition in a video shown during Clinton's impeachment trial in 1999.
Lewinsky appears in a "Ladies Man" skit with Tim Meadows on "Saturday Night Live" in 1999.
Lewinsky laughs with actor Ian McKellen at the 2002 GQ Men of the Year Awards in New York City.
Lewinsky watches a collection presentation during the 2002 Mercedes-Benz Fashion Week in New York City.
Lewinsky poses for a photo with rapper Cam'ron, left, and businessman Damon Dash in 2002.
Lewinsky and literary agent Luke Janklow attend a benefit for the American Cancer Society in 2011.
Monica Lewinsky: Life in the spotlight
Monica Lewinsky: Life in the spotlight
Monica Lewinsky: Life in the spotlight
Monica Lewinsky: Life in the spotlight
Monica Lewinsky: Life in the spotlight
Monica Lewinsky: Life in the spotlight
Monica Lewinsky: Life in the spotlight
Monica Lewinsky: Life in the spotlight
Monica Lewinsky: Life in the spotlight
Monica Lewinsky: Life in the spotlight
Monica Lewinsky: Life in the spotlight
Monica Lewinsky: Life in the spotlight
Monica Lewinsky: Life in the spotlight
Monica Lewinsky: Life in the spotlight
Monica Lewinsky: Life in the spotlight
Monica Lewinsky: Life in the spotlight
Monica Lewinsky: Life in the spotlight