STORY HIGHLIGHTS
Nigeria's government said the deal to release the girls was part of a ceasefire agreement
Boko Haram has not confirmed the deal, and continuing battles have been tied to them
Experts have doubts the deal will materialize; they say seeing is believing
Militants kidnapped some 276 girls in April and are believe to be holding some 200 of them
(CNN) -- Will they really finally go free?
The Nigerian government says that more than 200 girls abducted by Boko Haram in April are to be released as early as Monday, after it signed a ceasefire agreement with the Islamists.
People around the world are hoping the girls will be set free, but there are skeptics -- and bad signs coming from Boko Haram.
After the girls were kidnapped from the village of Chibok, the hashtag mantra #BringBackOurGirls kicked off an avalanches of posts.
Celebrities like First Lady Michelle Obama, teen Nobel laureate Malala Yousafzai, and actor Sean Penn joined in.
Even Pope Francis took to Twitter to call for their release.
Now, after the government made the announcement of their possible release, the hashtag has reawakened with messages of hope and anticipation.
"I am desperate for their return. I must sing a new song of joy," one poster wrote.
Another wrote, "I hope and pray this 189th day of the abduction of #OurGirls will be the last day we'll say #BringBackOurGirls. I fervently pray so!"
He never stopped fighting for Nigeria's missing girls
Islamists remain silent
But Boko Haram remains silent on the deal the government says it signed with the Islamists in neighboring Chad last week.
Instead, the group may be letting its weapons do the talking, continuing five years of war. Over the weekend, gunmen believed to be Boko Haram fighters attacked two villages and a town, killing at least eight and kidnapping others.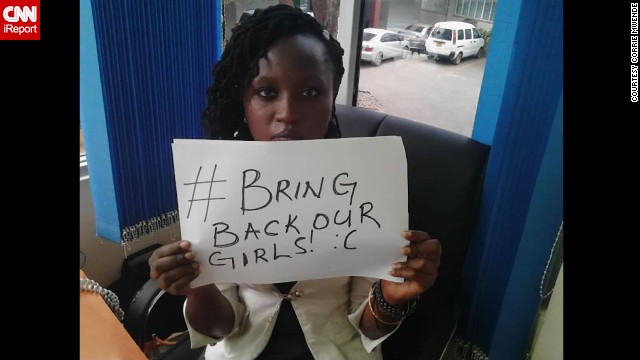 Weeks after the April 14 kidnapping of more than 200 Nigerian girls, worried families and supporters blamed the government for not doing enough to find them. Their cries spread worldwide on social media under the hashtag #BringBackOurGirls. From regular people to celebrities, here are some of the people participating in the movement.
First Lady Michelle Obama tweeted this picture of herself holding a #BringBackOurGirls sign in support of the schoolgirls abducted by Boko Haram in Nigeria.
"We hear it like it's not happening in our region so it doesn't concern us but that's not right," says Milliscent Maduagwu from Port Harcourt, Nigeria. "This fight on terrorism is not just the Commander in Chief's and the army, but ours as well!"
"These girls could have been my sisters or worst still my daughter," says Emmanuel Oleabhiele from Doha, Qatar. "My daughter is 6 months old and I fear for her future as a Nigerian."
Malala Yousafzai, the world's most famous advocate for girls' right to education, says that "girls in Nigeria are my sisters." This photo was posted to the @MalalaFund Twitter account on May 6.
Ify Elueze of Bonn, Germany, asks, "How can the world sit and watch?! It is no longer just the responsibility of the Nigerian government, now it is your responsibility and mine!"
British supermodel Cara Delevingne posted this photo on her Instagram account saying, "Everyone help and raise awareness #regram #repost or make your own!"
"Government should stop playing politics with our sister[s]," says Nigerian Dauda Kaks.
American singer-songwriter Alicia Keys posted this photo on her Instagram account with this message: "I'm so saddened and enraged that these girls are not back where they belong! Safe at home and at school! Safe with their families! Safe to become the incredible leaders and powerful voices they are yet to be."
"You are most likely thinking to yourself, 'What's the point in posting another picture or status to speak about this issue?,"' says Uchenna Mildred Udeh from St. John, New Brunswick. "I can tell you this: it will. Do not underestimate the power of your voice. We have to make this personal."
British singer-songwriter Leona Lewis took a stand to #BringBackOurGirls on her Twitter account on May 7.
"I think it's high time we all start praying for Nigeria and stop complaining," says Lotanna Ugwu from Abuja, Nigeria. "It's only God that can touch the hearts of those who kidnapped the young girls."
Singer Steven Tyler posted this image on both his Twitter and Instagram accounts alonth with the hashtag #RealMenDontBuyGirls.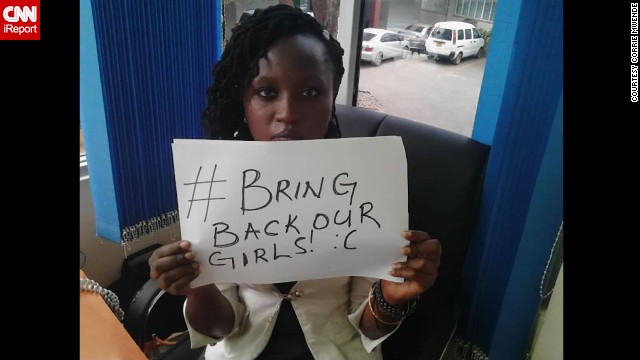 Bring Back Our Girls
David Cook, who studies jihad, has doubts about the deal going through.
"It remains to be seen whether this truce will actually materialize, whether it is merely an election ploy for Nigeria's embattled president, Goodluck Jonathan, and most crucially whether it will bring about the release of numerous captives taken by Boko Haram during the past year," he wrote in an analysis for CNN.
President needs a success
The Islamists have employed particularly bloody tactics this year, killing thousands.
Boko Haram has gone after Christians, foreigners and educated people, driving them out of the country's northeast. And they have continued kidnapping.
They have often sidelined Nigeria's army. And government soldiers have at times mutinied, complaining of lacking support from the government.
Jonathan needs some good news going into February's polls.
Analyst Richard Joseph from the Brookings Institution shares Cook's doubts.
"This is a case when we will actually need to see the girls emerging from their six-month confinement before we can truly believe," he wrote after the government's announcement.
He fears that after so much war, the group may be disjointed and any ceasefire deals made with some members may not be heeded by others.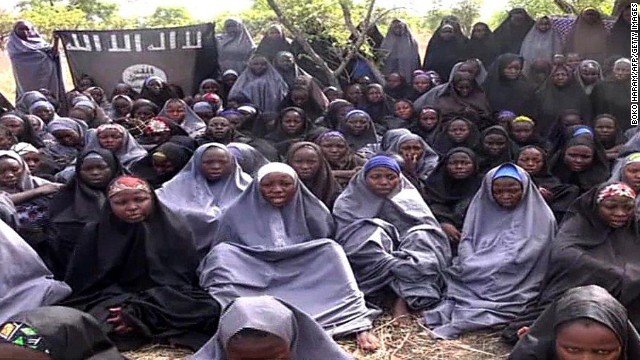 A screengrab taken on May 12, 2014, from a video of Nigerian Islamist extremist group Boko Haram obtained by AFP shows girls, wearing the full-length hijab and praying in an undisclosed rural location.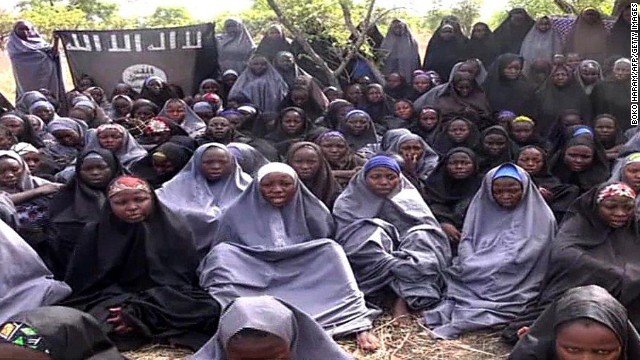 A screengrab taken on May 12, 2014, from a video of Nigerian Islamist extremist group Boko Haram obtained by AFP shows girls, wearing the full-length hijab and praying in an undisclosed rural location.
And like ISIS, Boko Haram has ambitions for a caliphate or religious state, which would mean it has long-term ambitions to keep fighting, Cook said.
But he believes that a deal could still be in Boko Haram's interest. They could use it to rest and regroup.
The kidnapping lookback
On April 14, Boko Haram militants raided the village of Chibok and kidnapped an estimated 276 teenage girls from a boarding school. Officials there say some of the girls were able to escape.
It is believed that the Islamist militants were able to hold on to more than 200 of them.
Three weeks later, a man claiming to be a Boko Haram leader threatened to sell the girls into slavery. "Allah says I should sell. He commands me to sell. I will sell women. I sell women," he said.
More than a month after their abduction, the White House announced it had sent 80 U.S. troops to Chad to help search for the kidnapped schoolgirls.
In spite of many promises to find and free them, the girls have remained in the terrorists' hands.