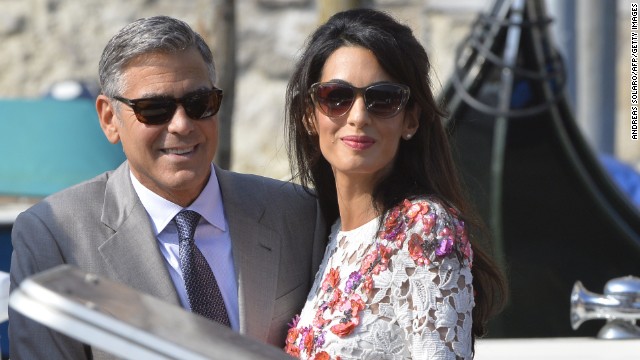 Actor George Clooney and his wife, attorney Amal Alamuddin, stand on a taxi boat on the Grand Canal in Venice, Italy, on Sunday, September 28. Clooney and Alamuddin
married in Venice
the previous day at a private ceremony attended by celebrities.
Clooney climbs aboard a taxi boat as he leaves the Hotel Cipriani in Venice on the day of his wedding, Saturday, September 27.
Anna Wintour, Vogue magazine's editor-in-chief, and Bruce Bozzi Jr., the executive vice president of the Palm Restaurant Group, arrive to the private ceremony on September 27. The wedding was marked with a star-studded bash at the Aman Canal Grande Venice resort, housed in the 16th-century Palazzo Papadopoli. Guests arrived via taxi boat.
Actor Richard Kind arrives for the wedding.
Actor Bill Murray and Samantha Barry, CNN's senior director of social news, arrive for the wedding.
Model Cindy Crawford, right, boards a taxi boat with her husband, Rande Gerber, and other guests.
Actor Matt Damon boards a taxi boat at the Hotel Cipriani.
Guests attend a cocktail party at the Hotel Cipriani before the wedding.
U2 frontman Bono arrives at the Hotel Cipriani.
The former mayor of Rome, Walter Veltroni, and his wife, Flavia Prisco, arrive for the wedding.
Clooney and Alamuddin arrive in Venice on Friday, September 26.
George Clooney marries Amal Alamuddin
George Clooney marries Amal Alamuddin
George Clooney marries Amal Alamuddin
George Clooney marries Amal Alamuddin
George Clooney marries Amal Alamuddin
George Clooney marries Amal Alamuddin
George Clooney marries Amal Alamuddin
George Clooney marries Amal Alamuddin
George Clooney marries Amal Alamuddin
George Clooney marries Amal Alamuddin
George Clooney marries Amal Alamuddin