In praise of punch
updated 3:39 PM EDT, Tue September 30, 2014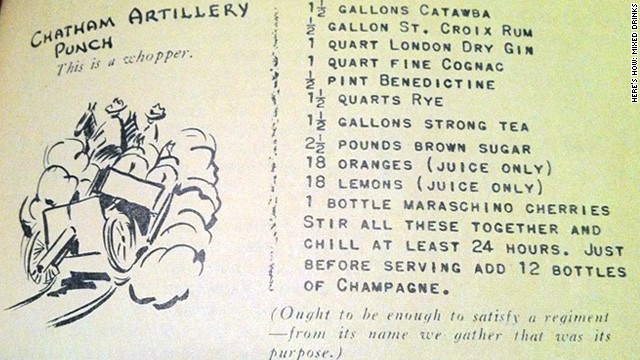 Chatham Artillery Punch from "Here's How: Mixed Drinks" (1941)
Brandy Punch from "Here's How: Mixed Drinks" (1941)
Millionaire Punch from "Here's How: Mixed Drinks" (1941)
"No. 21" Punch and a Planter's Punch from "Here's How: Mixed Drinks" (1941)
Sir Charles Punch from "Here's How: Mixed Drinks" (1941)
Hapsburg Punch from "Here's How: Mixed Drinks" (1941)
Astor Punch from "Here's How: Mixed Drinks" (1941)
Cardinal Punch from "Here's How: Mixed Drinks" (1941)
Rum Milk Punch from "Here's How: Mixed Drinks" (1941)
Old Berlin Castle Punch from "Here's How: Mixed Drinks" (1941)
Potsdam Punch from "Here's How: Mixed Drinks" (1941)
Fish Club Punch from "Here's How: Mixed Drinks" (1941)
Vintage punch recipes
Vintage punch recipes
Vintage punch recipes
Vintage punch recipes
Vintage punch recipes
Vintage punch recipes
Vintage punch recipes
Vintage punch recipes
Vintage punch recipes
Vintage punch recipes
Vintage punch recipes
Vintage punch recipes
STORY HIGHLIGHTS
Punch turns a get-together into a party to remember
It's a great solution for hosts who don't want to be trapped behind a bar
From cut-crystal bowl to trash can, punch is best served in quantity
Food 52 has more punch recipes to keep a crowd happy
Editor's note: We're kicking off a new collaboration with our friends at Food52, and what better way to celebrate than with a glass of party punch? Find their punch recipes here.
(CNN) -- The first rule of punch is that there needs to be plenty of it.
If you're making punch, you're having a party. (If you're not and you're making some anyway, I salute your life and the way you live it.) Punch should be a lavishly flowing thing, spilling out past the bounds of a mere cocktail shaker. Pitcher? Pah! You're thinking too small. Commandeer your largest cooking pot -- or a punch bowl if you're blessed enough to possess such a thing. Ladle from it with love.
But most righteous are those who bypass traditional kitchenware completely and opt for the trash can. In goes the Everclear (dude, there's gotta be Everclear), the contents of the lowest shelf at the liquor store (rum's good, so is vodka, and that weird, off-brand non-Kentucky whiskey that comes in a plastic handle and smells of dorm carpet) and fruit. Gotta be some fruit -- both juiced and whole. No one is getting scurvy, rickets or any other dread pirate diseases on your watch, Captain. Cheers.
Think you're too fancy or grown-up for punch? You deserve no punch. Your Red Solo cup or vintage, cut-crystal glass will be confiscated, and you are hereby sentenced to flat beer and warm vodka tonics until you realize the error of your ways. Punch is an invitation to share in an event, jump into the current, bob to the surface and float merrily with the rest of the crowd. If someone hands you a cup of punch when you walk into their home, backyard or random parking lot, the tone is set and you may as well sing along. (And if you don't drink booze, man, that's cool, too. Totally cool. Stick an umbrella or some hunks of fruit in there for extra festiveness and party the heck on.)
Punch makes a host's life simple, and allows him or her to come across quite hospitably. Mix up a massive batch ahead of time (most are even better when they have a chance to meld for a while), set up a filling station and you're good to go, libation-wise. It's easy enough to scoop out a serving and meet guests at the front door (or over by that guy's station wagon) with a welcome beverage, or allow them to meet over by the punch bowl (or can). Moreover, it leaves a host free to slip through the crowd, mixing, chatting, collecting empties and generally making a splash at this well-lubricated affair.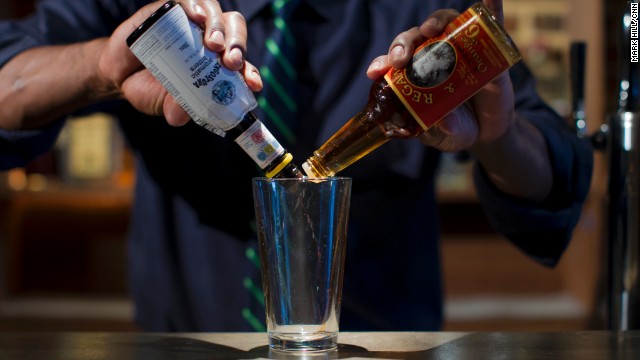 In a mixing glass, add a dash of Angostura bitters and a dash of orange bitters.
Add 3/4 oz. of freshly squeezed lime juice.
Then, add 3/4 oz. orange curaçao.
Add 2 oz. Old Tom gin (we prefer this sweeter style of gin for this cocktail, but you can play with different styles of gin according to your own preference).
Add ice to the mixing glass.
Double strain into a chilled coupe. (Double straining, while not necessary, reduces the amount of ice chips, making for a cleaner presentation.)
All that's left to do is drink. If you must...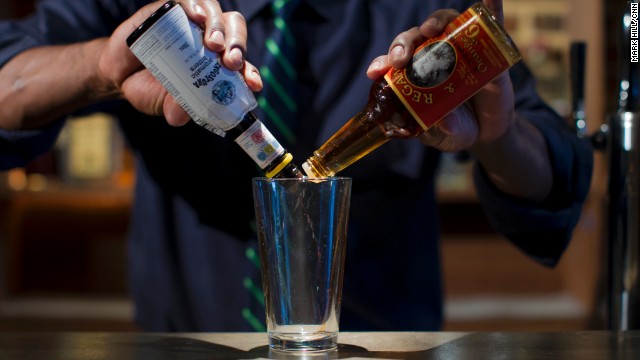 Step-by-step: Pegu Club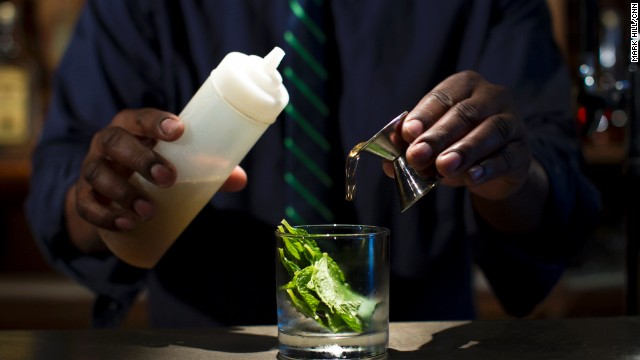 Place 10 mint leaves in the bottom of a rocks glass. Then, add 1/4 oz simple syrup. (To make your own simple syrup, take equal parts sugar and water, and simmer until the sugar is completely dissolved.)
Gently muddle (or mash) the mint leaves and simple syrup.
Fill the glass halfway with crushed ice.
Top off the drink with more crushed ice, and garnish with a mint sprig.
Sip through a straw and bask in its refreshing nature.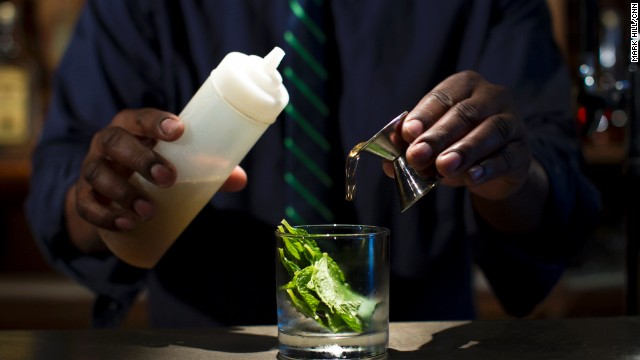 Step-by-step: Genever Julep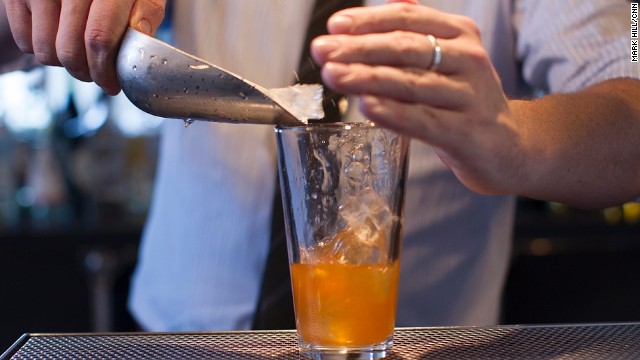 In a mixing glass, add vodka, lime juice, honey syrup, vermouth and bitters. Add ice, and...
Strain the cocktail into a chilled glass.
Grate fresh nutmeg over the top of the drink and serve.
You'll be pleased as Punch with the finished product.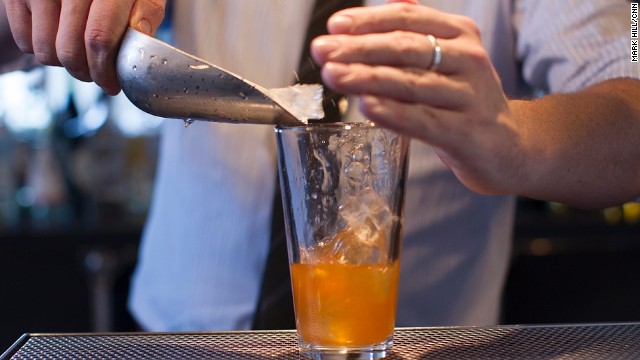 Step-by-step: Punch Wagon
And yes, yes -- punch can go pinky-up, topped with champagne and full of mixologically clever macerations. It sure can, and it's fantastic when that happens, but it has to deliver on the implicit promise of punch. There should rightly be a small phalanx of empty spirits bottles to be hauled away after deployment -- not to mention the husks of spent fruit, juiced of all their usefulness or booze-soaked and suited for snacking on in the wee (wheeee!) small hours.
Things may be a little sticky the next day -- your counter, your floor, your social life -- but your happiness level will surely be punched up.
Brandy Punch -- "Here's How" (1941)
Serves 20
"It's a drink you can remember -- if you CAN remember"
3 quarts brandy
1/2 pint Jamaican rum
1 gill curacao
1 gallon water
6 lemons (juice only)
3 oranges
1 pineapple
1/2 pint raspberries
Mix the liquors and pour into punch bowl containing large piece of ice. Add lemon juice, water and enough sugar to sweeten. Next put in 3 oranges, sliced, a diced pineapple and 1/2 pint raspberries. Let stand until thoroughly chilled.