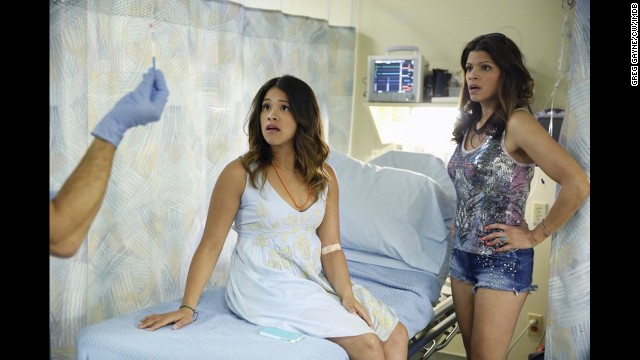 If you only have enough room in your heart (and brain) for a few new TV shows this season, these 18 shows are at the top of our viewing list, starting with,
"Jane the Virgin."
The CW series, which is adapted from a Venezuelan telenovela, stars Gina Rodriguez as a religious Latina who becomes accidentally inseminated. (October 13)
"Z Nation" (Syfy) -- It's a race against time in this new zombie apocalypse series about a band of survivors determined to survive a zombie plague. (September 12)
"Red Band Society" (Fox) -- Academy Award-winning actress Octavia Spencer helms the cast of this dramedy about a group of young people living in the children's ward of a hospital. (September 17)
"Gotham" (Fox): The origin story of Bruce Wayne and his eventual foes could potentially be too childish for an adult audience -- after all, this series captures Gotham City's characters as adolescents; even Jim Gordon (Ben McKenzie) is young-ish here -- but Fox has bet big and it's at least worth a look. (September 22)
"Scorpion" (CBS) -- Based on the tales of real life IT genius Walter O'Brien, the drama stars Elyes Gabel and Katharine McPhee. (September 22)
"Black-ish." Anthony Anderson, Tracee Ellis Ross and Laurence Fishburne star in this ABC comedy about an African-American family man battling against too much assimilation in the suburbs. (September 24)
"How to Get Away With Murder" (ABC) -- Viola Davis stars as a law professor who works with her students to crack some of her toughest cases. From Shonda Rhimes of "Scandal" fame. (September 25)
"Selfie" (ABC) -- This season's nominee for show-most-likely-to-be-hate-watched is a comedy that stars Karen Gillan and John Cho in what is being described as a modern-day version of "My Fair Lady." (September 30)
"Stalker" (CBS) -- The teaser for this thriller is enough to freak fans out. Dylan McDermott and Maggie Q star as detectives with a LAPD squad that tracks stalkers and other obsessed individuals. Expect lots of dark secrets -- and not just from the bad guys. (October 1)
"Gracepoint" (Fox) -- Based on the British series "Broadchurch," Anna Gunn and David Tennant star as a pair of detectives out to solve the murder of a child. (October 2)
"A to Z" (NBC) -- Love is in the air for Ben Feldman and Cristin Milioti, a couple who meet and may -- or may not -- end up together forever. Viewers will watch as their romance unfolds, from beginning to (possible?) end. (October 2)
"Bad Judge" (NBC) -- "Grey's Anatomy" and "Private Practice" star Kate Walsh returns to television in this comedy as Judge Rebecca Wright, who parties as hard as she lays down the law. But then she encounters a troubled boy who's left on his own after she incarcerates both of his parents. (October 2)
"Survivor's Remorse" (Starz) -- Cam Calloway (Jessie T. Usher) is a young basketball player who lands a multi-million-dollar contract and must adjust to all that fame and fortune brings. The comedy is sure to be "inside basketball" as it's produced by star baller LeBron James. (October 4)
"The Flash" (CW) -- This superhero series stars Grant Gustin as Barry Allen, the fastest man on the planet, who is determined to clear his father of crime. (October 7)
"Marry Me" (NBC) -- Casey Wilson and Ken Marino star as a couple looking for the perfect way to take the matrimonial plunge after a six-year relationship. (October 14)
"The Affair" (Showtime) -- The psychological effects of adultery are examined in this drama, which is creating tons of buzz, thanks in part to a strong cast which includes Dominic West, Ruth Wilson, Maura Tierney and Joshua Jackson. (October 19)
"Constantine" (NBC) -- The anticipation is burning bright for this adaptation of the "Hellblazer" comic. Matt Ryan stars as the demon hunter John Constantine, an occult master who initially gives up his fight against evil until a series of events pulls him right back in. (Isn't that always the case?) (October 24)
"State of Affairs" (NBC) -- Katherine Heigl stars as a presidential adviser with a troubled past. Alfre Woodard plays the President. (November 17)
18 new TV shows to watch
18 new TV shows to watch
18 new TV shows to watch
18 new TV shows to watch
18 new TV shows to watch
18 new TV shows to watch
18 new TV shows to watch
18 new TV shows to watch
18 new TV shows to watch
18 new TV shows to watch
18 new TV shows to watch
18 new TV shows to watch
18 new TV shows to watch
18 new TV shows to watch
18 new TV shows to watch
18 new TV shows to watch
18 new TV shows to watch
18 new TV shows to watch
STORY HIGHLIGHTS
ABC premiered one of its new comedies, "Black-ish," on Wednesday night
The series stars Anthony Anderson and Tracee Ellis Ross
It's about a family trying to retain cultural identity
So far, critical reaction has been largely positive
(CNN) -- ABC's newest family, the affluent Johnsons on "Black-ish," has been very well-received.
The freshman comedy, about a successful African-American family man's struggle with cultural identity, made its debut on the network Wednesday night to impressive ratings. The pilot episode had an audience of 10.8 million and a rating of 3.3 in the key demographic of 18-49.
By comparison, "Black-ish's" lead-in, the multiple Emmy-winning "Modern Family," started its sixth season Wednesday with 10.9 million watching and a rating of 3.7.
To put it another way: This is exactly how you want your pilot episode to launch.
Written by Kenya Barris and starring Anthony Anderson, Tracee Ellis Ross and Laurence Fishburne, "Black-ish" centers on an African-American family living a comfortable life in the suburbs.
Dad Andre "Dre" Johnson (Anderson) is an advertising exec raising four kids with his doctor wife (Ross). He is also acutely aware of how far he's come from his upbringing.
"I guess for a kid from the 'hood, I'm living the American dream," Anderson's Dre says in an opening voiceover. "The only problem is, whatever American had this dream probably wasn't where I'm from. And if he was, he should've mentioned the part about how when brothers start getting a little money, stuff starts getting a little weird."
Dre admits that he sometimes feels like "a bit of an oddity" in his neighborhood, and throughout the pilot he worries that his four kids are growing up without a clear understanding of who they are. For example, his son Andre Jr. prefers to be called "Andy," tries out for field hockey instead of his dad's sport of choice, basketball, and is angling for a bar mitzvah for his birthday.
And at work, Dre is faced with eye-rolling questions from colleagues on "how a black man would say good morning," and the possibility that he was promoted to head the agency's "urban" division because of his race. (Dre's internal response to the promotion: "Wait. Did they just put me in charge of black stuff?")
But while Dre's fretting could (and does) raise more serious conversations about race, class and identity, "Black-ish" is still a comedy, and critics have praised it for knowing just how to leverage its complex subject for laughs.
"Even in a better season, ABC's provocative and very funny 'Black-ish' would stand out for its broad and biting satire of an uneasily post-racial society seen through a very modern-family prism," said TV Guide.
"I'm grateful that 'Black-ish' exists, first and foremost because it's funny," said The Huffington Post's Maureen Ryan. But, she continued, "'Black-ish' has to be more than just another pretty good sitcom. As one of the few comedies on a major network with a predominantly African-American cast, it has to navigate the issue of race in America. It can't just be funny, it has to be astute and adept as well. The good news is that so far, it navigates that challenging territory with intelligence, wit and subversive purpose."
Entertainment Weekly wasn't as convinced, critiquing the series as "funny, but ... not revolutionary." Giving it a "B" grade, EW's critic felt the comedy "skews too broad," and some of that mixed reaction could be found on Twitter. Responses ranged as widely as flat-out hating it and finding it racist to being pleasantly surprised.
But of course, we're only one episode in, as Time's James Poniewozik pointed out in his review. " 'Black-ish's' nuance is promising -- it's aware that there's not just one way to be black -- and the sheer level of execution suggests it has staying power," he said. "For now, I can only say what I want to hear about any new half-hour: it happens to be funny."