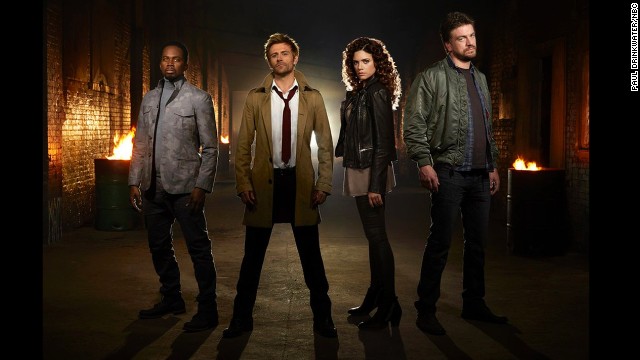 Comic book-based movies are all over Hollywood in recent years ("Guardians of the Galaxy," anyone?). But this season, TV is following suit in a big way. The 2005 Keanu Reeves movie "Constantine" didn't exactly launch a franchise, so NBC is giving it a go with a new version of the comic book antihero, played by Matt Ryan (second from left with Harold Perrineau, Angelica Celaya and Charlie Halford).
AMC's "The Walking Dead" got the comics-on-TV trend going in 2010, and it's now
The CW has a popular new series this season with "The Flash." Critics are praising Grant Gustin's performance as the "fastest man alive."
One of the hottest new series is Fox's "Gotham," which examines Batman's city many years before Batman began.
The fan base for "Arrow" has grown over the past two seasons. This new take on Green Arrow is a guaranteed action extravaganza each week.
Fans enjoyed last season's finale of "Marvel's Agents of S.H.I.E.L.D.," which took a nod from the events of "Captain America: Winter Soldier." The Marvel TV and movie universes are sure to collide again this season on the ABC series.
"Marvel's Agent Carter" will debut in early 2015 while "S.H.I.E.L.D." takes a break. This series chronicles the beginnings of S.H.I.E.L.D. as co-founded by Captain America's World War II-era girlfriend, Peggy Carter.
Rabid fans of Guillermo del Toro's vampire comic book series "The Strain" have praised the FX adaptation.
Rob Thomas of "Veronica Mars" fame is loosely adapting the cult comic book favorite "iZombie" for the CW in 2015. Rose McIver ("Masters of Sex," "Once Upon a Time") stars as a zombified woman who tries to live a normal afterlife ... when not snacking on brains.
Following right on the heels of the big comic book TV season is "Riverdale," based on Archie Comics, which aims to premiere next fall on Fox.
Marvel is giving "Daredevil" a shot on Netflix in 2015, and we can already tell this won't be like the 2003 Ben Affleck movie. Charlie Cox will play the "Man Without Fear."
Warner Bros. recently announced a live-action online series based on the DC Comics hero Static Shock, previously adapted for Saturday morning TV.
Comics on the small screen
Comics on the small screen
Comics on the small screen
Comics on the small screen
Comics on the small screen
Comics on the small screen
Comics on the small screen
Comics on the small screen
Comics on the small screen
Comics on the small screen
Comics on the small screen
Comics on the small screen
STORY HIGHLIGHTS
Much-hyped "Gotham" premiered Monday night on Fox
The new series looks at Gotham City many years before the emergence of Batman
The villains were the highlight of the first episode
Editor's note: This article contains spoilers for the series premiere of "Gotham."
(CNN) -- With Fox's "Gotham," we have the chance to see Batman begin once more.
The much-hyped fall series made its debut on Monday night, starting off with a storyline that's pretty familiar to Batman fans and non-fans alike: the death of Bruce Wayne's parents.
"Gotham's" take on the scene was more violent than usual, but it also added a new twist. A young Selina Kyle (played by Camren Bicondova, and destined to become Catwoman) also witnessed the young couple being gunned down.
Monday's premiere did give screen time to a young Bruce (David Mazouz) as he grieved the loss of his parents, but the future superhero isn't the real star of the show. That title belongs to Detective Jim Gordon, who's not yet a commissioner, as played by "The OC" and "Southland" star Ben McKenzie.
Gordon arrives in Gotham City because it's where the action is, but he soon finds out that things are far more complicated. Crime bosses Fish Mooney (Jada Pinkett-Smith) and Carmine Falcone run the city's underworld, and Gordon's partner, Harvey Bullock, isn't exactly the most ethical cop around.
But compared to McKenzie's straight-as-an-arrow Gordon, the villains are so far the best part of "Gotham." Fish and her lackey Oswald Cobblepot -- who's also called by the nickname he hates,"Penguin" -- were a treat to watch, as were the younger versions of Gotham bad guys Riddler and Poison Ivy during their very brief introductions.
Thus far, McKenzie's Gordon seems like a one-note, righteous character, so we'll have to see if he gets fleshed out in future episodes.
For critics, "Gotham" had a nice start but doubtful longevity.
"Taken strictly on its own terms, the Fox series is a handsome, gritty crime drama, with Ben McKenzie as the idealistic young cop and Donal Logue as his grizzled, ethically compromised partner," Brian Lowry said in Variety's review. "Yet if the show is supposed to work for its peripheral connection to the Dark Knight and his colorful menagerie of villains before they became such ... well, that bat simply won't fly."
Mike Hale at the New York Times tried to focus on the positive, pointing out that at the very least, "Gotham" has "consistent style."
"If you're going to make yet another show or movie about an honest cop in a corrupt city," Hale said, "you'd better make it look good. (A)nd this Gotham City, with its nightmarish gothic skyline under perpetually gray skies, looks pretty good."
Viewers on Twitter had mostly positive responses to the show -- and particularly its casting -- although not everyone was immediately sold.
"Amazing cast. I was impressed because this isn't the type of show I would watch in the past," said KE Vargas Barrett.
Added another fan, "I like the look and style. Characters known and unknown seem interesting. Glad Gordon was the focus. We'll see how it goes."
Marcus Alan Sheperd, however, "was disappointed," he tweeted. "Good thing I follow a 3 episode rule."
What did you think of the premiere? Share your views in the comments.