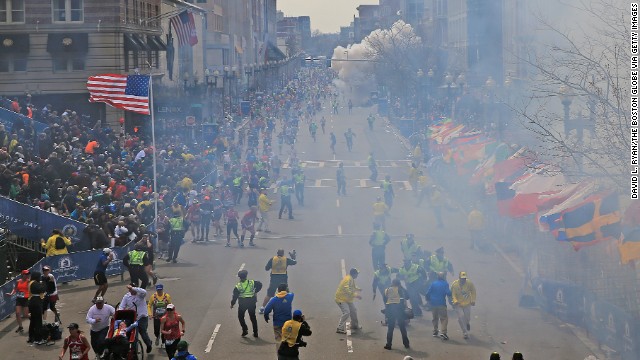 The bombings in Boston
on Monday, April 15, 2013, serve as a cruel reminder that the U.S. has seen other terror attacks on home soil.
See all photography related to the Boston bombings.
A suspect known as "The Unabomber" kept authorities at bay for years during his long, random terror spree. Here, FBI agents guard the entrance to the property of Ted Kaczynski on April 5, 1996, in Lincoln, Montana.
Justice finally catches up with Ted Kaczynski, who is escorted by U.S. marshals outside Sacramento County Federal Court in California in May 1998 after receiving life sentences for his crimes.
Firefighters and rescue crews work outside the World Trade Center after an attack on February 26, 1993. This bombing shocked the nation, which had no way to realize that much worse was to come at this location in less than decade.
A police photographer helps document the bombing of the underground parking garage at the World Trade Center, which killed six people in 1993.
The north side of the Alfred P. Murrah Federal Building in Oklahoma City shows the devastation caused by a fuel-and fertilizer truck bomb detonated on April 19, 1995. At the time, it was the worst terror attack on U.S. soil, killing 168 people.
Employees of the Bureau of Arms, Tobacco and Firearms hug in front of the wreckage of the Murrah Building. Americans soon learned one of their own -- not foreigners bent on U.S. destruction -- was responsible for the carnage.
Atlanta was the excited and elated host of the 1996 Summer Olympics when a bomb went off at Centennial Olympic Park on July 27. Two people were killed and 111 were injured by the blast. It would not be the last time that a U.S. sports venue would find itself the target of terrorism.
Rising from the ashes of ruin: Rescue workers continue their search for victims as smoke still pours from the rubble of the World Trade Center on September 13, 2001. The death toll at ground zero: 2,753.
Soldiers comfort each other at the Fallen Soldier Memorial at Fort Hood, Texas, on November 10, 2009, during a ceremony honoring the 13 soldiers and civilians killed in a shooting rampage five days earlier.
In the darkness of terror attacks, Americans find the light. Here, officers hold candles during a vigil for those killed at Fort Hood.
Terror attacks on home soil
Terror attacks on home soil
Terror attacks on home soil
Terror attacks on home soil
Terror attacks on home soil
Terror attacks on home soil
Terror attacks on home soil
Terror attacks on home soil
Terror attacks on home soil
Terror attacks on home soil
Terror attacks on home soil
Terror attacks on home soil
STORY HIGHLIGHTS
New report seeks to assess threat of terrorist attacks in the U.S.
Peter Bergen says biggest risk is posed by individuals motivated by jihadist ideology
Large-scale terror attacks such as 9/11 are less likely due to increased security, he says.
Editor's note: Peter Bergen is CNN's national security analyst, a director at New America and Professor of Practice at Arizona State University. He is the author of "Manhunt: The Ten-Year Search for bin Laden -- From 9/11 to Abbottabad." David Sterman is a research associate at New America.
(CNN) -- On Sunday, ISIS released a new audio recording calling for Muslims to kill Americans and Europeans. In it, an ISIS spokesman states, "If you can kill a disbelieving American or European, especially the spiteful and filthy French, or an Australian, or a Canadian or any other disbeliever, then rely upon Allah, and kill him in any manner or way however it may be."
Last week's federal indictment against Mufid Elfgeeh provides a reminder of the potential for acts of violence by Americans inspired by al Qaeda's ideology that the new recording by ISIS seeks to exploit.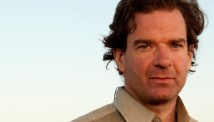 Peter Bergen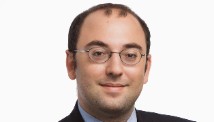 David Sterman
Elfgeeh, a 30-year-old American citizen of Yemeni heritage who owns a pizza parlor in Rochester, New York, is accused of attempting to provide support to ISIS and planning to attack American soldiers.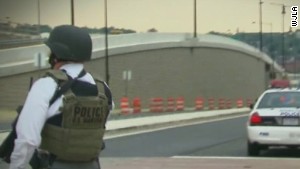 U.S. on alert over homegrown extremists
In a new report which we helped co-author, the Bipartisan Policy Center's Homeland Security Project, a successor to the 9/11 Commission, assessed the current threat posed by such "homegrown" militants.
Since 9/11, jihadist terrorists have killed 25 people in the United States. Each one of those deaths is a tragedy, but none of these attacks were national catastrophes as 9/11 was.
While al Qaeda and its affiliates have failed to conduct any successful attacks in the United States since 9/11, they have sought to encourage action from militant American citizens, who might be more capable of carrying out terrorist operations in the States than foreign operatives given the stringent security measures now in place.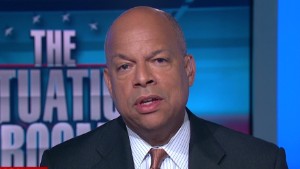 Are Americans attempting to fight in Syria?
Unfortunately, this strategy of promoting homegrown extremism has demonstrated some successes, such as Maj. Nidal Hasan's killing of 13 people at the Fort Hood, Texas, military base in 2009 and the 2013 Boston Marathon bombings, which authorities have said were carried out by Dzhokhar and Tamerlan Tsarnaev.
All of these were inspired by the propaganda of Anwar al-Awlaki, the American cleric killed in a 2011 U.S. drone strike in Yemen after he took up an operational role in al Qaeda in the Arabian Peninsula.
According to the New America Foundation's research, an astonishing quarter of the 247 jihadist extremists charged since 9/11 either possessed copies of al-Awlaki's propaganda materials, cited him as an influence or were in communication with him.
The influence of al-Awlaki and al Qaeda in the Arabian Peninsula's English-language magazine Inspire has persisted even after al-Awlaki's death.
Worrisomely, around 100 Americans have traveled to fight in Syria with opposition groups, including with ISIS and the al Qaeda-affiliated Nusra Front.
So far, nine Americans have been charged with attempting to support or supporting ISIS or Nusra, according to a count by New America.
In addition, at least two Americans have died fighting with these groups: Moner Mohammad Abu-Salha, who committed a suicide bombing in Syria for Nusra Front, and Douglas McCain, who died fighting with ISIS.
The difficulty al Qaeda and similar groups have had in inspiring Americans to conduct attacks at home is due to the strength of systemic security checks, such as the willingness of Muslim communities to report potential terrorist activity. A third of the extremists charged since 2001 were implicated by tips from family or local community members, according to an analysis by New America.
Of the 51 plots to conduct an attack inside the United States since 9/11, nearly half were initiated while the suspects were under surveillance by informants, according to a count by New America.
The role that the Muslim community has played as well as aggressive law enforcement efforts using informants have both helped to make the United States a hard target for militants.
Add to these factors other measures taken since 9/11; the day that al Qaeda's hijackers attacked the World Trade Center and the Pentagon, there were only 16 people on the U.S. no-fly list. Today, there are more than 40,000.
In 2001, there were 32 Joint Terrorism Task Force "fusion centers," where multiple law enforcement agencies work together to chase down leads and build terrorism cases. Now there are 103.
Before 9/11, the U.S. Department of Homeland Security, National Counterterrorism Center, Transportation Security Administration, Northern Command and Cyber Command didn't exist. In 2014, all of these new institutions make it much harder for terrorists to operate in the United States.
The U.S. intelligence budget also grew dramatically after 9/11, with Congress giving the government substantial resources with which to improve its counterterrorism capabilities. In 2013, the United States allocated $72 billion to intelligence collection and other covert activities. Before 9/11, the budget was around a third of that figure: $26 billion.
In addition, greater public awareness of the danger posed by terrorism has also made the United States a much harder target. It was his fellow passengers who tackled Umar Farouk Abdulmutallab, the "underwear bomber," on Christmas Day 2009 as he tried to detonate a bomb on Northwest Flight 253 as it flew over Detroit.
Read CNNOpinion's new Flipboard magazine.
Follow us on Twitter @CNNOpinion.
Join us on Facebook/CNNOpinion.