'7th Heaven' stars reunite
updated 8:45 PM EDT, Thu September 18, 2014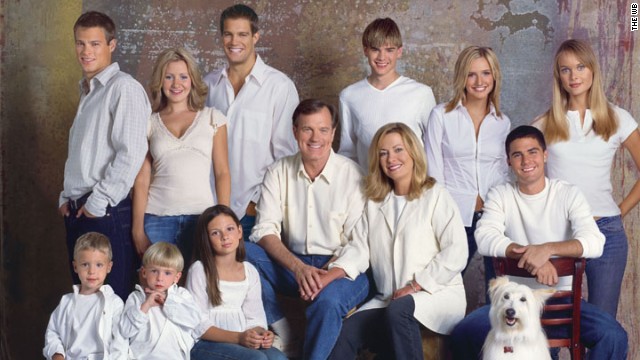 Some cast members of the popular '90s series "7th Heaven" recently reunited for dinner and posted pics on social media. Let's catch up with the Camden family.
Stephen Collins played minister and loving husband and father Eric Camden. Collins has continued to act, appearing as Captain/Commander Willard Decker in "Star Trek: The Motion Picture" and most recently as Dr. Gene Porter in the short-lived NBC series "Revolution."
Catherine Hicks as Annie Camden remains one of the most popular TV moms. The actress has had a thriving career appearing in Lifetime TV movies and in theater.
Lucy Camden-Kinkirk, as portrayed by Beverley Mitchell, is one of the show's most popular characters. Mitchell most recently had a role on the TV series "The Secret Life of the American Teenager."
David Gallagher grows up pretty quickly as Simon Camden on the show. He later guest starred on several series, including "Bones" and "The Vampire Diaries."
Matt Camden is the family's first born and portrayed by Barry Watson. The actor took a break from the business after discovering in 2002 he had Hodgkin's lymphoma. Today he is in remission and most recently appeared in the TV shows "Masters of Sex" and "Hart of Dixie."
Jessica Biel first found fame as Mary Camden. Biel has appeared on TV and in films, including "Total Recall" and "Hitchcock." She married singer/actor Justin Timberlake in 2012.
Lucy's husband, Kevin Kinkirk, is played by actor George Stults. He last appeared on the short-lived Fox TV series "The Finder."
7th Heaven: Where are they now
7th Heaven: Where are they now?
7th Heaven: Where are they now?
7th Heaven: Where are they now?
7th Heaven: Where are they now?
7th Heaven: Where are they now?
7th Heaven: Where are they now?
7th Heaven: Where are they now?
'7th Heaven:' Where are they now?
STORY HIGHLIGHTS
Several "7th Heaven" cast members recently reunited
Actress Beverley Mitchell shared a photo
All of the cast has continued to act since "7th Heaven" ended in 2007
(CNN) -- "7th Heaven" ended its run seven years ago, but the show's stars are still like family.
On Wednesday, Beverley Mitchell, who starred as Lucy Camden during the wholesome drama's 11-season run, shared a photo on WhoSay of herself dining with most of her fellow cast members.
The group, which beamed from ear-to-ear as they stood around a table filled with food and drinks, included Jessica Biel, who played Mary, David Gallagher (Simon); Stephen Collins (Rev. Eric Camden); Barry Watson (Matt); and Catherine Hicks (Annie).
Noticeably absent from the gathering was Mackenzie Rosman, who starred as the Camden family's youngest daughter, Ruthie.
"Something truly amazing happened last night and my heart is overflowing," Mitchell said in her WhoSay post. "Love these peeps more than I can ever explain! we were just missing Mack! Feeling so incredibly blessed to have these incredible people in my life!!! #theresnothinglikefamily #7thheaven #love #blessed"
When it premiered in 1996, "7th Heaven" helped put The WB on the map, becoming a signature show for the struggling network. Aaron Spelling executive produced the hit series, which followed a minister and his wife dealing with the challenges of raising seven children.
All of the cast continues to act, with Mitchell and Hicks most recently starring in the 2014 family film, "The Dog Who Saved Easter." Biel, who's gone on to star in numerous films and is now married to Justin Timberlake, had a high-profile guest role in the season 4 premiere of "New Girl" on September 16.
The final question on everyone's minds might be the whereabouts of the Camden family's dog, Happy. Sadly it seems the mixed terrier, which starred on "7th Heaven" throughout its 11 seasons, died in 2010 at the age of 15, according to IMDb.
'Facts of Life' stars reunite for 35th anniversary