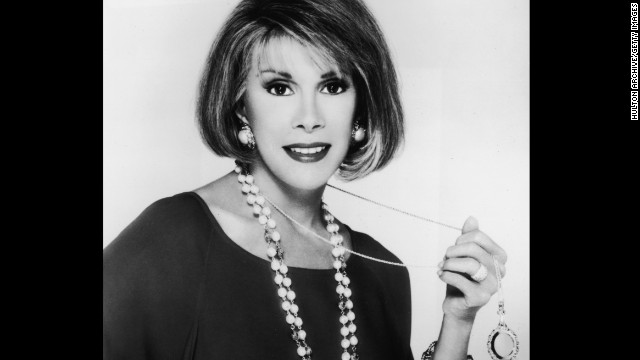 Comedian Joan Rivers died Thursday, September 4, a week after suffering cardiac arrest during a medical procedure, her daughter said. She was 81. Click through the gallery to look back at her career.
Rivers' big break came in an appearance on Johnny Carson's "Tonight Show" in 1965. It was the beginning of a relationship that would include dozens of appearances as guest and guest host.
Rivers followed her Carson breakthrough with appearances on talk and variety shows. Ed Sullivan had her as a guest in 1966.
Rivers hit a peak in the 1980s, headlining in Las Vegas and becoming a regular guest host on the "Tonight Show."
Rivers is famed for her quick wit, which she often uses against herself.
Rivers later hosted talk shows of her own. Here, she chats with Dolly Parton.
She starred on the daytime "Joan Rivers Show," for which she won a Daytime Emmy, for five seasons, from 1989-1994. Here, she poses with her dog, Spike.
Rivers wanted to be an actress when she was young, and she fulfilled that goal after her success as a comedian -- though sometimes playing herself, as she did on "Nip/Tuck," with Julian McMahon, left, and Dylan Walsh.
Rivers and her daughter, Melissa, have been regulars on awards show red carpets, critiquing celebrity fashion with lines both generous and cutting.
Rivers talks with Tim McGraw and his wife, Faith Hill, at the Grammys in 2005.
Rivers with Tina O'Brien at the British Academy Television Awards in 2007.
Rivers was a star among comedians, admired for her longevity and wit. She attended the Mark Twain Prize ceremony in 2008. The honor that year went to the late George Carlin.
Kathy Griffin is one of many comedians who can cite Rivers as an influence. Like Rivers, Griffin is known for mocking celebrities at various events. Here, she and Rivers share a stage during a Rivers roast in 2009.
Rivers proved herself to be quite the savvy businessperson by winning a season of Donald Trump's "Celebrity Apprentice." Trump and his wife, Melania, join Rivers at the season finale in 2009.
Katie Finneran and Rivers attend the Broadway opening after-party of "Promises, Promises" at the Plaza Hotel in New York in 2010.
Rivers, a fashion lover, attends the LensCrafters' reveal of Sunglass Fashion Crimes in 2011.
In February 2013, she attended the Dennis Basso Fall 2013 fashion show. Alongside her, from left, are Martha Stewart, Star Jones and Kelly Bensimon.
After a falling-out with Johnny Carson, Rivers didn't return to the "Tonight Show" until earlier this year, when Jimmy Fallon took over as host. She was a guest on Fallon's show on February 17.
Rivers officiates the wedding of William "Jed" Ryan, left, and Joseph Aiello at the Plaza Athenee on August 15 in New York.
Joan Rivers through the years
Joan Rivers through the years
Joan Rivers through the years
Joan Rivers through the years
Joan Rivers through the years
Joan Rivers through the years
Joan Rivers through the years
Joan Rivers through the years
Joan Rivers through the years
Joan Rivers through the years
Joan Rivers through the years
Joan Rivers through the years
Joan Rivers through the years
Joan Rivers through the years
Joan Rivers through the years
Joan Rivers through the years
Joan Rivers through the years
Joan Rivers through the years
Joan Rivers through the years
STORY HIGHLIGHTS
NEW: Clinic says it made changes requested by accreditation group after Rivers' death
Dr. Gwen Korovin "categorically denies" what a source tells CNN
The source says that Korovin joked that Rivers would've thought selfie was funny
Korovin is well known for helping celebrities with voice trouble
(CNN) -- Joan Rivers' personal throat doctor denies "performing an unauthorized procedure" before the comedian suffered cardiac arrest, a source close to the doctor told CNN.
Dr. Gwen Korovin also "categorically denies" taking a selfie photo of Rivers while she was under anesthesia at a medical clinic, the source said Thursday.
The statement disputes what a source close to the Rivers death investigation told CNN: that staff members at the clinic told investigators that Korovin snapped the selfie while Rivers was under anesthesia and also performed an unauthorized procedure on Rivers.
Rivers, 81, died a week after suffering cardiac arrest during an appointment at Manhattan's Yorkville Endoscopy clinic.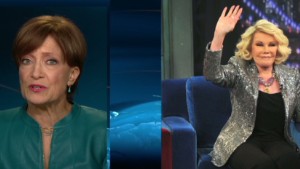 Rivers' surgeon under scrutiny
CNN's source close to the investigation also provided new details Thursday, including that Rivers was visible in Korovin's procedure room selfie.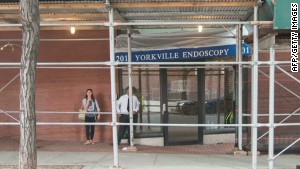 Accreditation issues for Rivers clinic?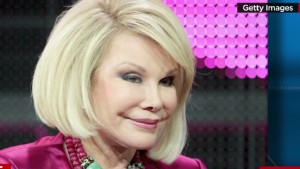 Joan Rivers' doctor allegedly took a selfie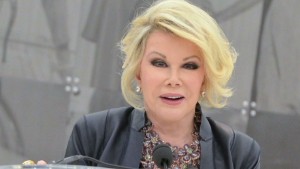 Rivers joked about her own death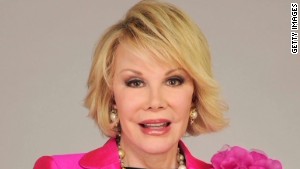 Joan Rivers and her plastic surgery
Clinic workers told investigators they heard Korovin make a statement to the effect that Rivers "will think this is funny" or "would love this" as she took the photo, the source said.
Investigators do not have access to the phone Korovin used to take the photo, the source said.
The procedures
The source also provided more specific information about what procedures were done on Rivers.
Several clinic workers told investigators that it began with Korovin performing a laryngoscopy, which involves using a device to view a patient's vocal folds.
Gastroenterologist Dr. Lawrence Cohen, who was the medical director of the clinic until resigning after Rivers' death, then performed an endoscopy intended to diagnose why she was suffering a sore throat and hoarseness, the source said.
Cohen detected something of concern, the source said.
Korovin then began a second laryngoscopy to again view River's vocal cords, the source said. It was at that time that her vocal cords began to swell, leading to a cutoff of oxygen to her lungs and ultimately to cardiac arrest, according to the source.
The clinic denies published reports that a vocal cord biopsy was performed moments before Rivers went into cardiac arrest.
Paramedics rushed Rivers from Yorkville Endoscopy to New York's Mount Sinai Hospital a mile away, where she was kept on life support until she died a week later.
Korovin was authorized only to observe Cohen, who performed the procedure, since she was not certified by Yorkville Endoscopy clinic, as required by New York health law, the source said.
Investigators have found no prior consent form signed by Rivers authorizing a procedure by Korovin, the source said. It was unclear if Rivers had given verbal consent to the biopsy before being sedated.
Celebrity endorsements
Korovin is well known for helping an impressive list of celebrities with voice trouble. The list of famous patients who have sung her praises include actors Hugh Jackman and Nathan Lane and singers Celine Dion, Lady Gaga and Ariana Grande.
The walls of Korovin's Manhattan medical office are covered with autographed photos, including from operatic tenor Luciano Pavarotti, Broadway star Barbara Cook and actress-singer Julie Andrews.
"I've always been fascinated by the human voice and music," Korovin, 55, is quoted telling the New York Daily News in a profile story last year. 
Korovin's lawyer sent a statement to CNN on Thursday in response to the reports:
"Gwen S. Korovin, M.D. is a highly experienced, board certified otolaryngologist.  She maintains privileges at one of the city's most prestigious hospitals. She is respected and admired by her peers in the medical community and she is revered by her patients.
"As a matter of personal and professional policy, Dr. Korovin does not publicly discuss her patients or their care and treatment. Further, Dr. Korovin is prohibited by state and federal confidentiality laws from discussing her care and treatment of any particular patient.
"For these reasons, neither Dr. Korovin nor her attorneys will have any public comment on recent press reports regarding her practice. We ask that the press please respect Dr. Korovin's personal and professional policy of not discussing her patients, as well as the privacy of her patients."
Accreditation agency makes a visit
The American Association for Accreditation of Ambulatory Surgery Facilities (AAAASF) sent representatives for an unscheduled visit to the clinic after hearing about Rivers' cardiac arrest, according to letters from the group.
The letters cited two "deficiencies" found by the representatives, declared the clinic to be in "immediate jeopardy" and placed it on "emergency suspension." The accreditation group said the clinic should stop procedures and surgeries "until accreditation questions are settled."
The clinic, however, sent CNN a statement Friday acknowledging the visit by the accreditation groups and saying "it is is in the process of implementing those steps" requested by the group.
The clinic's credentialing procedures have been revised after meeting with the accreditation agency's surveyors, it said.
Yorkville Endoscopy is fully operational and under no suspension, the clinic's spokeswoman said.
While the accreditation agency has no power to shut a clinic down, the state of New York does. State health investigators also found deficiencies in Rivers' treatment, according to a source close to the death investigation. These include the participation of Rivers' personal throat doctor.
Timeline emerges in Joan Rivers' death
Yorkville Endoscopy issued a statement last Thursday denying reports that any vocal cord biopsy has ever been done at the clinic, although federal privacy law prevented any patient information from being released.
The day after the denial was issued, the clinic confirmed that Cohen "is not currently performing procedures. ... Nor is he currently serving as medical director."
The source said that at this time, neither Cohen nor the ear, nose and throat doctor have been accused of wrongdoing by investigators.
Melissa Rivers has been silent since her mother's death on September 4, although she did post an online message thanking friends and fans Wednesday evening.
"As my son Cooper and I mourn the loss of my mother, we want to thank everyone for the beautiful cards and flowers conveying heartfelt messages and condolences, which continue to arrive from around the world and through social media. My mother would have been overwhelmed by the scope and depth of the love that people have expressed for her. It is certainly helping to lift our spirits during this time.
"We are forever grateful for your kindness and support in continuing to honor my mother's legacy, and for remembering the joy and laughter that she brought to so many."
CNN's Lena Jakobsson contributed to this report.