Sharon Osbourne goes off on U2 over their free album
updated 7:41 AM EDT, Thu September 18, 2014
Biggest celebrity feuds
Biggest celebrity feuds
Biggest celebrity feuds
Biggest celebrity feuds
Biggest celebrity feuds
Biggest celebrity feuds
Biggest celebrity feuds
Biggest celebrity feuds
Biggest celebrity feuds
Biggest celebrity feuds
Biggest celebrity feuds
Biggest celebrity feuds
Biggest celebrity feuds
Biggest celebrity feuds
Biggest celebrity feuds
Biggest celebrity feuds
Biggest celebrity feuds
Biggest celebrity feuds
Biggest celebrity feuds
Biggest celebrity feuds
Biggest celebrity feuds
Biggest celebrity feuds
Biggest celebrity feuds
Biggest celebrity feuds
Biggest celebrity feuds
Biggest celebrity feuds
Biggest celebrity feuds
Biggest celebrity feuds
Biggest celebrity feuds
Biggest celebrity feuds
Biggest celebrity feuds
Biggest celebrity feuds
Biggest celebrity feuds
Biggest celebrity feuds
Biggest celebrity feuds
Biggest celebrity feuds
Biggest celebrity feuds
STORY HIGHLIGHTS
Sharon Osbourne tweeted her feelings about the free U2 album
She called the band middle-aged political groupies
Osbourne later explained she felt it set a bad precedent
(CNN) -- Note to the Grammys: You may not want to seat Sharon Osbourne anywhere near U2 at the next awards show.
"The Talk" co-host and wife of rocker Ozzy Osbourne went on a Twitter rant about the group's recent free release of its new album on iTunes.
"U2 you are business moguls not musicians anymore," she tweeted. "No wonder you have to give your mediocre music away for free cause no one wants to buy it."
Ouch.
In a deal that cost Apple a reported $100 million -- including fees to U2 and a marketing campaign for the album -- the Irish rockers released their first album in five years,"Songs of Innocence," through iTunes to every subscriber to the Apple service. The group announced the freebie at the Cupertino, Califonia, press conference for the new iPhone 6.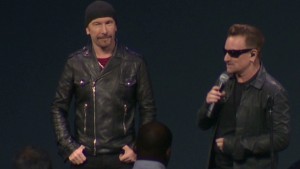 Bono: U2's new album available for free
"The question is now, how do we get it to as many people as possible, because that's what our band is all about," lead singer Bono said. "I do believe you have over half a billion subscribers to iTunes, so -- could you get this to them?"
Bono talks U2's surprise album, 'Songs of Innocence'
Not everyone has been a fan of the giveaway and Apple released instructions on how to delete the album.
Apple offers a way to 'return' that free U2 album
Osbourne is clearly not a fan and shared her irritation with her Twitter followers.
"Guys nothing is for free, how much you making," she tweeted. "PS, btw you are just a bunch of middle age political groupies...."
She went on to say "Whose political a** are we going to pull you out of today? Or are you front row at another tragic fashion show?" and finished her tirade with "Jimmy Iovine, iTunes, U2, you're a bunch of megalomaniacs. F**K YOU!"
Osbourne explained her strong feelings Tuesday on her CBS show "The Talk."
The problem, she said, is that U2 was helping to "set a precedent that music is disposable, it's just another piece of software and it's nothing, you should give it away for free."
"There's a whole new breed of artist coming up that need that money to survive to be able to continue to create," she said. "We're not all billionaires, we're not all in your world. So stop with you're 'doing us a favor by giving it away for free.' Keep it to yourselves!"