Pleated shorts and a cup-o-joe: Early morning with John Boehner
updated 1:34 PM EDT, Tue September 16, 2014
Washington (CNN) -- Before spending the rest of his day in a suit and tie, House Speaker John Boehner wakes up early, jumps into a pair of pleated khaki shorts and heads out for a morning stroll.
That's according to a video the social media savvy Boehner's office released on Tuesday. It runs through the Speaker's daily routine, although it leaves out the behind-the-scenes political infighting and strategy you might expect from a reality TV show. Real Congressmen of Capitol Hill?
In the video produced by his office, Boehner rises before 6 a.m., and dons sneakers, a red baseball cap and tucks his t-shirt into those khaki shorts. He walks the streets like a neighborhood cop on his beat, greeting neighbors and passersby.
"You know I walk up to Starbucks and grab some coffee and walk back and it just kind of gets me moving at 6 o'clock in the morning," Boehner says.
That time is what Boehner's special assistant Tommy Andrews describes as his "morning time by himself."
After a caffeine jolt from Starbucks, Boehner is off to Pete's Diner, a local Capitol Hill joint, for breakfast.
"Time to clear the mind a little bit," Boehner says.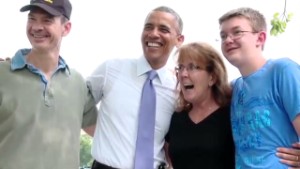 Tourists stunned to see Obama on walk
Several news clips and a phone call to his wife later, the Speaker walks up the Capitol Hill steps, but the pleated shorts are gone, replaced by a suited up House Speaker always flanked by several aides.
Time for Boehner to jump into the business of running the House of Representatives. The business part of his day might be less pleasant than the morning stroll. A CNN/ORC poll released last week showed that 83% of Americans disapprove of Congress. Sixty-five percent said this is the "worst Congress in their lifetime."
The criticism hasn't kept Boehner from getting a good night's sleep. He insists in the video he's always in bed early.
"Nothing good happens after 10 pm, so I'm always in bed before 10," Boehner says at the end of the nearly 3-minute clip. "Get up at 5:30, quarter to 6 and ready to go."