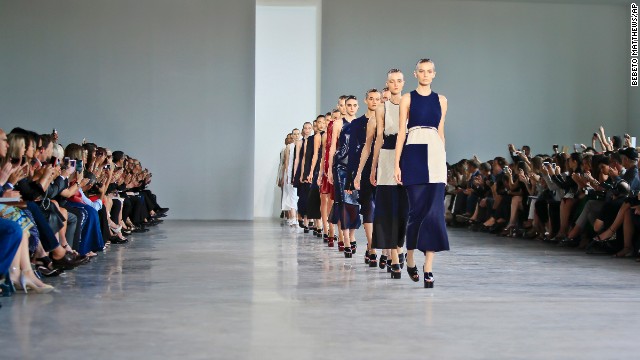 CNN Living was on the scene as designers showcased their spring 2015 collections at New York Fashion Week from September 4 to 11. Calvin Klein showed a collection of long, lean silhouettes on the last day of Fashion Week.
The Calvin Klein collection included a laser-cut, red leather coat in an elongated silhouette.
Calvin Klein layered a racerback, knit dress over a longer skirt to lengthen the model's stature for spring.
J. Mendel designer Gilles Mendel showed his edgier spring collection on the last day of the event.
A model walked in a vibrant, turquoise-and-pink fur coat for J. Mendel.
Ralph Lauren's spring collection focused on a palette of olive and tan safari tones with pops of yellow, orange, purple and pink to glam things up.
Ralph Lauren embroidered colored jewels onto the top of this vibrant, evening look with a tulle skirt.
Ralph Lauren layered elaborate jewels under an orange safari jacket for another colorful statement.
Jeremy Scott showed his eccentrically printed designs for men and women on September 10.
Jeremy Scott, who is also the creative director for Moschino, kept his show full of neon, festival-inspired wear.
Controversial pop star Miley Cyrus debuted her collaborative "Dirty Hippie" accessories line with Scott during the show, and sat front row.
Anna Sui debuted his-and-hers hippie designs on September 10.
A model walked the runway in matching floral separates during Anna Sui's psychedelic show.
Anna Sui layered a rainbow-crocheted sweater vest with a bohemian dress during her spring show.
Indian-born designer Bibhu Mohapatra matched a crop top with sheer underlay with a pair of slim-fit pants for his show on September 10.
Bibhu Mohapatra sent a model down the runway in a distinctly feminine, tan-and-blue shift dress.
Michael Kors decorated a 1950s, "postwar" silhouette with daisy appliqués.
Michael Kors also debuted spring pieces for men, including this toggle coat.
Model Karlie Kloss walked the runway for the legendary designer Oscar de la Renta on September 10.
Oscar de la Renta's spring collection started with chic day clothes and ended with his signature, old-Hollywood glamour. The 82-year-old designer lined the runway -- and his clothes -- with roses, daisies and irises.
Oscar de la Renta sent a model down in a key lime gown that was shorter in front.
Models walked the runway at the rave-inspired Marc By Marc Jacobs show on September 9. This was the second collection for the brand by Katie Hillier and Luella Bartley.
A model tightly gripped a futuristic-shaped Marc by Marc Jacobs bag as she took her turn on the runway.
Polka dots were seen throughout the edgy brand's spring collection.
Rodarte designers Kate and Laura Mulleavy also showed their collection on September 9.
Rodarte's spring collection was inspired by sea life and tide pools, according to the design team of sisters.
Male and female models posed at the J. Crew presentation on September 9.
Many of the models at the J. Crew presentation were accessorized with striking sunglasses.
The brand incorporated cool-girl, street style elements like this jacket into its established preppy styling.
Tory Burch's spring collection was inspired by one of Picasso's muse, Françoise Gilot.
Tory Burch embroidered crystals onto a linen coat for this model's look during her show on September 9.
Zac Posen showed his collection of elegant trouser sets and gowns on September 9.
"We worked with a very limited color palette. I thought of pure white to black as a counterbalance, then for the heat of the show, we worked with red," Posen told CNN backstage.
Model Coco Rocha popped off the runway in red at Zac Posen.
Designer Stacey Bendet presented her Versailles-inspired spring collection for alice + olivia on September 8.
Lavish beading and sparkling embellishments were aplenty at alice + olivia.
A model held a delicate, daisy-decorated clutch during the alice + olivia presentation.
Tommy Hilfiger's spring collection, which debuted on September 8, was inspired by the rock icons of the 1960s and 1970s.
Many of the models for Tommy Hilfiger were accessorized with temporary star-shaped tattoos.
Tommy Hilfiger kept true to his music festival muse with an oversized, multi-colored vest.
Carolina Herrera focused her spring collection on florals and experimental fabrics in her iconic glamorous aesthetic on September 8.
Carolina Herrera sent a model down in a soft yellow gown.
Virginia Smith, Anna Wintour, Gina Sanders and Grace Coddington of Vogue Magazine and Condé Nast sat front row at the Carolina Herrera fashion show.
Donatella Versace teamed up Anthony Vaccarello for the Versus Versace spring collection on September 7.
A model highlighted a dress's perforated leather detailing during the Versus Versace show.
Black-and-white prints with gold detailing dominated the Versus Versace collection.
Models walked the runway in Thakoon's spring 2015 collection on September 7.
Designer Thakoon Panichgul was inspired by Tahiti for his spring collection.
Thakoon opted for a silk polka dot pattern in this drapey look.
A model showed off a structured bikini top and high-waisted skirt for Diane von Furstenberg on September 7.
A model walked the runway at the Diane von Furstenberg fashion show in a matching bright gingham short set.
Diane von Furstenberg played with bright floral prints.
Tracy Reese was inspired by off-duty ballerinas and choreographer Martha Graham for spring. She even started her September 7 show with a performance by an interpretive dance troupe.
Tracy Reese featured muted pops of yellow in a few of the looks.
Tracy Reese paired a ballet sweater with a floor-length, pleated skirt for this effortless look.
Tracy Reese also showcased cactus flower prints in her collection.
Derek Lam channeled 1970s Americana with jewel-toned separates during his September 7 show.
Derek Lam detailed a crisp, high-waisted skirt with a double row of buttons.
For Derek Lam's final look, a model walked in an asymmetrical black skirt with a peplum waist.
Victoria Beckham showed her sleek spring collection on the fourth day of the event.
Victoria Beckham's collection stuck to a muted palette with occasional accents of maroon.
This Victoria Beckham piece was accented by shoulder cutouts and a maroon belt.
Joseph Altuzarra debuted the spring collection for his brand Altuzarra on September 6. The first few looks featured pink gingham.
A model walked the Altuzarra fashion show in a black and white striped jacket with leather trim.
In a more daring look, Altuzarra crisscrossed strips of leather for this dress.
For spring, Hervé Léger played with the brand's signature body-con silhouette.
A model walked the runway with a geometric clutch at Hervé Léger.
The Hervé Léger collection was based on "the woman warrior," according to the designers Max and Lubov Azria.
Rebecca Taylor showed her spring collection on September 6. Here, a model wore a lilac dress with embroidered flowers.
In this look, Rebecca Taylor paired a lilac flutter sleeve top with culottes.
A lilac-hued silk chiffon shirt was paired with a "mariner" slim pant for Rebecca Taylor.
Prabal Gurung's spring collection featured breezy cocktail dresses with racerbacks. The designer showed the new looks on September 6.
Many of Prabal Gurung's looks also featured asymmetrical elements.
Model Hanne Gabbe showed off an open-weaved sweater for designer Prabal Gurung.
Designer Mara Hoffman matched a crop top with wide-leg culottes and baseball cap for her September 6 show.
This print brightened up the Mara Hoffman runway.
A few of the looks at Mara Hoffman featured head-to-toe white.
Jill Stuart stayed true to the spring's 1970s vibe with her runway show on September 6.
A model strutted in a one-shoulder dress for Jill Stuart, who is known for her chic, contemporary style for the modern woman.
Models wore 3D glasses during the Rebecca Minkoff show on September 5. The last looks in the designer's spring collection incorporated 3D elements, so audience members were also given a pair of the glasses to get the full effect.
Rebecca Minkoff styled a model in pastel separates.
Rebecca Minkoff also sent her line of handbags down the runway with the models, including this fringe-lined option.
Models gave the audience another look at the full Rebecca Minkoff collection during their final walk.
Jason Wu revealed his minimalist spring collection on September 5.
Jason Wu played with shimmery tones of olive and navy for spring.
Jason Wu also unveiled his new handbag collection in the same neutral, navy and army green palette.
Kate Spade designed many pieces in her spring collection with graphic poppies.
One of Kate Spade's inspirations for spring 2015 was the concept of "fresh starts," playing with elements of grass and gardening as seen with this watering can bag.
Kate Spade's spring collection incorporated her signature ladylike and playful silhouettes.
A model at Kate Spade posed with a snail-shaped wicker purse at the designer's September 5 presentation.
Heidi Klum, left, and Tim Gunn, right, took part in the ALS Ice Bucket Challenge during the "Project Runway" finale at Fashion Week.
Lubov and Max Azria debuted their spring BCBGMAXAZRIA collection on the first day of the event.
During the BCBGMAXAZRIA show, a model walked the runway in a "lavender mist" silk dress with a light aqua stitched belt.
This look by BCBGMAXAZRIA featured a silk drop-waist dress with a light aqua hydrangea print.
The palette of the BCBGMAXAZRIA collection was heavy on soft pastels, as seen in this quilted jacket.
BCBGMAXAZRIA also relied heavily on abstract floral prints in draped silk.
The silk drape dresses of BCBGMAXAZRIA were counterbalanced by structured, quilted pieces in the same tones, as seen here.
There was fluidity in many of the BCBGMAXAZRIA pieces, including this white silk V-neck dress.
A printed dress by BCBGMAXAZRIA was paired with an oversized suede messenger bag.
Designer Katharine Polk, for her line Houghton, adorned a crisp button-down with black lace overlay.
A model wore a slip dress down the runway for Houghton.
This piece by Houghton combined two trends into one: the classic button-down and the tent dress silhouette.
Designer Richard Chai presented his spring collections for both men and women on September 4.
A model strode in menswear-inspired, slouchy suiting for designer Richard Chai.
A model was styled with an off-shoulder silk robe coat at the Richard Chai show.
Spanish brand Desigual brightened up the runways with "flora and fauna" inspiration in its spring collection.
Models for Desigual smiled and danced down the runway in vibrant floral patterns of hibiscus, roses, dahlias and the like.
Creatures of the Wind's Shane Gabier and Christopher Peters showed their spring 2015 collection and debuted their first collection of shoes on the first day of Fashion Week.
A model walked down the runway in a dress with cutout elements and warm-colored, vertical stripes for Creatures of the Wind.
The Creatures of the Wind collection paired a trench with a classically tailored pant in a bold striped pattern.
A model walked the runway in yellow suiting with a twist for Creatures of the Wind.
Designer Tadashi Shoji played with caped gowns in his spring collection.
A model showed a shorter version of a caped gown by Tadashi Shoji, who paid homage to 15th century Venice.
Tadashi Shoji played with sheer elements in this elegant look.
In addition to sheer elements, the top of the pale blue gown was heavily detailed with lace.