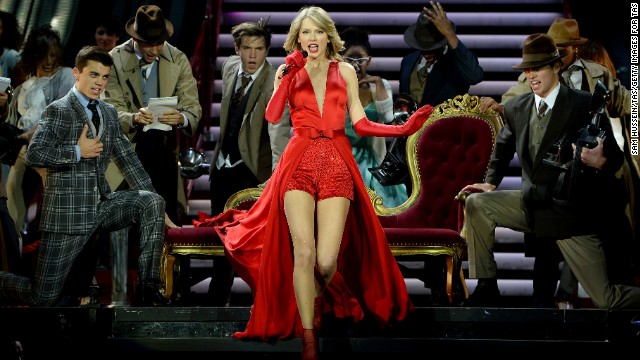 Billboard's list of the highest-paid musicians arrived in March, and it's no shocker that seven-time Grammy winner Taylor Swift is sitting pretty. She comes in at No. 1 with $39,699,575.60 for 2013.
According to Billboard
, it forms the list by ranking the artist's U.S. earnings, which are calculated from touring, recorded-music sales, publishing royalties and revenue from digital music and video streaming. Here are the rest of the Top 10.
Country music is clearly doing well, as Kenny Chesney occupies the No. 2 spot with $32,956,240.70 in earnings.
Justin Timberlake's "The 20/20 Experience" helps him see clearly to the No. 3 position with $31,463,297.03 in 2013.
The group Bon Jovi released a new album in 2013 and made $29,436,801.04, placing them at No. 4.
The Rolling Stones clock in at No. 5 with 2013 earnings of $26,225,121.71.
At No. 6, Beyonce had a nearly "Flawless" year with her surprise album release and $24,429,176.86 in earnings.
Maroon 5 may have been helped by front man Adam Levine's gig as a judge on "The Voice." The band raked in $22,284,754.07 to place them in the No. 7 slot.
Nashville star Luke Bryan saw his 2013 earnings swell to $22,142,235.98, so he grabs the No. 8 position.
Fleetwood Mac's reunion means $19,123,101.98 in 2013 earnings and the final spot in the Top 10 list.
Billboard 2013's highest-paid musicians
Billboard 2013's highest-paid musicians
Billboard 2013's highest-paid musicians
Billboard 2013's highest-paid musicians
Billboard 2013's highest-paid musicians
Billboard 2013's highest-paid musicians
Billboard 2013's highest-paid musicians
Billboard 2013's highest-paid musicians
Billboard 2013's highest-paid musicians
Billboard 2013's highest-paid musicians