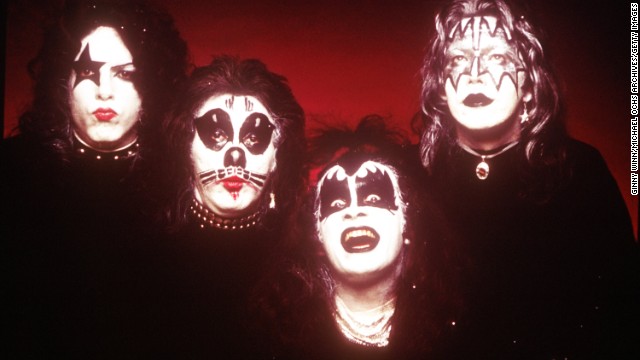 For 40 years, KISS has been enthralling fans with its hard-rock sound, over-the-top look and pyrotechnic shows. Although Gene Simmons has claimed
in Esquire magazine
that "rock is finally dead," KISS is one of the genre's most enduring bands. Here's a look back at the group over the years. Left to right, Paul Stanley, Peter Criss, Gene Simmons and Ace Frehley pose for KISS' first album in 1974.
Gene Simmons, KISS' long-tongued bassist and vocalist, sits backstage in Detroit with Larry Harris in May 1975. Harris co-founded Casablanca Records, KISS' record label.
KISS' trip to the top was guided by manager Bill Aucoin, left, who sat down with the band for an NBC documentary, "Land of Hype & Glory," that aired in 1978. At center, with Peter Criss, is NBC's Edwin Newman.
The band's chart success was based on constant and energetic touring -- concerts that were then turned into some best-selling live albums. In 1977, the band released "KISS Alive II," displayed here by a coy Simmons.
The band expanded its reach into movies with "KISS Meets the Phantom of the Park," a 1978 film that aired on NBC. Though the movie has become a cult classic, the band wasn't happy with the way it turned out.
In 1978, the four members of the band each released solo albums on the same day. Though the records all sold respectably, only one of them -- Frehley's -- produced a big hit, "New York Groove." Simmons concluded his album with "When You Wish Upon a Star."
Among the contributors to Simmons' solo album was his girlfriend at the time, Cher. Here the couple attends the premiere of "Kramer vs. Kramer" in December 1979.
Kiss performs on stage, circa 1981. Peter Criss, the band's original drummer, was replaced by Eric Carr in 1980. Left to right: Gene Simmons, Ace Frehley, Eric Carr and Paul Stanley.
Lead guitarist Ace Frehley left the band in 1982 and was replaced by Vinnie Vincent. The new lineup -- left to right, Simmons, Stanley, Vincent and Carr -- pose here in 1983.
In late 1983, the band decided to go without its famous makeup, first in an appearance on MTV and then on tour. Simmons had trouble coping. "(I) didn't know how I was supposed to act, because the non-makeup version of the band was an entirely new idea," he wrote in his book, "Kiss and Make-Up." Left to right, Simmons, Vincent and Stanley play London's Wembley Arena in 1983.
Simmons has been with former Playboy Playmate Shannon Tweed since 1983. The two married in 2011 and co-starred in the reality show "Gene Simmons Family Jewels." Here, the two attend the Oscars in 1985.
KISS received a star on the Hollywood Walk of Fame in 1999. The four original members, who had reunited in 1996, were on hand for the unveiling.
KISS Kasket
sells for $5,000, comes in two different designs and is wildly popular among fans. Would you rather be cremated? Don't worry, there's a KISS urn as well.
The band, especially Simmons, has shrewdly marketed KISS' image and logo, placing it on everything from action figures to, well, caskets. The
Simmons' reality show, "Gene Simmons Family Jewels," ran for seven seasons, from 2006 to 2012. The A&E show followed the adventures of Simmons and his family, including wife. Here, left to right, Simmons, wife Shannon Tweed, son Nick and daughter Sophie attend the premiere of "Oblivion" in 2013.
Earlier this year, 40 years after KISS' first album, the members of the band were inducted into the Rock and Roll Hall of Fame. Left to right, inductees Paul Stanley, Peter Criss, Gene Simmons and Ace Frehley celebrate at the induction ceremony in April.
40 years of KISS
40 years of KISS
40 years of KISS
40 years of KISS
40 years of KISS
40 years of KISS
40 years of KISS
40 years of KISS
40 years of KISS
40 years of KISS
40 years of KISS
40 years of KISS
40 years of KISS
40 years of KISS
40 years of KISS