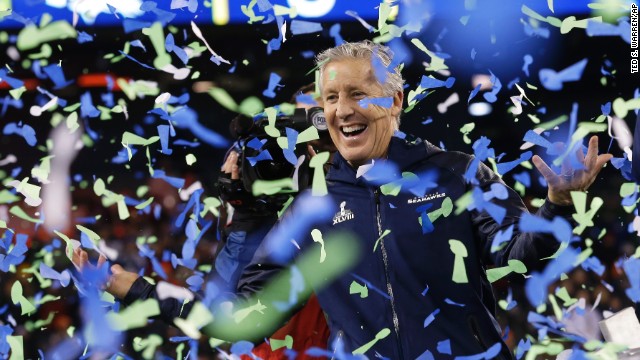 Seattle Seahawks head coach Pete Carroll celebrates his team's remarkable 43-8 win over the Denver Broncos in Super Bowl XLVIII.
The helmets of the competing Super Bowl teams Seattle and Denver flank the iconic Vince Lombardi trophy.
Denver makes a disastrous start as the ball sails over Peyton Manning from a snap which leads to a safety and points on the board for Seattle.
Manning (18) cuts a dejected figure after he walks off the field after being intercepted.
The Seahawks cheerleading squad had more to celebrate as its team took a stranglehold on the Super Bowl from the start.
Marshawn Lynch (no 24) forces his way through a pack of players to score the opening touchdown of the game for the Seahawks.
Manning is about to be intercepted in the second quarter with MVP Malcolm Smith returning for 69 yards to score the second touchdown for Seattle.
Smith has intercepted Manning's misplaced pass and is charging towards the end zone to score a touchdown.
A young Seahawks fan is dressed for the occasion as he supports his team at Super Bowl XLVII.
New Jersey Governor Chris Christie takes a welcome break from recent political controversies to share a moment with NFL Commissioner Roger Goodell in the build up to Super Bowl XLVII.
Seattle's controversial cornerback Richard Sherman was well protected against the New Jersey elements prior to the showdown.
Star quality. Actor Kevin Costner and his wife Christine Baumgartner turn up to watch the proceedings at the Metlife Stadium.
Opera singer Renee Fleming enchanted the crowd with her rendition of the American national anthem before the kickoff.
Denver Broncos fans were dressed for the chilly weather in New Jersey for Super Bowl XLVIII against Seattle Seahawks.
Bruno Mars and Anthony Kiedis of the Red Hot Chili Peppers join forces during the Super Bowl XLVIII halftime show in New Jersey.
Wide receiver Percy Harvin is on his way to completing an 87-yard return from the kick off at the start of the second half to put Seattle out of sight in Super Bowl XLVIII
Demaryuis Thomas scored a deserved touchdown in the third quarter to provide a rare moment of success for Denver.
Seahawks coach Carroll gets the traditional treatment as the clock counts down at the Metlife Stadium.
Seattle wins Super Bowl XLVIII
Seattle wins Super Bowl XLVIII
Seattle wins Super Bowl XLVIII
Seattle wins Super Bowl XLVIII
Seattle wins Super Bowl XLVIII
Seattle wins Super Bowl XLVIII
Seattle wins Super Bowl XLVIII
Seattle wins Super Bowl XLVIII
Seattle wins Super Bowl XLVIII
Seattle wins Super Bowl XLVIII
Seattle wins Super Bowl XLVIII
Seattle wins Super Bowl XLVIII
Seattle wins Super Bowl XLVIII
Seattle wins Super Bowl XLVIII
Seattle wins Super Bowl XLVIII
Seattle wins Super Bowl XLVIII
Seattle wins Super Bowl XLVIII
Seattle wins Super Bowl XLVIII