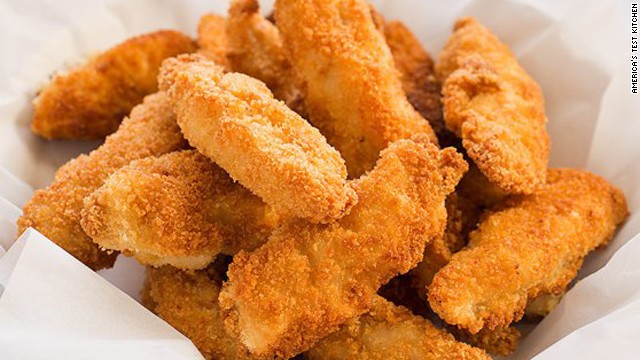 These chicken fingers get a quick saute to make them crispy, but if you do go the deep-fried route, here's what you need to know.
Arm yourself with the right tools: Tongs for larger pieces of food like chicken, while a spider skimmer or slotted spoon work for smaller items like French fries.
Use a large pot, and don't fill it more than halfway with oil.
To monitor the oil temperature, it's best to use a thermometer that clips to the side of the pot.
Putting a large amount of food in the hot oil all at once will make the temperature drop too much and will turn out soggy -- rather than crispy -- fried food.
The temperature will drop a little when you first add the food to the pot, so monitor the temperature as you proceed and adjust as needed.
Let excess oil drain from the food on paper towels.
Give it a fry
Give it a fry
Give it a fry
Give it a fry
Give it a fry
Give it a fry
Give it a fry
STORY HIGHLIGHTS
The cooks at America's Test Kitchen love chicken fingers
They found that packaged versions were full of preservatives
This homemade recipe is kid-friendly and delicious
Make batches ahead and freeze them for up to a month
Editor's note: America's Test Kitchen is a real 2,500 square foot test kitchen located just outside of Boston that is home to more than three dozen full¬time cooks and product testers. Our mission is simple: to develop the absolute best recipes for all of your favorite foods. To do this, we test each recipe 30, 40, sometimes as many as 70 times, until we arrive at the combination of ingredients, technique, temperature, cooking time, and equipment that yields the best, most foolproof recipe. America's Test Kitchen's online cooking school is based on nearly 20 years of test kitchen work in our own facility, on the recipes created for Cook's Illustrated and Cook's Country magazines, and on our two public television cooking shows.
(CNN) -- This recipe for Chicken Fingers comes from our new book, The Make-Ahead Cook, which presents eight different strategies that provide solutions for the time-pressed cook who appreciates the ease of make-ahead meals, but demands great taste. Each chapter focuses on a different path in make-ahead cooking, taking into account a variety of needs, budgets, and lifestyles, adding up to what is essentially eight cookbooks in one.
We developed this recipe because when we looked at the ingredient list on pre-packaged chicken fingers, we found way too many preservatives we couldn't pronounce. And while we like the idea of having something as simple and adaptable as chicken fingers on hand, we wondered if we could stock our freezer with kid-friendly, great-tasting chicken fingers with minimal effort. Here's how we did it.
America's Test Kitchen: The Make-Ahead Cook Book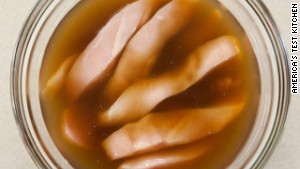 Brining makes the chicken very juicy so it doesn't dry out as it cooks.
Brine your bird:
We had a hunch that all those preservatives were helping to keep the chicken moist during the reheat, so we started by thinking about how to keep the chicken as moist as possible. Brining turned out to be the best solution: It makes the chicken very juicy so it doesn't dry out as it cooks. To give our chicken fingers great flavor, we added a dash of Worcestershire sauce to the brine and onion and garlic powder to the breading.
America's Test Kitchen: Farro, White Bean, and Broccoli Rabe Gratin
The crispier, the better:
To get a crisp coating on our chicken even after reheating, we swapped traditional bread crumbs for ultracrisp panko bread crumbs and tried a few different cooking techniques. Deep-frying the chicken fingers was a lot of work for little payoff. Next, we tried to mimic frying by tossing the breading with oil and baking the chicken, but on the reheat the chicken was dry and the coating was sandy. Sautéing turned out to be the winning technique: By the time the breading fried up supercrisp and golden, the chicken was cooked through but still tender and moist, and we avoided all the mess and waste of deep frying.
America's Test Kitchen: Essential Equipment for the Make-Ahead Cook
Storing and cooking:
To store the chicken fingers, simply transfer the cooled chicken to zipper-lock freezer bags, press out air, and seal. They're good for for up to 1 month. To cook, just heat the oven to 350 degrees, place chicken fingers on wire rack set in rimmed baking sheet. Bake until the chicken is heated through and crisp, about 30 minutes, flipping chicken halfway through baking.
America's Test Kitchen: Make-Ahead Stuffed Shells
Chicken Fingers Recipe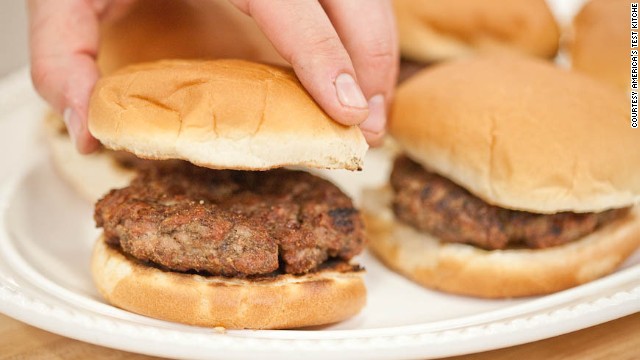 Turkey burgers, if done smartly, can be every bit as enticing as the beef version.
Remove skin and bone from 1 (2-pound) turkey thigh. Trim meat and cut into 1/2-inch pieces, then place turkey pieces on large plate in single layer.
Freeze meat until very firm and hardened around edges, 35 to 40 minutes.
Meanwhile, sprinkle 1 tablespoon unflavored gelatin over 3 tablespoons low-sodium chicken broth in small bowl and let sit until gelatin softens, about 5 minutes.
Pulse 6 ounces trimmed white mushrooms in food processor until coarsely chopped, about 7 pulses, scraping down bowl as needed. Set mushrooms aside; do not wash food processor.
Pulse one-third of turkey until chopped into 1/8-inch pieces, 18 to 22 pulses, scraping down bowl as needed. Transfer to large bowl and repeat two more times with remaining turkey. In food processor, combine 1/2 cup ground turkey, softened gelatin, 1 tablespoon soy sauce and pinch baking soda. Process until smooth, about 2 minutes. Scrape down bowl as needed. With processor running, drizzle in 2 tablespoons vegetable oil. Return mushrooms to food processor with paste and pulse to combine, 3 to 5 pulses, scraping down bowl as necessary.
Transfer mixture to bowl with ground turkey; use hands to evenly combine. Grease hands and divide mixture into 6 balls. Form into 3/4-inch-thick patties about 4 inches in diameter.
Press shallow indentation into center of each burger. Brush 1 side with vegetable oil and season with kosher salt and pepper. Using tongs, flip patties and repeat on second side.
Clean and oil cooking grate. Place burgers over hot part of grill. Cook until first side is well browned, about 4 to 7 minutes.
Flip patty and cook until burger registers 160 degrees, 4 to 7 minutes. (If cooking frozen burgers: Brown both sides, move to cool side of grill, cover and cook to 160 degrees.) Transfer burgers to plate and let rest for 5 minutes. While burgers rest, grill 6 large hamburger buns over hot side of grill. Transfer burgers to buns, add desired toppings and serve.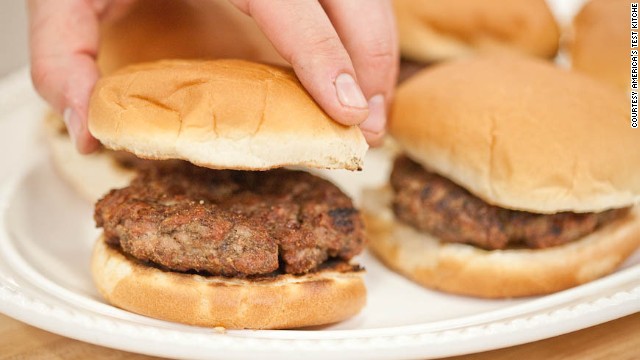 Turkey burgers that won't dry out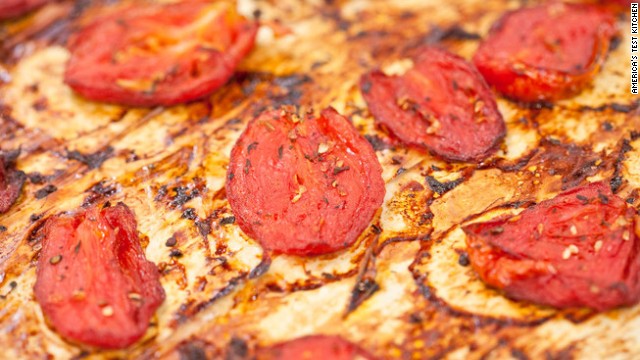 Extend the season of summer's greatest treat with this easy oven-roasting method.
Start by coring 4 pounds of tomatoes using a paring knife to cut a cone shape out of the top of each one.
Once the tomatoes are cored, halve them through the core with a chef's or serrated knife. Don't remove the seeds or jelly-like pulp, though, because they both contain a lot of flavor.
Slow-roast the tomatoes on rimmed baking sheets, which will contain any runaway liquid; for easy cleanup, line the baking sheets with parchment paper or aluminum foil. Distribute half of the tomatoes (cut-side up) on each sheet.
Season the tomatoes with Kosher salt, a lot of freshly cracked black pepper, and dried herbs de Provence. Thyme and oregano make good substitutions for the herbs de Provence (mint and rosemary do not); you can use fresh herbs, but dried work just fine.
Scatter the chopped garlic evenly over the tomatoes. Don't fret about being too exact—just look for a fairly even distribution.
Drizzle olive oil over the tomatoes with your thumb over the spout to direct the pour.
Flip the seasoned tomatoes over, cut-side down.
Place the tomatoes in a preheated 425-degree oven for 30 minutes (or until the skins wrinkle up a bit and start to get brown in places).
Carefully remove the tomatoes from the oven, and immediately turn the temperature down to 300 degrees. The tomatoes will have started giving up their liquid, which is why caution must be exercised when removing the trays.
Tilt the pans and let the liquid run into a bowl or measuring cup (you can also do this with a turkey baster). Take the tomatoes out of the oven to collect the liquid every 30 minutes until the tomatoes give out no more juice. You can use the seasoned tomato water as a poaching liquid for salmon, for vinaigrettes, and in sauces.
Use tongs to remove and discard the hot tomato skins, and then return the tomatoes to the oven. After 1 hour (be sure to keep siphoning off any remaining liquid), use a spatula to flip the tomato pieces cut-side up for the remainder of cooking.
After 3 or 4 hours (it all depends on the tomatoes), the tomatoes will be visibly dried with some dark edges. At this point, pull them from the oven (if you like them a little softer or juicier, pull them earlier).
Finally, let the tomatoes cool to room temperature on the sheets, and then transfer them to a bowl (or other storage container). Cover them completely with extra-virgin olive oil, then wrap the whole thing in plastic and refrigerate them for up to 2 months. Alternatively, you can leave out the oil and instead freeze the dried tomatoes in an airtight container—zipper-lock bags work great—for up to 3 months.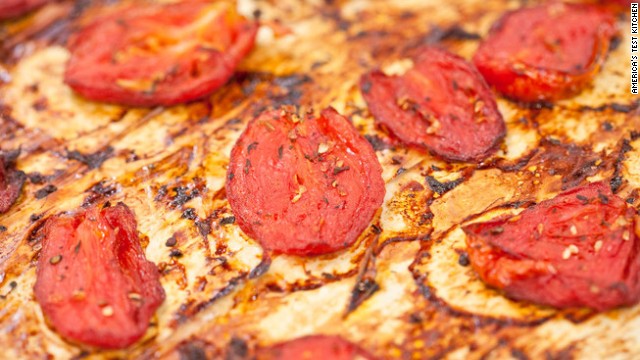 Oven roasted tomatoes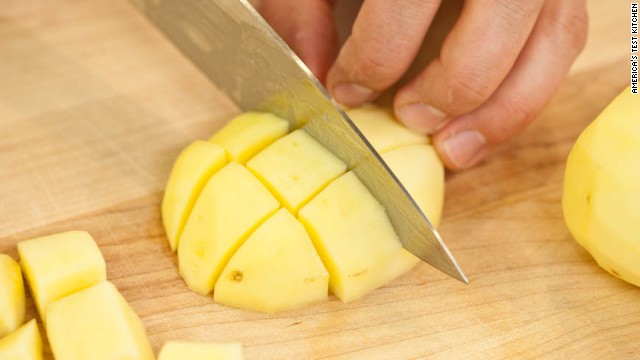 1. Peel 3 1/2 pounds russet potatoes and cut into 3/4-inch dice. Cut 2 onions into 1/2 inch dice. Mince 3 tablespoons fresh chives.
2. Add potatoes and 1/2 teaspoon baking soda to boiling water. Return to boil and cook for 1 minute.
4. Return potatoes to Dutch oven and place over low heat. Cook, shaking pot occasionally, until any surface moisture has evaporated, about 2 minutes. Remove from heat.
5. Add 3 tablespoons unsalted butter, cut into 12 pieces, 1 1/2 teaspoons kosher salt, and pinch cayenne pepper. Mix with rubber spatula until potatoes are coated with thick, starchy paste, about 30 seconds.
6. Remove baking sheet from oven and drizzle with 2 tablespoons vegetable oil.
7. Transfer potatoes to baking sheet and spread into even layer. Roast for 15 minutes.
8. While potatoes roast, combine onions, remaining 1 tablespoon vegetable oil, and 1/2 teaspoon kosher salt in bowl. Remove baking sheet from oven.
8. While potatoes roast, combine onions, remaining 1 tablespoon vegetable oil, and 1/2 teaspoon kosher salt in bowl. Remove baking sheet from oven.
10. Clear about 8 by 5-inch space in center of baking sheet and add onion mixture. Roast for 15 minutes. Scrape and turn again, mixing onions into potatoes. Continue to roast until potatoes are well browned and onions are softened and beginning to brown, 5 to 10 minutes.
11. Stir in chives and season with salt and pepper to taste. Serve immediately.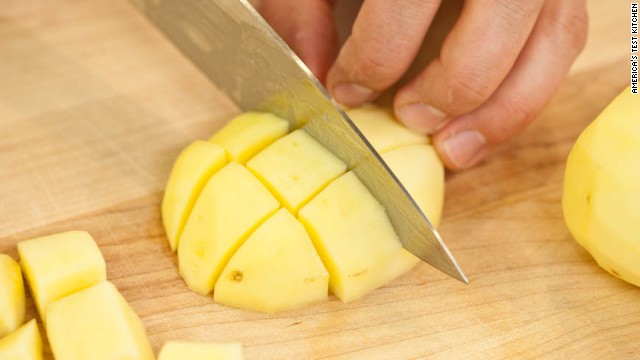 Home fries, step-by-step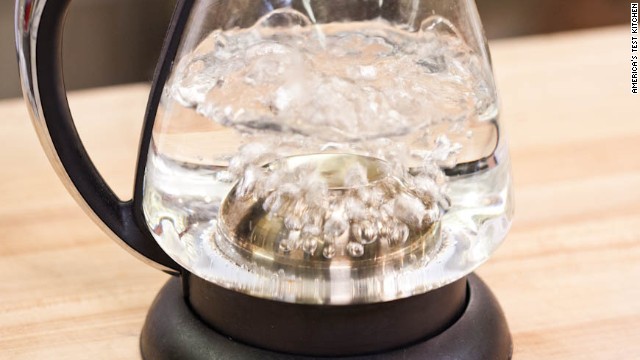 1. Bring water to boil in kettle. Then fill a medium saucepan with about 1/2 inch of water and bring to bare simmer.
2. Place 12 tablespoons softened unsalted butter and 6 large egg yolks in large heat-resistant bowl.
3. Set bowl over barely simmering water (don't let bowl touch water). Whisk eggs and butter together.
4. Pour 1/2 cup boiling water from kettle into liquid measuring cup and whisk it into bowl with butter and eggs. Cook, whisking constantly, until thickened and sauce registers 160 degrees, 7 to 10 minutes.
5. Carefully remove bowl from saucepan. Stir in 2 teaspoons lemon juice and 1/8 teaspoon cayenne pepper. Season sauce with salt. Transfer sauce to liquid measuring cup and cover cup with plastic wrap. (Sauce can be refrigerated for 3 days.)
6. FOR POACHED EGGS: Adjust oven rack to upper-middle position and heat broiler.
7. Fill 12-inch nonstick skillet nearly to rim with water. Add 2 tablespoons white vinegar and 1 teaspoon salt and bring to boil over high heat.
8. Crack 3 large eggs each into 4 teacups (12 eggs total). Turn off heat and slide pan to a cool burner. Cover pan and poach eggs until whites are set but yolks are still slightly runny, about 6 minutes. Using slotted spoon, transfer eggs to paper towel-lined plate.
9. TO ASSEMBLE AND SERVE: While eggs are poaching, arrange 6 split English muffins, split side-up, on rimmed baking sheet. Broil English muffins until golden brown, 2 to 4 minutes.
10. Place 1 slice of Canadian bacon (12 slices total) on each English muffin and broil until beginning to brown, about 1 minute. Remove baking sheet from oven.
11. Place 2 English muffins on each serving plate. Arrange 1 poached egg on top of each English muffin.
12. If necessary, reheat hollandaise in microwave on 50 percent power, stirring every 10 seconds, until heated through.
13. Spoon 1 to 2 tablespoons hollandaise over each egg. Serve, passing remaining hollandaise at table.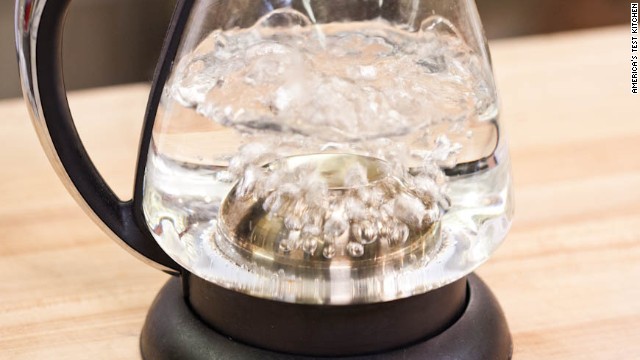 Brilliant Eggs Benedict
(Don't brine the chicken for longer than 30 minutes or it will be too salty.)
Ingredients:
Salt and pepper
2 tablespoons Worcestershire sauce
1 1/2 pounds boneless, skinless chicken breasts, trimmed and cut lengthwise into 3/4-inch-wide strips
1/2 cup all-purpose flour
1 tablespoon onion powder
1 teaspoon granulated garlic
3 large eggs
2 cups panko bread crumbs, toasted
3/4 cup vegetable oil
To prep:
1. Dissolve 1 tablespoon salt and Worcestershire in 2 cups cold water in large bowl. Submerge chicken in brine, cover, and refrigerate for 30 minutes.
2. Remove chicken from brine and pat dry with paper towels. Combine flour, onion powder, granulated garlic, 1/4 teaspoon salt, and 3/4 teaspoon pepper in shallow dish. Lightly beat eggs in second shallow dish. Spread panko in third shallow dish. Working in batches, dredge chicken in flour mixture, dip in eggs, then coat with panko, pressing gently to adhere; transfer to large plate.
3. Set wire rack in rimmed baking sheet. Heat 1/4 cup oil in 12-inch nonstick skillet over medium heat until shimmering. Lay one-third of chicken in skillet and cook until golden brown, about 3 minutes per side. Transfer to prepared rack and wipe out skillet. Repeat shallow frying twice more with remaining oil and chicken. Let chicken cool to room temperature, about 30 minutes.
To store:
4. Transfer cooled chicken fingers to zipper-lock freezer bags, press out air, and seal. Freeze for up to 1 month. (Do not thaw before reheating.)
To finish and serve:
5. Adjust oven rack to middle position and heat oven to 350 degrees. Place chicken fingers on wire rack set in rimmed baking sheet and bake until heated through and crisp, about 30 minutes, flipping chicken halfway through baking. Serve.