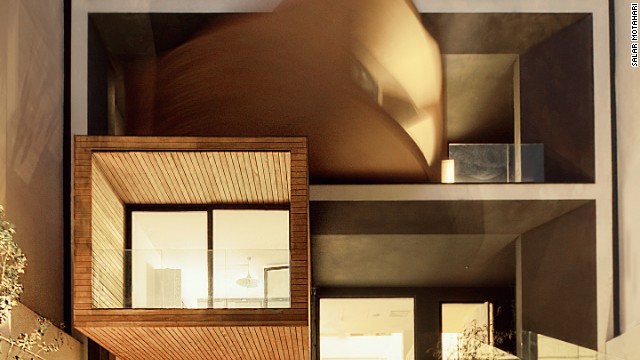 The seven-floor Sharifi-ha in Tehran is the award-nominated creation of locally based designers Next One.
The house is located in Tehran's leafy Darrous district -- considered one of the most affluent and fashionable.
The design is nominated for a World Architecture Festival Award, that takes place this October in Singapore.
The design of the house aims to make the most of its narrow frontage.
Each of the wooden-looking "blocks" -- this is the top, office room -- rotates on a base usually used for theatrical stage sets.
Below, this block contains a guest bedroom, which can be opened up to the sun in summer or closed to keep warm in winter.
On the floor below, a breakfast room can also be turned out.
When "open" each block reveals a terrace, providing extra space in the summer.
When open, the house is flooded with light through the front facade.
When the boxes are closed, the building captures sunlight throughout the central space, which also connects the two halves of the house by suspended bridges.
The ground floor holds a shallow aquatic pool which provides the ceiling for the lower levels, allowing dappled light to enter.
Below the rotating rooms, the "wellness areas" provide a place for the inhabitants to relax.
The house is also home to all the usual luxury features, including a gym.
The house's luxurious bathtub.
Sharifi-ha: The transforming house
Sharifi-ha: The transforming house
Sharifi-ha: The transforming house
Sharifi-ha: The transforming house
Sharifi-ha: The transforming house
Sharifi-ha: The transforming house
Sharifi-ha: The transforming house
Sharifi-ha: The transforming house
Sharifi-ha: The transforming house
Sharifi-ha: The transforming house
Sharifi-ha: The transforming house
Sharifi-ha: The transforming house
Sharifi-ha: The transforming house
Sharifi-ha: The transforming house