STORY HIGHLIGHTS
NEW: Putin may face consequences but U.S. won't go to "war" with Russia, Hagel says
Vladimir Putin presents a series of steps he says would restore peace to Ukraine
Obama says a peaceful Europe "is threatened by Russia's aggression against Ukraine"
Putin spokesman says Russia can't agree to a ceasefire because it's not party in conflict
Tallinn, Estonia (CNN) -- Ukraine's President announced progress on a ceasefire agreement Wednesday with Russia, but U.S. President Barack Obama greeted it with skepticism and Moscow downplayed it.
Obama, speaking in Estonia ahead of a NATO summit in Wales, said he was aware of the reported deal, as conflicting accounts emerged from Russia and Ukraine. But he said it was too early to see if all sides would follow through.
Any ceasefire effort has not worked up to now, he said, "either because Russia has not supported it or pretended it is not controlling the separatists" in eastern Ukraine.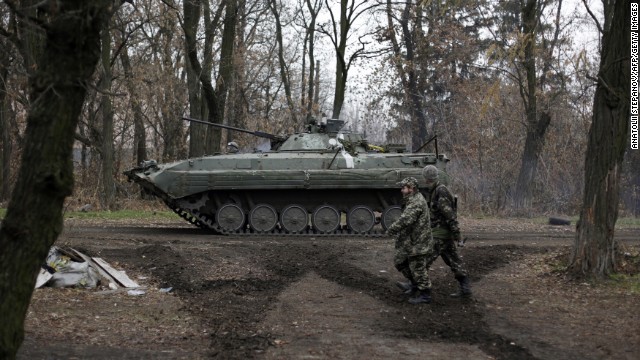 Ukrainian servicemen walk past an armored personnel carrier in the village of Peski, Ukraine, on Wednesday, November 19. Fighting between Ukrainian troops and pro-Russian rebels in the country has left more than 4,000 people dead since mid-April, according to the United Nations.
Men repair an engine at the military base in Perevalsk, Ukraine, on Wednesday, November 5.
Pro-Russian rebels fill out ballots at a polling station during rebel elections in Donetsk, Ukraine, on Sunday, November 2. Moscow has said it will recognize the results of the vote in the provinces of Donetsk and Luhansk, while the government in Kiev, the United States and European Union have condemned the elections as illegitimate.
Election officials empty a ballot box in Donetsk on November 2.
A man reads a ballot before casting his vote for the Ukrainian parliamentary elections in Konstantinovka, Ukraine, on October 26.
Pro-Russian rebels fire artillery Tuesday, October 14, at Donetsk Sergey Prokofiev International Airport, which is on the outskirts of Donetsk.
Smoke rises behind the train station in Donetsk during an artillery battle between pro-Russian rebels and Ukrainian government forces on Sunday, October 12.
Ukrainian President Petro Poroshenko, center, inspects Ukrainian army positions close to Donetsk on Friday, October 10.
The main terminal of the Donetsk airport is hit by shelling on Wednesday, October 8.
Pro-Russian rebels fire mortars toward Ukrainian positions close to the Donetsk airport on October 8.
A pro-Russian rebel walks past a burning house after shelling in Donetsk on Sunday, October 5.
An Ukrainian sniper aims his weapon at a checkpoint near Popasna, Ukraine, on Thursday, October 2.
Smoke rises from the area near the Donetsk airport after heavy shelling on October 2.
An injured man is transported at a hospital after shelling in Donetsk on Wednesday, October 1.
A woman injured at a bus station cries at a Donetsk hospital on October 1.
A pro-Russian rebel guards a damaged school in Donetsk on October 1.
Ukrainian servicemen patrol in the Donetsk region on Friday, September 26.
A pro-Russian rebel guards a destroyed bridge in Nyzhnya Krynka, Ukraine, on Tuesday, September 23.
Residents clean up debris at a building damaged by rockets in Debaltseve, Ukraine, on Monday, September 22.
A firefighter checks out a damaged office building after shelling in Donetsk on Sunday, September 21.
A Ukrainian soldier guards pro-Russian rebels during a prisoner exchange near Donetsk on September 21.
Members of the Ukrainian military, held as prisoners of war, sit in a bus waiting to be exchanged near Donetsk on Saturday, September 20.
Smoke rises after an explosion at a weapons factory controlled by pro-Russian rebels near Donetsk on September 20. The cause of the explosion was not immediately known.
A Ukrainian helicopter patrols an area near Donetsk on September 20.
A firefighter walks past the rubble of a building destroyed by shelling in Donetsk on Wednesday, September 17.
A protester holds a smoke bomb during a demonstration outside the Presidential Palace in Kiev, Ukraine, on September 17. Activists protested the adoption of legislation giving greater autonomy to rebel-held parts of eastern Ukraine's Donetsk and Luhansk regions.
A man covers the body of his mother, who was killed on a bus during a battle in Donetsk on Tuesday, September 16.
People walk through a market Monday, September 15, in the Kievsky district of Donetsk.
Smoke rises around the Donetsk International Airport on Saturday, September 13, as shelling continues between pro-Russian rebels and the Ukrainian army.
A Ukrainian soldier stands guard as residents rally in support of a united Ukraine in the southern Ukrainian city of Mariupol on September 13.
Russian trucks, flying Russian flags and carrying humanitarian aid for eastern Ukraine, line up at a border checkpoint in Donetsk on September 13.
Workers unload supplies from Russia in Luhansk, Ukraine, on September 13. More than 200 Russian trucks entered Ukraine with supplies for the city, which has been cut off from electricity and water for weeks.
Ukrainian soldiers ride on an armored vehicle near Kramatorsk, Ukraine, on September 13.
People look at a large crater from a reported missile strike that hit a bus station Friday, September 12, in Makiivka, Ukraine.
Workers clear rubble Thursday, September 11, after the bombing of a mine in Donetsk.
A column of Ukrainian forces is seen in Volnovakha, Ukraine, on September 11.
An elderly woman sits next to a Ukrainian soldier standing guard in Volnovakha on September 11.
Armed pro-Russian rebels walk September 11 in front of the destroyed Luhansk International Airport. The rebels took control of the airport on September 1 after heavy fighting with the Ukrainian army.
Residents of Lutuhyne, Ukraine, push containers in a wheelbarrow September 11 as they walk between destroyed armored vehicles left behind by the Ukrainian army.
Ukrainian troops protect themselves from a nearby shooting in Debaltseve on Tuesday, September 9.
Young residents of Berdyansk, Ukraine, dig trenches September 9 to help Ukrainian forces protect the city from possible rebel attacks.
Ukrainian President Petro Poroshenko, left, inspects military personnel during a visit to Mariupol on Monday, September 8.
A pro-Russian rebel stands next to a truck with a heavy machine gun attached to it Sunday, September 7, in Donetsk.
Homes smolder after being hit by shelling in Donetsk on September 7.
A woman stands next to a road sign September 7 after an overnight bombing attack at an Ukrainian army checkpoint on the outskirts of Mariupol.
Ukrainian troops stand on a deserted road as they patrol the border area of the Donetsk and Luhansk regions Friday, September 5, near Debaltseve.
A man repairs damage to a building caused by shelling in Donetsk on September 5.
Smoke rises on the outskirts of Mariupol after pro-Russian rebels fired heavy artillery on September 5.
Ukrainian soldiers ride a tank on a road close to where pro-Russian rebels fired heavy artillery outside Mariupol on September 5.
A wounded Ukrainian soldier is helped by a medical team on the outskirts of Mariupol on September 5.
A pro-Russian rebel holds a destroyed weapon in the village of Novokaterynivka, Ukraine, on Thursday, September 4.
Unmarked military vehicles burn on a country road in Berezove, Ukraine, on September 4 after a clash between Ukrainian troops and pro-Russian rebels. For months, Ukrainian government forces have been fighting the rebels near Ukraine's eastern border with Russia.
People wait by their cars near Berezove on September 4 as rockets hit the road ahead.
A pro-Russian rebel holds a dog, which has a hand grenade attached to its leash, in Donetsk on Wednesday, September 3.
Pro-Russian rebels fire at Ukrainian army positions in Donetsk on September 3.
A Ukrainian military vehicle patrols in the Donetsk region on September 3.
Pro-Russian rebels hold a man near a column of destroyed Ukrainian military vehicles in Novokaterynivka on Tuesday, September 2.
A Ukrainian military truck passes by a serviceman resting in his military camp in Ukraine's Donetsk region on September 2.
A destroyed Ukrainian military vehicle sits abandoned on the side of the road near Novokaterynivka on September 2.
Men clear rubble in Ilovaisk, Ukraine, on Sunday, August 31.
Ukrainian troops leave the rebel-held town of Starobesheve on Saturday, August 30.
A Ukrainian loyalist fighter from the Azov Battalion stands guard on a hill on the outskirts of Mariupol on August 30.
A pro-Russian rebel listens to the news on a transistor radio in the town of Novoazovsk, Ukraine, on Friday, August 29.
Ukrainian soldiers stop on a roadside as they wait for the start of their march into Mariupol on Wednesday, August 27.
A man opens a box filled with rocket-propelled grenades left by the Ukrainian army in Starobesheve.
A pro-Russian rebel walks through a local market damaged by shelling in Donetsk on Tuesday, August 26.
Ukrainian servicemen of the volunteer battalion Azov leave for Novoazovsk on August 26.
Pro-Russian rebels escort captured Ukrainian soldiers in a central square in Donetsk on Sunday, August 24.
People yell as Ukrainian prisoners are paraded through Donetsk in eastern Ukraine on August 24.
A pro-Russian rebel delivers a speech atop a damaged Ukrainian armored personnel carrier in Donetsk on August 24.
People look at damaged Ukrainian military equipment in Donetsk on August 24.
The first trucks of a Russian aid convoy roll on the main road to Luhansk in eastern Ukraine on Friday, August 22. The head of Ukraine's security service called the convoy a "direct invasion" under the guise of humanitarian aid since it entered the country without Red Cross monitors.
A pro-Russian rebel holds shrapnel from a rocket after shelling in Donetsk on August 22.
Residents sit in a makeshift bomb shelter during a shelling in Makiivka on Wednesday, August 20.
Dogs play together as a Russian convoy carrying aid supplies stops at a border control point with Ukraine on August 20.
Ukrainian forces take their position not far from Luhansk on August 20.
Clouds of smoke are on the horizon as Ukrainian forces and pro-Russian rebels clash in Yasynuvata, Ukraine, on Tuesday, August 19.
An Ukrainian helicopter flies near Kramatorsk on August 19.
Ukrainian soldiers load a missile during fighting with pro-Russian rebels Monday, August 18, near Luhansk.
Boys play at a refugee camp, set up by the Russian Emergencies Ministry, near the Russian-Ukrainian border on August 18.
Ukrainian soldiers carry weapons at a checkpoint near Debaltseve on Saturday, August 16.
Pro-Russian rebels greet each other as they pass near Krasnodon, Ukraine, on August 16.
A fireman tries to extinguish a fire after shelling in Donetsk on August 16.
Ukrainian border guards patrol near Novoazovsk on Friday, August 15.
Trucks of a Russian humanitarian convoy are parked in a field outside the town of Kamensk-Shakhtinsky, in the Rostov region of Russia about 20 miles from the Ukraine border, on August 15. Ukrainian officials were preparing to inspect the convoy, which was bound for the conflict-torn east.
A truck driver from the convoy jumps out of a trailer on August 15. The Ukrainian government had expressed fears that the convoy was a large-scale effort to smuggle supplies or troops to pro-Russian rebels.
A tank belonging to pro-Russian rebels moves along a street in Donetsk on August 15.
A Ukrainian soldier walks past a line of self-propelled guns as a column of military vehicles prepares to head to the front line near Ilovaisk on Thursday, August 14.
A Ukrainian soldier prepares a mortar at a position near Ilovaisk on August 14.
A man inspects damage at his house after a shelling in Donetsk on August 14.
A convoy of trucks, which Moscow said was carrying relief goods for war-weary civilians, moves from Voronezh, Russia, toward Rostov-on-Don, Russia, on August 14.
Pro-Russian rebels on the outskirts of Donetsk stand at a checkpoint near a bullet-riddled bus on Wednesday, August 13.
A pro-Russian rebel inspects damage after shelling in Donetsk on Thursday, August 7.
Smoke billows from a Ukrainian fighter jet crash near the village of Zhdanivka, Ukraine, on August 7.
Residents of eastern Ukraine cry in a hospital basement being used as a bomb shelter August 7 in Donetsk.
Ordnance from a Ukrainian rocket launcher shoots toward a pro-Russian militant position in the Donetsk region on August 7.
Relatives of Ukrainian military member Kyril Andrienko, who died in combat in eastern Ukraine, gather during his funeral in Lviv, Ukraine, on August 7.
Refugees from southeastern Ukraine wait at a refugee camp in Donetsk on Wednesday, August 6.
A pro-Russian rebel adjusts his weapon in Donetsk on August 6.
Men walk past a bomb crater in Donetsk on August 6.
A man steps out of his car as Ukrainian soldiers inspect the vehicle at a checkpoint in Debaltseve on August 6.
Ukrainian servicemen sit on a bus near Slovyansk, Ukraine, on Tuesday, August 5.
A pro-Russian separatist guards a road as Australian, Malaysian and Dutch investigators prepare to examine the crash site of Malaysia Airlines Flight 17 near the village of Rossipne, Ukraine, on August 5. U.S. and Ukrainian officials allege that a Russian-made missile shot down the plane from rebel-held territory, killing all 298 people on board. Russia and the rebel fighters deny involvement.
Rescue workers carry the body of a woman who was killed during a bomb shelling in Donetsk on August 5.
A boy stands in a hallway of a refugee hostel run by pro-Russian rebels in Donetsk on Monday, August 4.
Ukrainian servicemen from the Donbass volunteer battalion clean their guns Sunday, August 3, in Popasna, Ukraine.
Ukrainian soldiers fire shells toward rebel positions near Pervomaysk, Ukraine, on Saturday, August 2.
Ukrainian troops patrol near the village of Novoselovka on Thursday, July 31.
A woman says goodbye to her mother as she flees her home in Shakhtersk, Ukraine, on Tuesday, July 29. See more photos of the crisis from earlier this year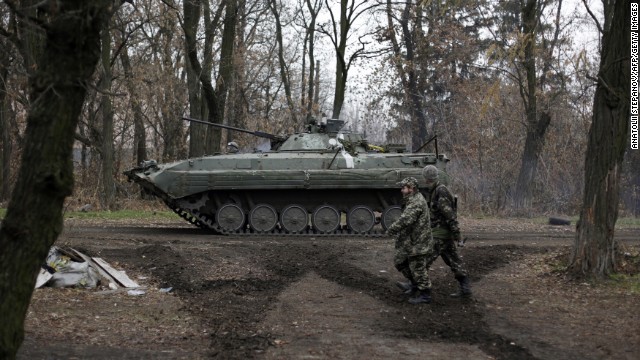 Photos: Crisis in Ukraine
"Having said that, if in fact Russia is prepared to stop financing, arming, training and in many cases joining with Russian troops' activities in Ukraine, and is serious about a political settlement, that is something that we all hope for," Obama said.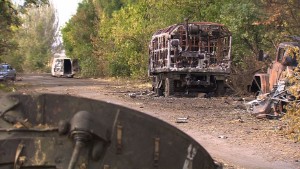 Pro-Russian rebels take Ukrainian town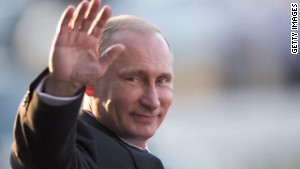 What NATO needs to do about Russia
Meanwhile, France, a member of NATO, won't be delivering the first warship it is due to deliver Russia as part of a 2011 contract, the office of French President Francois Hollande said.
"The President of the Republic has noted that, despite the prospect of a ceasefire that remains to be confirmed and implemented, the conditions for France to authorize the delivery of the first (warship) are not authorized," the statement said.
Since mid-April, Ukrainian forces have been battling pro-Russian rebels in eastern Ukraine. Kiev and the West say the rebels are supported by Moscow -- a claim Moscow denies.
Ukrainian President Petro Poroshenko's office initially said he and Russian President Vladimir Putin had agreed to "a full ceasefire" following a phone call, but subsequently indicated they had agreed on a process that could lead to a truce.
"The conversation resulted in an agreement on ceasefire regime in the Donbas (eastern Ukraine region)," said the statement from the presidential press office. "The parties reached mutual understanding on the steps that will facilitate the establishment of peace."
Earlier, Putin spokesman Dmitry Peskov told CNN there was "no confirmation of a ceasefire because Putin cannot agree (to) a ceasefire because he is not party to the conflict.
"What was agreed were steps that would lead to a ceasefire. The important thing is to bring an end to the bloodshed and to stop the firing. Everyone is trying to de-escalate the conflict."
Peskov also said the longer term issue of constitutional reform in Ukraine was not discussed.
However, the spokesman told Russian state news agency Itar-Tass that Putin's view on possible ways out of the crisis "largely coincides" with that of Poroshenko.
Putin's roadmap
Russia's President presented his roadmap for a ceasefire to journalists Wednesday, the state-run RIA Novosti news agency reported.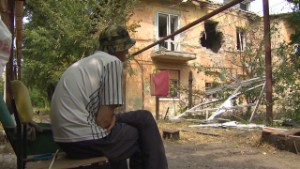 Donetsk citizens plead for chaos to end
Setting out his seven-point plan, Putin said both parties in the conflict must negotiate immediately and stop "any offensive military operations by the army, armed forces and self-defense groups of the southeast of Ukraine towards Donetsk and Luhansk." Russia routinely refers to the rebels as self-defense forces.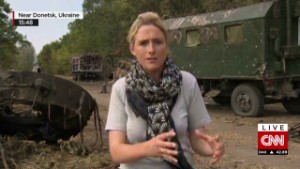 Pro-Russian fighters advance in Ukraine
Putin called for Ukrainian troops to pull back to a distance that would mean they can't fire shells on communities. He also urged an end to the use of military aircraft against civilians and an exchange of all hostages.
The Russian President said the sides should "provide full and objective international control over the conditions for the ceasefire and monitoring of the situation."
Humanitarian corridors also should be opened to permit delivery of aid to communities in Donetsk and Luhansk, he added, and workers should get access so they can rebuild cities' infrastructure.
Ukrainian Prime Minister Arseniy Yatsenyuk dismissed Putin's roadmap as looking like a "rescue plan" for the rebels, and said Russia could not be trusted to stick to any agreement.
"This plan is yet another attempt to trick the international community on the eve of NATO summit and avoid the EU decision of the next level of sanctions against Russia," he said, according to the Cabinet's press office.
"Putin's real plan is to destroy Ukraine and renew the USSR."
Obama flies to Europe with a warning for Putin
Rebels question ceasefire
A rebel spokesman in eastern Ukraine expressed doubt a ceasefire could hold and demanded federal troops withdraw from the region, according to RIA Novosti.
An aide to another rebel leader, the DPR's First Deputy Prime Minister Andrei Purgin, told the news agency that Poroshenko's ceasefire move was unilateral and was "impractical" while there were still Ukrainian forces in the disputed region.
"This is some sort of a game by Kiev. This was completely unexpected. This decision was made without us," Purgin's aide quoted him as saying, according to the news agency.
Putin has consistently argued that Russia has no say over ending the conflict because it is not involved in it on the ground.
U.S. and NATO officials say that in recent days Russia has sent its own troops and heavy weaponry into Ukraine, as well as training and arming the rebels.
Obama vows support
Obama, giving a speech in Tallinn, Estonia, ahead of a NATO summit this week, said a vision of a Europe dedicated to peace and freedom is "threatened by Russia's aggression against Ukraine."
It challenges the most basic principles of the international system: that no border can be redrawn at the barrel of a gun, Obama said.
He vowed NATO will always come to the defense of its member states, including the Baltic nations. "We will defend our NATO allies, and that means every ally," he said, including Estonia.
Ukraine is not part of NATO, but the alliance has said it will support Kiev in the face of what it says is Russian aggression.
Defense Secretary Chuck Hagel defended the U.S. response to the Ukraine conflict and dismissed any criticism that the diplomatic efforts have failed to de-escalate the tension.
Hagel blamed Putin for fueling the Ukraine crisis.
The Russian President "continues to take very dangerous escalatory actions," Hagel told CNN.
The continued escalation by Putin would bring further consequences, but Hagel added that "we're not going to get into a military engagement, a war, over this with Russia."
On the battlefield
Traces of warfare remained starkly evident in eastern Ukraine near the town of Illovaisk.
One road was a graveyard for burned-out military vehicles stretching for 1.5 miles: tanks, trucks, armored personnel vehicles. There was even a surface-to-surface missile laying on the side of the road.
Shallow graves were dug a distance from the roadway, and an odor of decomposition permeated the air.
CNN's Diana Magnay found a Russian military food box labeled "Army of Russia," an apparent indication that Russia has some involvement in the conflict, though Moscow vehemently denies it.
Apparel belonging to the Ukrainian National Guard was also found among battlefield debris, but it was unclear Wednesday what happened in the recent fire fight between pro-Russian separatists and Ukrainian forces.
Military exercises
Ukraine's National Security and Defense Council announced Wednesday that Ukraine would host multinational exercises later this month with the United States, NATO and other nations.
It said 200 American soldiers are expected to take part in the exercise, alongside about 1,000 servicemen from Ukraine, Azerbaijan, Britain, Canada, Georgia, Germany, Latvia, Lithuania, Moldova, Norway, Poland, Romania and Spain.
Earlier, speaking alongside the Estonian President, Obama announced that additional U.S. personnel and aircraft are being rotated through the Baltics as part of NATO operations.
Obama's trip to Estonia, before he heads to the NATO summit in Wales, is meant to reassure nervous Eastern Europe that Putin's support for separatists in Ukraine doesn't mean he has a free pass for territorial gains elsewhere.
The United States and European Union have agreed that additional economic sanctions are needed to curb Russia's actions in Ukraine.
"The sanctions that we've applied so far have had a real effect on Russia, and I think it's important for us to continue to impose costs on Russia, so long as it is violating basic principles of international law," said Obama.
European nations will consider proposals for "significant further steps" against Russia on Wednesday afternoon, an EU statement said.
The proposed sanctions regard "access to capital markets, defense, dual use goods, and sensitive technologies," the statement added.
READ: Conflict drives civilians from homes
READ: Demoralized Ukrainian troops: The scene in eastern Ukraine
READ: Ukraine crisis: 6 questions and answers
CNN's Matthew Chance reported from Tallinn and Laura Smith-Spark wrote in London. CNN's Phil Black, Alexander Felton, Reza Sayah, Lindsay Isaac, Michael Martinez and Bobby Afshar and journalist Victoria Butenko contributed to this report.