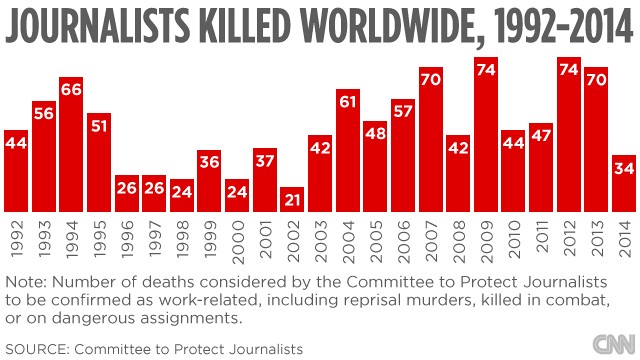 The number of journalists killed worldwide, 1992-2014.
Where journalists have been killed in 2014.
Global toll: Journalists killed in 2014
Global toll: Journalists killed in 2014
STORY HIGHLIGHTS
NEW: "Stay tuned" for plans to combat ISIS, a State Department official says
A video has emerged showing the 31-year-old journalist being beheaded
Footage threatens the life of another man
ISIS beheaded journalist James Foley; in that video, the terrorist group threatened to kill Sotloff
(CNN) -- A video that shows the beheading of American Steven Sotloff was delivered as a "second message to America" to halt airstrikes in Iraq, following through on a threat to kill the journalist.
In the video posted Tuesday online, Sotloff says -- in a message surely scripted by his captors -- that he is "paying the price" for U.S. military intervention.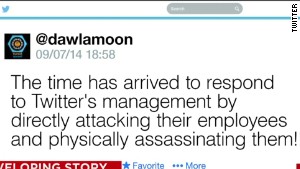 Twitter: Looking into terror threats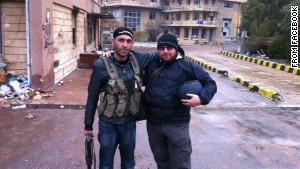 ISIS claims to behead second American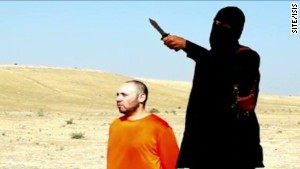 Who is the executioner behind the mask?
The intelligence community in the United States is working to confirm the authenticity of the video, and the journalist's family was waiting for that formal authentication that Sotloff has been killed.
"The family knows of the video and is grieving privately," family spokesman Barak Barfi said.
The killing of Sotloff follows a threat last month by ISIS made during the videotaped beheading of American journalist James Foley. The latest video threatens the life of another man.
A masked ISIS figure in the new video speaks to U.S. President Barack Obama, telling him, "Just as your missiles continue to strike our people, our knife will continue to strike the necks of your people."
The Islamic State has thrived and mutated during the civil war in Syria. It swept into Iraq in June, seizing large swaths of the country's Sunni-dominated northern and western provinces.
Obama ordered targeted airstrikes in Iraq to begin in early August after ISIS fighters began targeting ethnic Yazidis and launching attacks toward the Kurdish regional capital of Irbil.
ISIS appeared to date the execution video of Sotloff, referencing specific U.S. military actions in recent days, including U.S. airstrikes that helped over the weekend to break the siege of Amerli -- a northern Iraqi town home to thousands of minority Shiite Turkmen.
Intelligence officials are analyzing the video, trying to answer some key questions, a senior U.S. administration official said.
Among the questions, the official said: When was it shot? Where was it shot? Is the killer in the Sotloff video the same one in the Foley video?
Until they answer those questions, the official said the administration does not want to speculate.
It's believed ISIS is still holding a "small number" of Americans hostage, said the official, who spoke on condition of anonymity.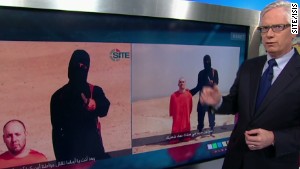 Analysis of the ISIS beheading videos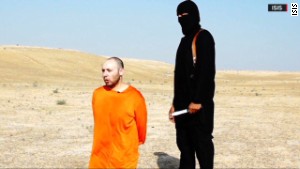 Troops deployed after ISIS video release
Beheading of American journalist James Foley recalls past horrors
ISIS: 'Back off and leave our people alone'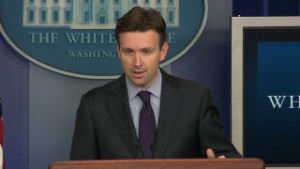 W.H. working to verify beheading video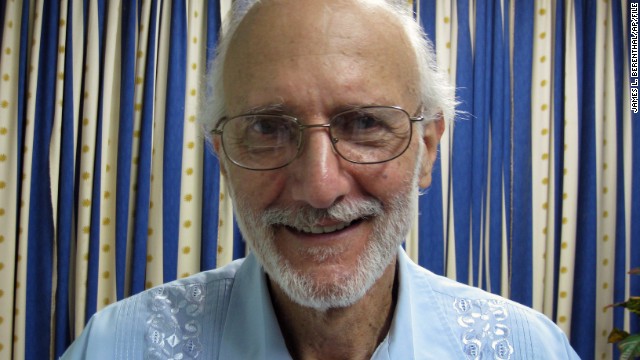 Alan Gross, at right with Rabbi Arthur Schneier, has been in Cuban custody since December 2009, when he was jailed while working as a subcontractor. Cuban authorities say Gross tried to set up illegal Internet connections on the island. Gross says he was just trying to help connect the Jewish community to the Internet. Former President Jimmy Carter and New Mexico Gov. Bill Richardson have both traveled to Cuba on Gross' behalf. On December 17, Gross was released from Cuban prison.
Luke Somers, a photojournalist being held captive by al Qaeda in the Arabian Peninsula (AQAP), was shown begging for his life in a video released by the terror group. Somers was killed by AQAP militants during a raid conducted by U.S. forces on Friday, December 5. A U.S. official said that during the raid, one of the terrorists ran inside the compound and shot Somers and South African hostage, Pierre Korkie.
Kenneth Bae is one of two American detainees released from North Korea in November. Bae had been held since late 2012, and in April 2013 was sentenced to 15 years of hard labor for unspecified "hostile acts" against the North Korean government. North Korea claimed Bae was part of a Christian plot to overthrow the regime.
Matthew Todd Miller also was allowed to leave North Korea with Kenneth Bae in November. According to the state-run Korean Central News Agency, he was convicted in September of committing "acts hostile" to North Korea and sentenced to six years of hard labor. He had traveled to North Korea after arranging a private tour through the U.S.-based company Uri Tours, which takes tourists into North Korea. He and Bae were released after U.S. Director of National Intelligence James Clapper went to Pyongyang as an envoy of President Barack Obama, a senior State Department official told CNN.
Stacey Addison was detained on drug charges by police in East Timor in September during a taxi ride. Addison says she was sharing a taxi from near the Indonesian border to Dili, the capital of East Timor, when another passenger asked to stop and pick up a package at a DHL office. The package allegedly contained methamphetamine.
Washington Post Tehran Bureau Chief Jason Rezaian remains behind bars after being detained in Iran with his wife, Iranian journalist Yeganeh Salehi, in July under unclear circumstances. Salehi was released on bail in late October, according to The Post.
Jeffrey Edward Fowle was released from North Korea and returned home Wednesday, October 22, 2014. Fowle was accused of leaving a Bible in a restaurant. North Korea announced Fowle's detention in June, saying he had violated the law by acting "contrary to the purpose of tourism." Fowle told CNN: "I've admitted my guilt to the government and signed a statement to that effect and requested forgiveness from the people and the government of the DPRK."
American journalist Peter Theo Curtis was handed over to U.N. peacekeepers on August 24 after nearly two years in captivity. He is believed to have been captured in October 2012 and held by the al-Nusra Front, a Syrian rebel group with ties to al Qaeda.
An Iranian court threw out a 2011 death sentence for Amir Hekmati, a former U.S. Marine charged with spying. But he was secretly retried in Iran and convicted of "practical collaboration with the U.S. government," his sister told CNN on April 11. He has been sentenced to 10 years in prison, she said. Hekmati was detained in August 2011 during a visit to see his grandmother. His family and the Obama administration deny accusations he was spying for the CIA.
This undated image provided by the U.S. Army shows Sgt. Bowe Bergdahl, who had been held by insurgents in Afghanistan since 2009. The White House announced Bergdahl's release on May 31. Bergdahl was released in exchange for five senior Taliban members held by the U.S. military.
Retired FBI agent Robert Levinson has been missing since 2007. His family says he was working as a private investigator in Iran when he disappeared, and multiple reports suggest Levinson may have been working for the CIA. His family told CNN in January that they have long known that Levinson worked for the CIA, and they said it's time for the government to lay out the facts about Levinson's case. U.S. officials have consistently denied publicly that Levinson was working for the government, but they have repeatedly insisted that finding him and bringing him home is a "top" priority.
Warren Weinstein, a contractor held by al Qaeda militants, is a U.S. citizen who has been held hostage in Pakistan since August 2011.
U.S. tourist and Korean War veteran Merrill Newman arrives at the Beijing airport on December 7 after being released by North Korea. Newman was detained in October 2013 by North Korean authorities just minutes before he was to depart the country after visiting through an organized tour. His son Jeff Newman said the Palo Alto, California, man had all the proper paperwork and set up his trip through a North Korean-approved travel agency.
Mexican authorities arrested Yanira Maldonado, a U.S. citizen, right, in May 2013, for alleged drug possession. She and her husband, Gary, were traveling from Mexico back to the United States when their bus was stopped and searched. She was released a few days later and is now back in the United States.
Saeed Abedini, a 33-year-old U.S. citizen of Iranian birth, was sentenced to eight years in prison in January 2013. He was accused of attempting to undermine the Iranian government and endangering national security by establishing home churches.
North Korea has arrested Americans before, only to release them after a visit by a prominent dignitary. Journalists Laura Ling, center, and Euna Lee, to her right, spent 140 days in captivity after being charged with illegal entry to conduct a smear campaign. They were freed in 2009 after a trip by former President Bill Clinton.
Former President Jimmy Carter negotiated the release of Aijalon Gomes, who was detained in 2010 after crossing into North Korea illegally from China. Analysts say high-level visits give Pyongyang a propaganda boost and a way to save face when it releases a prisoner.
Eddie Yong Su Jun was released by North Korea a month after he was detained in April 2011. His alleged crime was not provided to the media. The American delegation that secured his freedom included Robert King, the U.S. special envoy for North Korean human rights issues.
Robert Park was released by North Korea in 2010 without any apparent U.S. intervention. The Christian missionary crossed into North Korea from China, carrying a letter asking Kim Jong Il to free political prisoners and resign. North Korea's state-run news agency said Park was released after an "admission and sincere repentance of his wrongdoings." Here, Park holds a photo of Kim and a malnourished child during a protest in Seoul.
Josh Fattal, center, Sarah Shourd, left, and Shane Bauer were detained by Iran while hiking near the Iraq-Iran border in July 2009. Iran charged them with illegal entry and espionage. Shourd was released on bail for medical reasons in September 2010; she never returned to face her charges. Bauer and Fattal were convicted in August 2011, but the next month they were released on bail and had their sentences commuted.
Haleh Esfandiari, an Iranian-American scholar, was detained at Iran's Evin Prison, spending months in solitary confinement before Iran released her on bail in August 2007. Esfandiari was visiting her ailing mother in Tehran when she was arrested and charged with harming Iran's national security.
Sixteen Americans were among the dozens arrested in December 2011 when Egypt raided the offices of 10 nongovernmental organizations that it said received illegal foreign financing and were operating without a public license. Many of the employees posted bail and left the country after a travel ban was lifted a few months later. Robert Becker, right, chose to stay and stand trial.
Filmmaker Timothy Tracy was arrested in Venezuela in April 2013 on allegations of funding opponents of newly elected President Nicolas Maduro, successor to the late Hugo Chavez. Tracy went to Venezuela to make a documentary about the political division gripping the country. He was released in June 2013.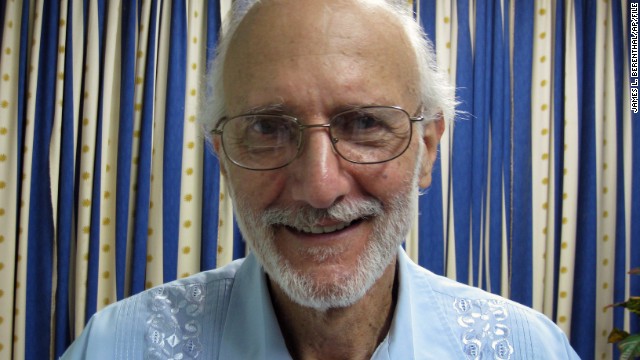 Photos: Americans detained abroad
In the new video, the militant threatens the life of the man, who is shown kneeling with the militant standing behind him.
"We take this opportunity to warn those governments who've entered this evil alliance of America against the Islamic State to back off and leave our people alone," the militant says.
CNN could not immediately confirm when he was taken captive.
But the Washington Post reported he was an aid worker abducted in March 2013. The newspaper, citing unnamed aid workers involved in efforts to gain his release, said he was abducted near a refugee camp in the northern Syrian province of Idlib.
British Prime Minister David Cameron told reporters he was aware of reports about the video and called Sotloff's killing "an absolutely disgusting and despicable act."
Who was Sotloff?
Sotloff disappeared while reporting from Syria in August 2013, but his family kept the news secret, fearing harm to him if they went public. Out of public view, the family and government agencies had been trying to gain his release for the past year.
Last week, Sotloff's mother, Shirley Sotloff, released a video pleading with ISIS leader Abu Bakr al-Baghdadi not to kill her son.
"Steven is a journalist who traveled to the Middle East to cover the suffering of Muslims at the hands of tyrants. Steven is a loyal and generous son, brother and grandson," she said. "He is an honorable man and has always tried to help the weak."
Her plea was met with taunting responses on social media by ISIS supporters.
Sotloff, 31, grew up in South Florida with his mother, father and younger sister. He majored in journalism at the University of Central Florida. His personal Facebook page lists musicians including the Dave Matthews Band, Phish, Miles Davis and movies including "Lawrence of Arabia" and "The Big Lebowski" as favorites. On his Twitter page, he playfully identifies himself as a "stand-up philosopher from Miami."
He graduated from another college, began taking Arabic classes and subsequently picked up freelance writing work for a number of publications, including Time, Foreign Policy, World Affairs and The Christian Science Monitor. His travels took him to Yemen, Saudi Arabia, Qatar and Turkey -- among other countries -- and eventually Syria.
Read: Friends of ISIS captive Sotloff speak out admiringly of his talent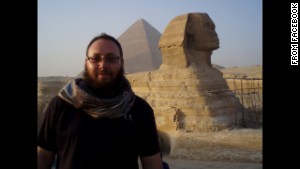 ISIS blames Obama for Sotloff beheading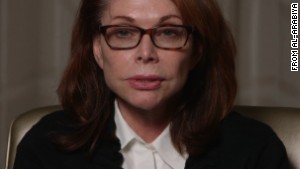 ISIS captive's mom: Please release son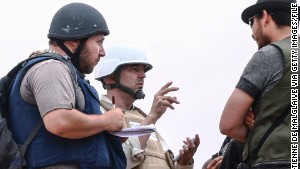 American journalist Steven Sotloff, left, talks to Libyan rebels on the Al Dafniya front line in Misrata, Libya, in June 2011.
Editor Nancy Gibbs said the magazine's staff is "shocked and deeply saddened" by the reports of his death.
"He gave his life so readers would have access to information from some of the most dangerous places in the world," she said. "Our thoughts and prayers are with him and his family."
Sotloff brings the number of journalists killed in Syria to at least 70, according to the Committee to Protect Journalists.
More than 80 have been kidnapped in Syria since the civil war began, with many going unpublicized, the group said.
"We condemn in the strongest terms possible the murder of journalist Steven Sotloff. He, like James Foley, went to Syria to tell a story. They were civilians, not representatives of any government. Their murders are war crimes and those who committed them must be brought to justice swiftly," CPJ said.
Obama on ISIS -- No strategy yet
Response from the White House
White House spokesman Josh Earnest said the administration "has obviously been watching very carefully since this threat against Mr. Sotloff's life was originally made a few weeks ago."
A top U.S. State Department official told CNN's Christiane Amanpour to "stay tuned" on U.S. plans to combat the organization.
"We are putting the features in place, developing a broad regional coalition, a broad international coalition, working to get a new Iraqi government stood up, working to get our plans in place. So stay tuned," said Brett McGurk, the deputy U.S. assistant secretary of state for Iraq and Iraq.
Obama, who was briefed on the videotaped execution of Sotloff, came under fire from Republicans and Democrats who called on the President to take stronger against ISIS, also known as ISIL.
The criticism came a week after Obama said, "We don't have a strategy yet" to deal with ISIS in Syria. Obama said he has asked America's top defense officials to prepare "a range of options."
"Mr. President, if you can't come up with a strategy, at least tell us what the goal is regarding ISIL," said Sen. Lindsey Graham, R-South Carolina.
Sen. Jeanne Shaheen, D-New Hampshire, said ISIS must be stopped.
"We must use every tool at our disposal, short of introducing ground forces in combat roles, to put an end to the threat they pose to our national security," she said.
Opinion: Foley is a reminder why freelance reporting is so dangerous
CNN's Elise Labott, Susan Garraty, Jim Acosta, Josh Levs, Brian Stelter, Samira Said and Tim Lister contributed to this report.