STORY HIGHLIGHTS
EU leaders may decide on further sanctions against Russia by the end of the week
Homes, businesses and lives have been torn apart by shelling in Donetsk city
"Please stop your aggression. Stop this war," one woman says to Ukraine's president
U.N.: Number of people internally displaced in Ukraine more than doubled in a month
Donetsk, Ukraine (CNN) -- In the city of Donetsk, the devastation wrought by weeks of fighting between pro-Russia rebels and Ukrainian forces is all too apparent.
And as the civilians caught in the crossfire sweep up the debris of their homes and livelihoods, they are hardened against a president they say is killing his own people.
Alexander Omelyavenko, a Donetsk resident, told CNN, "We are Ukrainian but they kill us, so we probably need our own country. Because these people in Kiev, they are not brothers for us."
Another resident, Victoria Khrushova, wiped away tears as she told how her family had been forced to hide from the shelling in cellars.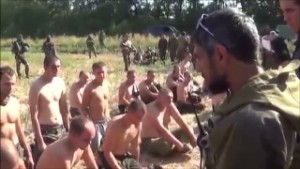 Ukrainian troops demoralized by rebels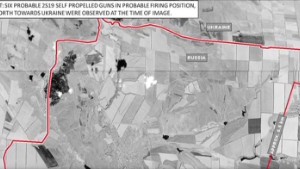 'Point of no return' in Ukraine?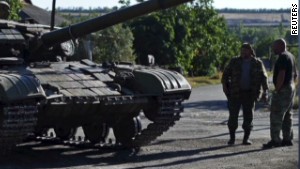 Russia denies having troops in Ukraine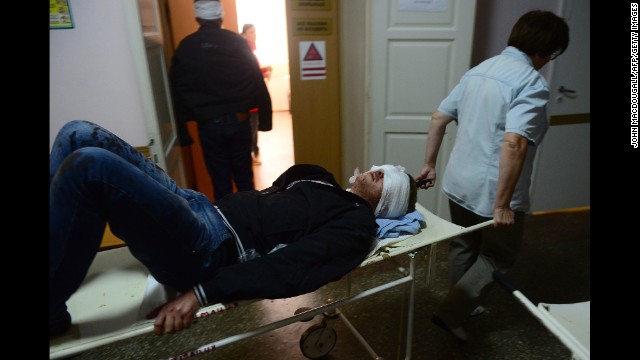 An injured man is transported at a hospital after shelling in Donetsk, Ukraine, on Wednesday, October 1. The shelling in the city of Donetsk, held for months by pro-Russian rebels, came despite a ceasefire that Ukraine's government reached with separatist leaders last month.
A woman injured at a bus station during shelling cries at a Donetsk hospital on October 1.
A pro-Russian rebel guards a damaged school in Donetsk on October 1.
Ukrainian servicemen patrol on armored personnel carriers in the Donetsk region on Friday, September 26.
A pro-Russian rebel guards a destroyed bridge in Nyzhnya Krynka, Ukraine, on Tuesday, September 23.
Residents clean up debris at a building damaged by rockets in Debaltseve, Ukraine, on Monday, September 22.
A firefighter checks out a damaged office building after bomb shelling in Donetsk, Ukraine, on Sunday, September 21.
A Ukrainian soldier guards pro-Russian forces during a prisoner exchange near Donetsk on September 21.
Members of the Ukrainian military held as prisoners of war sit in a bus waiting to be exchanged near Donetsk on Saturday, September 20.
Smoke rises after an explosion at a weapons factory controlled by pro-Russia rebels near Donetsk on September 20. The cause of the explosion was not immediately known.
A Ukrainian attack helicopter patrols an area near Donetsk on September 20.
A firefighter walks past the rubble of a building destroyed by shelling in Donetsk on Wednesday, September 17.
A protester holds a smoke bomb during a demonstration outside the Presidential Palace in Kiev, Ukraine, on September 17. Activists protested the adoption of legislation giving greater autonomy to rebel-held parts of eastern Ukraine's Donetsk and Luhansk regions.
A man covers the body of his mother, who was killed on a bus during a battle in Donetsk on Tuesday, September 16.
People walk through a market Monday, September 15, in the Kievsky district of Donetsk.
Smoke rises around the Donetsk International Airport on Saturday, September 13, as shelling continues between pro-Russian rebels and the Ukrainian army.
A Ukrainian soldier stands guard as residents rally in support of a united Ukraine in the southern Ukrainian city of Mariupol on September 13.
Russian trucks, flying Russian flags and carrying humanitarian aid for eastern Ukraine, line up at a border checkpoint in Donetsk on September 13.
Workers unload supplies from Russia in Luhansk, Ukraine, on September 13. More than 200 Russian trucks entered Ukraine with supplies for the city, which has been cut off from electricity and water for weeks.
Ukrainian soldiers ride on an armored vehicle near Kramatorsk, Ukraine, on September 13.
People look at a large crater from a reported missile strike that hit a bus station Friday, September 12, in Makiivka, Ukraine.
Workers clear rubble Thursday, September 11, after the bombing of a mine in Donetsk.
A column of Ukrainian forces is seen in Volnovakha, Ukraine, on September 11.
An elderly woman sits next to a Ukrainian soldier standing guard in Volnovakha on September 11.
Armed pro-Russian rebels walk September 11 in front of the destroyed Luhansk International Airport. The rebels took control of the airport on September 1 after heavy fighting with the Ukrainian army.
Residents of Lutuhyne, Ukraine, push containers in a wheelbarrow September 11 as they walk between destroyed armored vehicles left behind by the Ukrainian army.
Ukrainian troops protect themselves from a nearby shooting in Debaltseve, Ukraine, on Tuesday, September 9.
Young residents of Berdyansk, Ukraine, dig trenches September 9 to help Ukrainian forces protect the city from possible rebel attacks.
Ukrainian President Petro Poroshenko, left, inspects military personnel during a visit to Mariupol on Monday, September 8.
A pro-Russian rebel stands next to a truck with a heavy machine gun attached to it Sunday, September 7, in Donetsk.
Homes smolder after being hit by shelling in Donetsk on September 7.
A woman stands next to a road sign September 7 after an overnight bombing attack at an Ukrainian army checkpoint on the outskirts of Mariupol.
Ukrainian troops stand on a deserted road as they patrol the border area of the Donetsk and Luhansk regions Friday, September 5, near Debaltseve.
A man repairs damage to a building caused by shelling in Donetsk on September 5.
Smoke rises on the outskirts of Mariupol after pro-Russian rebels fired heavy artillery on September 5.
Ukrainian soldiers ride a tank on a road close to where pro-Russian rebels fired heavy artillery outside Mariupol on September 5.
A wounded Ukrainian soldier is helped by a medical team on the outskirts of Mariupol on September 5.
A pro-Russian rebel holds a destroyed weapon in the village of Novokaterynivka, Ukraine, on Thursday, September 4.
Unmarked military vehicles burn on a country road in Berezove, Ukraine, on September 4 after a clash between Ukrainian troops and pro-Russian rebels. For months, Ukrainian government forces have been fighting the rebels near Ukraine's eastern border with Russia.
People wait by their cars near Berezove on September 4 as rockets hit the road ahead.
A pro-Russian rebel holds a dog, which has a hand grenade attached to its leash, in Donetsk on Wednesday, September 3.
Pro-Russian rebels fire at Ukrainian army positions in Donetsk on September 3.
A Ukrainian military vehicle patrols in the Donetsk region on September 3.
Pro-Russian rebels hold a man near a column of destroyed Ukrainian military vehicles in Novokaterynivka on Tuesday, September 2.
A Ukrainian military truck passes by a serviceman resting in his military camp in Ukraine's Donetsk region on September 2.
A destroyed Ukrainian military vehicle sits abandoned on the side of the road near Novokaterynivka on September 2.
Men clear rubble in Ilovaisk, Ukraine, on Sunday, August 31.
Ukrainian troops leave the rebel-held town of Starobesheve on Saturday, August 30.
A Ukrainian loyalist fighter from the Azov Battalion stands guard on a hill on the outskirts of Mariupol on August 30.
A pro-Russian rebel listens to the news on a transistor radio in the town of Novoazovsk, Ukraine, on Friday, August 29.
Ukrainian soldiers stop on a roadside as they wait for the start of their march into Mariupol on Wednesday, August 27.
A man opens a box filled with rocket-propelled grenades left by the Ukrainian army in Starobesheve.
A pro-Russian rebel walks through a local market damaged by shelling in Donetsk on Tuesday, August 26.
Ukrainian servicemen of the volunteer battalion Azov leave for Novoazovsk on August 26.
Pro-Russian rebels escort captured Ukrainian soldiers in a central square in Donetsk on Sunday, August 24.
People yell as Ukrainian prisoners are paraded through Donetsk in eastern Ukraine on August 24.
A pro-Russian rebel delivers a speech atop a damaged Ukrainian armored personnel carrier in Donetsk on August 24.
People look at damaged Ukrainian military equipment in Donetsk on August 24.
The first trucks of a Russian aid convoy roll on the main road to Luhansk in eastern Ukraine on Friday, August 22. The head of Ukraine's security service called the convoy a "direct invasion" under the guise of humanitarian aid since it entered the country without Red Cross monitors.
A pro-Russian rebel holds shrapnel from a rocket after shelling in Donetsk on August 22.
Residents sit in a makeshift bomb shelter during a shelling in Makiivka on Wednesday, August 20.
Dogs play together as a Russian convoy carrying aid supplies stops at a border control point with Ukraine on August 20.
Ukrainian forces take their position not far from Luhansk on August 20.
Clouds of smoke are on the horizon as Ukrainian forces and pro-Russian rebels clash in Yasynuvata, Ukraine, on Tuesday, August 19.
An Ukrainian helicopter flies near Kramatorsk on August 19.
Ukrainian soldiers load a missile during fighting with pro-Russian rebels Monday, August 18, near Luhansk.
Boys play at a refugee camp, set up by the Russian Emergencies Ministry, near the Russian-Ukrainian border on August 18.
Ukrainian soldiers carry weapons at a checkpoint near Debaltseve on Saturday, August 16.
Pro-Russian rebels greet each other as they pass near Krasnodon, Ukraine, on August 16.
A fireman tries to extinguish a fire after shelling in Donetsk on August 16.
Ukrainian border guards patrol near Novoazovsk on Friday, August 15.
Trucks of a Russian humanitarian convoy are parked in a field outside the town of Kamensk-Shakhtinsky, in the Rostov region of Russia about 20 miles from the Ukraine border, on August 15. Ukrainian officials were preparing to inspect the convoy, which was bound for the conflict-torn east.
A truck driver from the convoy jumps out of a trailer on August 15. The Ukrainian government had expressed fears that the convoy was a large-scale effort to smuggle supplies or troops to pro-Russian rebels.
A tank belonging to pro-Russian rebels moves along a street in Donetsk on August 15.
A Ukrainian soldier walks past a line of self-propelled guns as a column of military vehicles prepares to head to the front line near Ilovaisk on Thursday, August 14.
A Ukrainian soldier prepares a mortar at a position near Ilovaisk on August 14.
A man inspects damage at his house after a shelling in Donetsk on August 14.
A convoy of trucks, which Moscow said was carrying relief goods for war-weary civilians, moves from Voronezh, Russia, toward Rostov-on-Don, Russia, on August 14.
Pro-Russian rebels on the outskirts of Donetsk stand at a checkpoint near a bullet-riddled bus on Wednesday, August 13.
A pro-Russian rebel inspects damage after shelling in Donetsk on Thursday, August 7.
Smoke billows from a Ukrainian fighter jet crash near the village of Zhdanivka, Ukraine, on August 7.
Residents of eastern Ukraine cry in a hospital basement being used as a bomb shelter August 7 in Donetsk.
Ordnance from a Ukrainian rocket launcher shoots toward a pro-Russian militant position in the Donetsk region on August 7.
Relatives of Ukrainian military member Kyril Andrienko, who died in combat in eastern Ukraine, gather during his funeral in Lviv, Ukraine, on August 7.
Refugees from southeastern Ukraine wait at a refugee camp in Donetsk on Wednesday, August 6.
A pro-Russian rebel adjusts his weapon in Donetsk on August 6.
Men walk past a bomb crater in Donetsk on August 6.
A man steps out of his car as Ukrainian soldiers inspect the vehicle at a checkpoint in Debaltseve on August 6.
Ukrainian servicemen sit on a bus near Slovyansk, Ukraine, on Tuesday, August 5.
A pro-Russian separatist guards a road as Australian, Malaysian and Dutch investigators prepare to examine the crash site of Malaysia Airlines Flight 17 near the village of Rossipne, Ukraine, on August 5. U.S. and Ukrainian officials allege that a Russian-made missile shot down the plane from rebel-held territory, killing all 298 people on board. Russia and the rebel fighters deny involvement.
Rescue workers carry the body of a woman who was killed during a bomb shelling in Donetsk on August 5.
A boy stands in a hallway of a refugee hostel run by pro-Russian rebels in Donetsk on Monday, August 4.
Ukrainian servicemen from the Donbass volunteer battalion clean their guns Sunday, August 3, in Popasna, Ukraine.
Ukrainian soldiers fire shells toward rebel positions near Pervomaysk, Ukraine, on Saturday, August 2.
Ukrainian troops patrol near the village of Novoselovka on Thursday, July 31.
A woman says goodbye to her mother as she flees her home in Shakhtersk, Ukraine, on Tuesday, July 29. See more photos of the crisis from earlier this year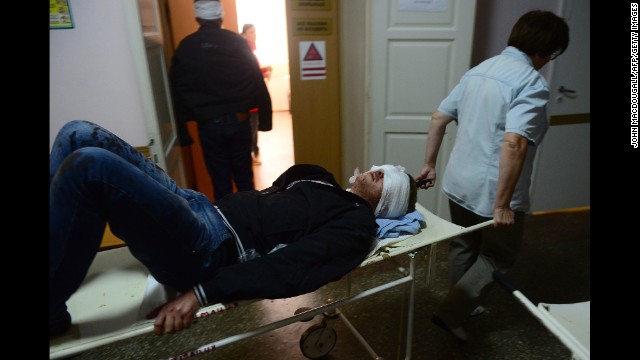 Photos: Crisis in Ukraine
"We live underground. It was so hard for two weeks -- especially 27th, 28th, 29th -- but only today is quiet," she said.
The husband of a 34-year-old woman killed outside a block of flats last Wednesday wouldn't talk to CNN, saying he was in shock. He made it down to the cellar with their small child but she simply didn't have time. A 50-year-old woman was killed with his wife.
It's a story which repeats itself over and over in dozens of apartment blocks, with civilians being killed by the constant shelling around Donetsk. Windows are shattered, holes blasted in walls and blackened rafters which once supported the roofs of homes stand in bleak outline against the sky.
The victims are the human face of a humanitarian catastrophe unfolding even as diplomatic efforts to curb the fighting plow on.
The United Nations' refugee agency, UNHCR, said Tuesday that the number of people displaced in Ukraine by the fighting, particularly around Donetsk and Luhansk, had more than doubled in less than a month.
While an estimated 117,000 had fled their homes as of August 5, the agency puts the number displaced as of September 1 at 260,000.
UNHCR believes the actual number displaced is higher, as many are staying with families and friends and choose not to register with the authorities. Nearly 95% of those forced from their homes are from eastern Ukraine and most remain in the region, its report said.
'Be human... Stop this war'
Donetsk, once-thriving, is now half-empty, shop fronts shattered and its railway station bombed.
Its trauma hospital is filled with the civilian wounded who were unable to reach safety in time as the shells rained down.
Medical teams treat market traders with shrapnel embedded in their legs or the broken limbs of pensioners too old or sick to run.
"There was one war and this is the second war. I was born in 1940 in World War II and I will probably die before this war is over," said elderly resident Valentina Sergeyevna.
Valentina Popova, in the ward next door, has lost her leg and her arm to indiscriminate artillery shells.
Switching to the Ukrainian language, she made a heartrending plea to Ukrainian President Petro Poroshenko.
"We used to dance, sing, do everything in Ukrainian. Poroshenko, Mr. Poroshenko -- please listen to us. Why don't you understand your people? Be a man. Be human. Please stop your aggression. Stop this war."
Russia accuses the Ukrainian government of precipitating the humanitarian crisis by pursuing its campaign to regain territory seized by the rebels.
Meanwhile, Poroshenko and some Western allies have said thousands of Russian troops are in his nation's east, helping the separatists.
NATO members meeting this week in Wales are expected to create "a very high-readiness force" to deal with Russian aggression in Ukraine and other international conflicts, NATO Secretary General Anders Fogh Rasmussen said Monday.
European Union leaders are expected to decide on further sanctions against Russia over its actions in Ukraine by Friday, Italian Foreign Minister Federica Mogherini said Tuesday.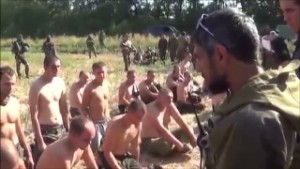 Ukrainian troops demoralized by rebels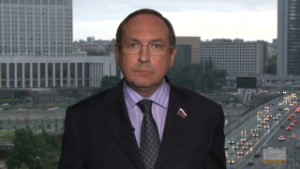 'Russia is emotionally in Ukraine'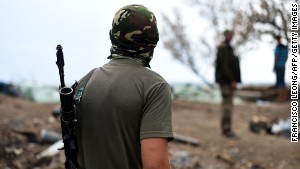 Putin's power push into Ukraine
Lavrov: 'Let us sit down and talk'
Though Russia has denied sending its troops to Ukraine, it has defended the rebels' action in the east.
"Washington and Brussels need to ask Kiev authorities to stop shelling the houses, schools, hospitals and so on because you leave militia with no choice but to stand up to protect their people," Russian Foreign Minister Sergey Lavrov said.
"Let's not ask militia to lay down their weapons and allow themselves to be killed."
Lavrov said negotiations, not threats, would help resolve the crisis between the two neighbors.
"Let us sit down and talk instead of threatening with sanctions and stubbornly making absolutely unrealistic demands of the militia laying down arms," he said. "This is what the peace plan of Poroshenko is about."
The continued fighting means it's difficult for humanitarian workers to assess the full scope of the crisis, the UNHCR said in its report, while damage to roads and other infrastructure makes it hard to get aid in.
As of September 1, some 2.2 million people remained in conflict areas according to the Ukrainian authorities, the agency said, many with limited access to food, water, and other basic necessities.
"In Donetsk, Makiivka and Gorlovka the regional authorities estimate there are 20,000 people with disabilities and needing help," it said. "In Luhansk, residents have been without proper supplies of food and water, and dealing with electricity shortages and communications problems for a month."
The number of people using "humanitarian corridors" set up by the authorities to flee has dropped off since a number of civilians died in attacks, the UNHCR said.
Statehood question?
Russia annexed Ukraine's Crimean Peninsula in March following the ouster of President Viktor Yanukovych the previous month.
Violence broke out in the eastern Donetsk and Luhansk regions in April when separatist leaders declared independence from the government in Kiev.
Since then, the conflict between the pro-Russia rebels and the Ukrainian military has killed more than 2,500 people, according to the United Nations.
A Human Rights Watch report released Monday claimed "unlawful government and insurgent attacks" in and around Luhansk were contributing to rising civilian casualties.
It cited a Luhansk morgue doctor as saying explosive weapons have killed more than 300 civilians in the city since May. HRW researchers spoke to more than a dozen people who had witnessed artillery, mortar or rocket attacks in civilian areas.
"Many of the attacks appeared to be indiscriminate, in that they did not or could not distinguish between civilians and combatants," the rights group said. "Indiscriminate attacks violate international humanitarian law, or the laws of war."
A report last week by the Office of the U.N. High Commissioner for Human Rights documented "a wide array of serious human rights abuses" committed primarily by the rebel fighters.
Violations have also been committed by members of the Ukrainian military as they try to recapture rebel-held territory, it said.
Opinion: Fog lifts to show Russia at war
Ukraine crisis: 6 questions and answers
CNN's Diana Magnay reported from Donetsk and Laura Smith-Spark wrote in London.