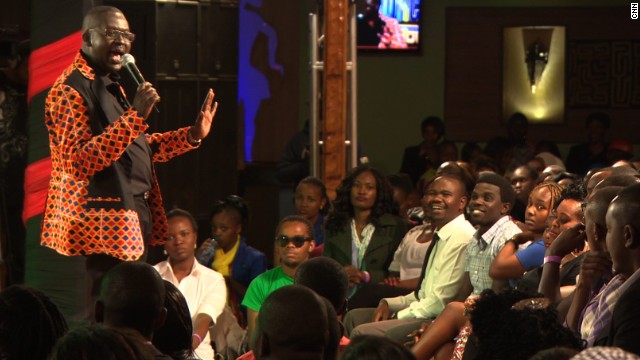 Daniel "Churchill" Ndambuki is a popular Kenyan comic who brings joy and laughter into people's lives each week with his self-titled variety show. For all you comedy fans, he has chosen five emerging comics from the continent to keep an eye on -- they are going to be big!
guest of African Voices, Trevor Noah is a hilarious South African comic
has gone from hometown hero to international superstar. Noah, whose act often centers on race and ethnicity, has appeared on Late Show with David Letterman, and the UK panel show QI.
A former
Daliso Chaponda has roots in Malawi, but he developed his reputation as a comedian while living in Canada in the early 2000s, taking shots at Westerners and Africans alike. His comedy, which touches on everything from corruption and colonialism to his past relationships, can be as controversial as it is comical. (He was once threatened with arrest after joking about Malawi's government.)
Pablo first made his mark when he won the 2009 Stand Up Uganda competition, thanks to his riffs on serious issues like tribalism and reproductive health. A vocal HIV/AIDS prevention activist, he now hosts Pablo Live, a televised comedy night that features the continent's best comedic talents.
Basketmouth has quite the social media following, with over one million Facebook likes and over 550,000 Twitter followers. Stand-up is his speciality, but he uploads the occasional sketch to his YouTube too.
Talk about a career change: Salvado left his job as an engineer to pursue a career in comedy. Unwilling to settle for stand-up alone, he was also a radio presenter on 91.3 Capital FM until recently, and will star in the thriller mini-series "Beneath the Lies" this fall.
Churchill's ones to watch
Comics to watch: Trevor Noah, South Africa
Comics to watch: Daliso Chaponda, Malawi
Comics to watch: Pablo, Uganda
Comics to watch: Basketmouth, Nigeria
Comics to watch: Salvado, Uganda
STORY HIGHLIGHTS
Daniel "Churchill" Ndambuki is a popular comedian from Kenya
His variety TV show provides a platform for up-and-coming performers
He says: "There is nothing as exciting as being a pioneer for a big dream"
African Voices is a weekly show that highlights Africa's most engaging personalities, exploring the lives and passions of people who rarely open themselves up to the camera. Follow the team on Twitter.
(CNN) -- Daniel Ndambuki might today be one of Kenya's top comedians, having the crowd in stitches every time he performs, but things were quite different when he first took to the stage. In fact, Ndambuki's debut performance was so bad that he had to be stopped straight away.
"My first joke ... they switched off the mic," recalls Ndambuki, who is better known by his stage name "Churchill". "It was too boring," he admits laughingly, "even [to] myself.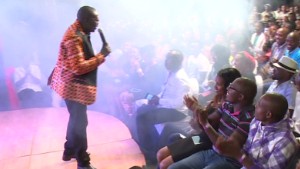 'Churchill' transforms stand-up comedy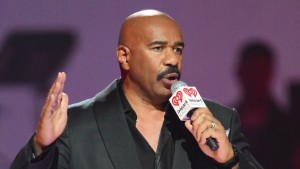 Steve Harvey inspires Kenyan comedian
"We left the stage and we promised ourselves never to do comedy again, but I went back and with practice and a lot of encouragement, we just found ourselves getting addicted to the stage and that's exactly what we are doing up until now."
'Next Chris Rock'
As the old saying goes, if at first you don't succeed, try, try again. And to Churchill's credit, he did and today, thanks to his hard work and determination, he is at the helm of two of Kenya's biggest comedy shows: Churchill Live and Churchill Raw.
The first one is more of a magazine show, with several high-profile guests, whilst the latter serves as a platform for up-and-coming performers to showcase their talents. To find the best entertainers, Churchill auditions a group of comedians, and the cream of the crop goes on to perform before a live audience later that day.
"There is nothing as exciting as being a pioneer for a big dream, not only for one country, but the whole continent and creating history and influencers -- it's the most amazing thing," says Churchill.
"With the talent that you see coming up on the stage every day, in the next five years you might be sure, it's a matter of time before you see a Chris Rock or a Steve Harvey coming from the academy and that would be the dream," he muses.
Tips to tickle you
But what does it take to succeed in the business of making people laugh? For Churchill, the secret lies with crafting jokes that everyone can relate to.
"The most unique thing is being able to make a very intelligent person and the ordinary person get the joke at the same time otherwise you will lose," he advises. "It is not easy," he adds. "Humor is based on current issues and observation and just characters," continues the seasoned comic, "so it's a whole journey seven days a week; you have to keep on doing it, again and again.
"Comedy is not easy, it's really more like a calling. If someone has that talent, the best you can do as a parent is to encourage that person."
More than just a comedian, Churchill is today focused on growing the next generation of comic talent in Kenya and beyond. CNN's African Voices asked the seasoned comic to name some of his continent's best comics to keep an eye on. Click through the gallery above to find out Churchill's favorite African comedians and check out the video below to learn more about his story.
WATCH: S. African comedian: I was born a crime
READ: Music legends get stamp of approval