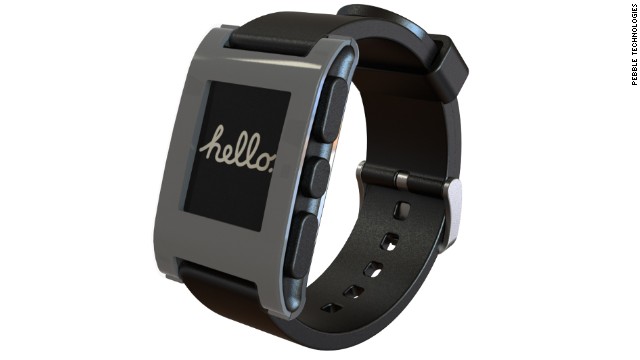 The Pebble Watch first gained attention by pulling in more than
$10 million on Kickstarter.
Pebble connects to an iPhone or Android phone via Bluetooth and has a growing selection of its own apps.
Unveiled by TomTom in 2013, the new Nike+ Sportwatch colors have been chosen to match Nike's apparel and shoe ranges. Features include an extra-large display, a graphical training partner and a one-button control. Colors include black/anthracite, anthracite/blue glow and volt green.
Consumer Electronics Show
, sells for $249. It comes in seven colors and runs the Droid 2 operating system. It connects to Android smartphones using Bluetooth.
The Italian-made aluminum "I'm Watch," announced at the 2013
A full-color touch screen device, the $130 Sony SmartWatch only syncs with Android devices. When paired with a phone over Bluetooth, it can receive notifications for email, texts, social networks and calendars.
The Motoactv smartwatch is marketed as a fitness tracker. It acts as a heart-rate monitor and pedometer, has GPS and an MP3 player. There are also a number of off-the-wrist mount options, including a handlebar strap, armband and chest strap.
The MetaWatch has a retro-looking, black-and-white screen, but it can connect to newer iPhones in addition to Android devices. It is also a water-resistant sports watch that tracks pace and distance. The watch starts at $179 and is available with various colored bands or in black or white leather.
J.K. Shin, head of Samsung Mobile Communications, presents the Samsung Galaxy Gear in Berlin in 2013. Six months later, a second-generation watch featured a new operating system and more processing power.
The Samsung Gear S, the company's third-generation smartwatch, made an advance many users, and reluctant nonusers, had been clamoring for. It has 3G connectivity and can be used without tethering it to a smartphone. Unveiled August 27, it is scheduled to ship in October, with no price yet announced.
The long-rumored "iWatch" from Apple could take the same approach, or, like others, require a connection with a smartphone. Health and fitness apps are expected to be front and center on the new device.
Apple's products have already been used as de facto smartwatches. The iPod nano's small, square touchscreen was a natural fit for the wrist. Spotting the potential to turn the iPod into a watch face, companies such as Lunatik make kits that included mounts and slick straps.
Apple is expected to roll out its entry in the field this week. Could it look like this concept design?
The battle of the smartwatches
The battle of the smartwatches
The battle of the smartwatches
The battle of the smartwatches
The battle of the smartwatches
The battle of the smartwatches
The battle of the smartwatches
The battle of the smartwatches
The battle of the smartwatches
The battle of the smartwatches
The battle of the smartwatches