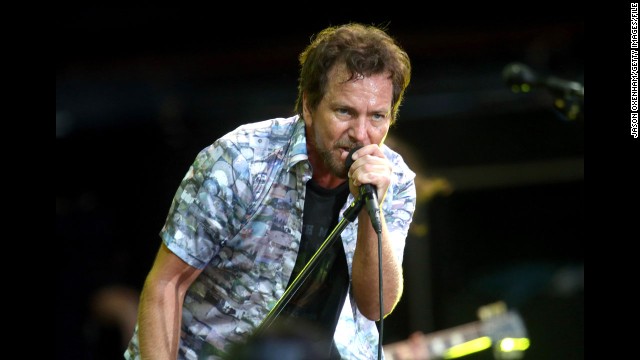 Here's hoping Eddie Vedder of Pearl Jam has a rocking 50th birthday on December 23. He's one of 50 celebrities who celebrated the milestone birthday in 2014:
Fans of "Peggy Sue Got Married" and "Moonstruck" may find it hard to believe, but Nicolas Cage turned 50 in January.
Mariska Hargitay represents her age group well as Sgt. Olivia Benson on "Law & Order: Special Victims Unit."
Matt Dillon continues to stay gold (any fans of "The Outsiders" out there?) at age 50.
Wanda Sykes is probably laughing because she's clearly found the fountain of youth.
How in the world is Rob Lowe even in this gallery? Seriously.
Elle Macpherson is a super model of aging well.
You know you are getting old when Ian Ziering and members of the "Beverly Hills, 90210" cast turn 50.
April 4 marked the 50th birthday of actor/director David Cross.
We haven't seen as much of actor Hank Azaria as we'd like, but we have certainly heard from him a great deal on "The Simpsons." He rang in his 50th year in April.
Russell Crowe turned 50 on April 7. We are sure the "Noah" star was flooded with well wishes.
Oh baby you
... are turning 50! Rapper and DJ Biz Markie celebrated his big day on April 8.
We wonder whether, at this age, Crispin Glover would want to go "Back to the Future." The actor celebrated his 50th birthday on April 20.
Who wants to be ... 50? Comedian and "Who Wants to be a Millionaire" host Cedric the Entertainer turned the big 5-0 on April 24.
Actor Djimon Hounsou, star of "Amistad" and "Guardians of the Galaxy," turned 50 on April 24.
Many fans still think of Melissa Gilbert as young Laura Ingalls on "Little House on the Prairie." But she turned 50 on May 8, and that means Half Pint is all grown up.
Even at 50, Stephen Colbert, right, is young at heart -- as you can see here when the "Late Show" host-to-be posed for a selfie with Jimmy Fallon. Colbert turned 50 on May 13.
"Hunger Games" star and rocker Lenny Kravitz can still pull off the sparkling eye makeup. He celebrated his 50th on May 26.
We hope Adam Carolla will never stop being young at heart with his boyish humor. The comedian/host turned 50 on May 27.
Wynonna Judd turned 50 on May 30. Now there's something to sing about.
Both Darryl McDaniels and Joseph Simmons of Run DMC celebrated their 50th birthdays this year. McDaniels' big day was in May, and Simmons' 50th followed in November.
Courteney Cox is an excellent role model for the cougars on her show, "Cougar Town," and in real life, too. The former "Friends" star celebrated her 50th birthday on June 15.
The kids, nerds, geeks and all still love "Buffy the Vampire Slayer" creator Joss Whedon at any age. The "Avengers" writer-director turned 50 on June 23.
Welcome to the wonderful world of quinquagenarians, Jose Canseco! The former baseball player turned 50 on July 2.
She may be the voice of the decidedly younger Lisa Simpson on "The Simpsons," but Yeardley Smith turned 50 on July 3.
Rock on Courtney Love. The musician/actress turned 50 on July 9.
What we wouldn't give to have had a seat at Wendy Williams' birthday dinner table. The media maven, who turned 50 on July 18, always has the hottest scoop.
Inquiring minds wonder if Dean Winters does his own stunts as "Mayhem" in those Allstate commercials. He's in great shape.
John Leguizamo had a milestone birthday on July 22 as he celebrated turning 50. And the comedic actor is not alone. He also shared his day with another funny man ...
David Spade also celebrated 50 on July 22. From appearing in the movie "Grown Ups" to being an official grown-up, Spade wears it well.
Soundgarden frontman Chris Cornell continues to perform with the vigor of a man half his age. He turned 50 in July.
No matter her age, Sandra Bullock will always be America's sweetheart. July 26 marked her 50th birthday.
going into labor as Rebecca on "Full House"
during Michelle's birthday party. Loughlin celebrated her own b-day on July 28.
Awww! Seems like only yesterday Lori Loughlin was
"Booty Call" days.
She turned 50 on July 30.
Vivica A. Fox is in as good a shape as she was during her
Counting Crows frontman Adam Duritz, who turned 50 in August, barely looks his age.
Mary-Louise Parker became a stunning member of the 50 club on August 2.
Breaking news! Hoda Kotb of the "Today" show turned 50 on August 8.
as youthful as he was in his "L.A. Law" days
. But on August 25, the actor hit the big 5-0.
Blair Underwood has remained
Excellent! Keanu Reeves turned 50 on September 2. Fans would love a new "Bill & Ted" sequel as a gift. We're just saying.
"Fight the Power"
of aging. The actress and new co-host of "The View" celebrated her 50th birthday on September 6.
Rosie Perez has clearly decided to
Holly Robinson Peete doesn't appear to have aged much at all from her "21 Jump Street" days.
Country star Trisha Yearwood became a quinquagenarian on September 19.
The eternally youthful Janeane Garofalo turned 50 on September 28, almost 20 years after starring in "The Truth About Cats & Dogs."
With that baby face, it's hard to believe "Extreme Makeover: Home Edition" host Ty Pennington turned 50 on October 19.
It's fun to imagine how Ally McBeal would have reacted to turning 50. The actress who played her, Calista Flockhart, turned 50 on November 11.
Robin Givens exited her 40s in November with a big smile.
"Captain Planet.
" (Warning: There is language in that clip.)
Actor Don Cheadle is using these years to get into the superhero game, with roles in the "Iron Man" films, "Avengers" and even
Marisa Tomei doesn't mind a nude scene, as evidenced in "Before the Devil Knows You're Dead." She's holding it down for actresses in her age group.
Former "Desperate Housewives" star Teri Hatcher turned 50 in December.
50 people who turned 50 in 2014
50 people who turned 50 in 2014
50 people who turned 50 in 2014
50 people who turned 50 in 2014
50 people who turned 50 in 2014
50 people who turned 50 in 2014
50 people who turned 50 in 2014
50 people who turned 50 in 2014
50 people who turned 50 in 2014
50 people who turned 50 in 2014
50 people who turned 50 in 2014
50 people who turned 50 in 2014
50 people who turned 50 in 2014
50 people who turned 50 in 2014
50 people who turned 50 in 2014
50 people who turned 50 in 2014
50 people who turned 50 in 2014
50 people who turned 50 in 2014
50 people who turned 50 in 2014
50 people who turned 50 in 2014
50 people who turned 50 in 2014
50 people who turned 50 in 2014
50 people who turned 50 in 2014
50 people who turned 50 in 2014
50 people who turned 50 in 2014
50 people who turned 50 in 2014
50 people who turned 50 in 2014
50 people who turned 50 in 2014
50 people who turned 50 in 2014
50 people who turned 50 in 2014
50 people who turned 50 in 2014
50 people who turned 50 in 2014
50 people who turned 50 in 2014
50 people who turned 50 in 2014
50 people who turned 50 in 2014
50 people who turned 50 in 2014
50 people who turned 50 in 2014
50 people who turned 50 in 2014
50 people who turned 50 in 2014
50 people who turned 50 in 2014
50 people who turned 50 in 2014
50 people who turned 50 in 2014
50 people who turned 50 in 2014
50 people who turned 50 in 2014
50 people who turned 50 in 2014
50 people who turned 50 in 2014
50 people who turned 50 in 2014
50 people who turned 50 in 2014
50 people who turned 50 in 2014
50 people who turned 50 in 2014