STORY HIGHLIGHTS
Texas Gov. Rick Perry has been indicted on accusations he abused his power
Charges stem from his threat to cut program run by a local DA unless she resigned
Both Perry and the DA got mug shots -- hers for drunk driving charge
But while she's back at work, he has to defend himself against felony charges
(CNN) -- She was the one caught driving drunk, but in an odd twist of political fate, he's now the one who has just been indicted on felony charges.
On the face of it, you might think that Rosemary Lehmberg, district attorney for Travis County in Texas, would be out of her job after being caught driving under the influence, haranguing those who took her in, being convicted and serving 20 days in jail.
But it's her bitter political rival Texas Gov. Rick Perry who's now facing serious charges for how he reacted to what she did.
Here are four reasons why Perry -- a possible candidate for the 2016 Republican presidential nomination -- is in more trouble than the district attorney caught driving with a 0.239 blood alcohol level, nearly three times the state's legal limit.
Walking the line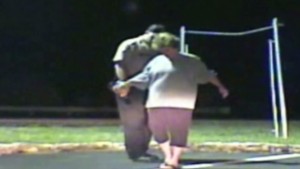 Raw: Texas DA's 2013 field sobriety test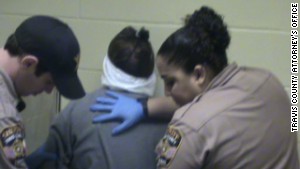 Raw video: Texas DA's 2013 DWI booking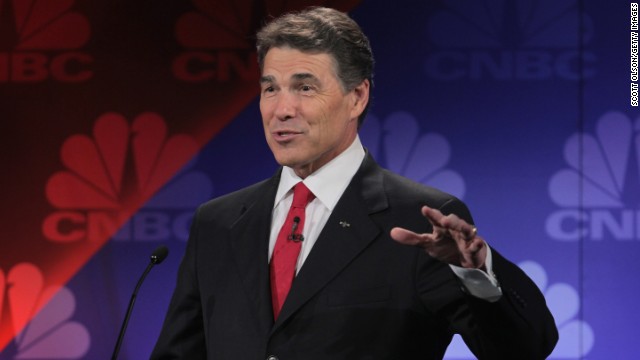 At a GOP presidential debate on November 9, 2011, Perry fails to remember the third of three agencies he would cut if elected president. With self-deprecation he uttered "oops," a word that has since made him the butt of jokes, including his own.
Perry salutes after announcing on January 19, 2012, that he's suspending his presidential campaign just days before South Carolina's GOP primary. Perry finished sixth in the New Hampshire primary earlier that month.
Perry compares alcoholism to homosexuality at an event in San Francisco on June 11, 2014. "I may have the genetic coding that I'm inclined to be an alcoholic, but I have the desire not to do that - and I look at the homosexual issue the same way," he said.
Perry greets President Barack Obama as he arrives in Dallas on July 9, 2014, for a meeting with local elected officials and faith leaders about the humanitarian situation at the Southwest border.
Perry labels Social Security a "Ponzi scheme" at a GOP primary debate on September 7, 2011, in Simi Valley, California. "Anybody that's for the status quo with Social Security today is involved with a monstrous lie to our kids, and it's not right," he said.
Perry, then the lieutenant governor of Texas, hugs George W. Bush before being sworn in as governor on December 21, 2000, in Austin. Bush had been elected president and was resigning as governor.
In the inaugural stages of his 2012 presidential run, Perry mingles with a breakfast crowd during a campaign stop at Bazen's Family Restaurant in Florence, South Carolina, on August 19, 2011.
Perry runs the Veterans Day parade route in Columbia, South Carolina, while local media and his security detail jog along to keep up on November 11, 2011.
During a Florida primary debate, Perry defended a Texas program that allows students without legal documentation to take advantage of in-state tuition and argued those who disagree with him are heartless.
Perry was booked on Tuesday on two felony charges related to his handling of a local political controversy. He vowed to fight the charges.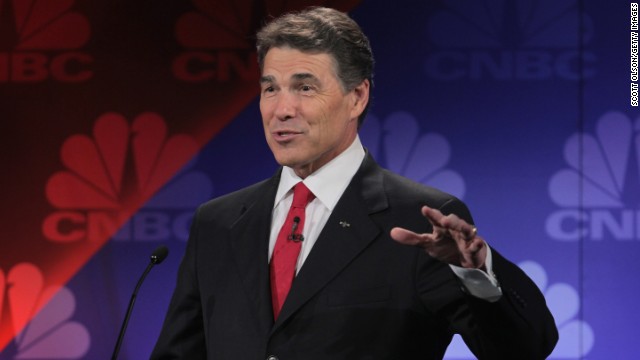 Moments from Rick Perry's career
She failed miserably to walk a straight line in a field sobriety test, but he's accused of crossing a political legal line.
Perry joined others calling for Lehmberg to step down after her DWI arrest. But when she refused, he threatened to and then did withhold funding for a program run by Lehmberg -- a powerful Democrat in a heavily Republican state.
Watch Lehmberg take the field sobriety test
Some saw his action as strictly political, and an illegal overreach of his powers as governor. He ended up in a police booking room, getting his mug shot and fingerprints taken -- making Rick Perry the first Texas governor in nearly 100 years to face criminal charges. And the two felony counts that charge Perry with abusing his power hit the longest-serving governor in the state's history right at the moment he's switching his presidential ambitions into high gear.
Talking the talk
In her drunken state, with a blood alcohol level of 0.239, Lehmberg mouthed off to officers and jailers. Perry let money do the talking. He threatened to use his veto power to cut state funding for a special unit in Lehmberg's control -- the Office of Public Integrity -- if she did not step down after her conviction.
Lehmberg would not budge, so Perry pulled the $3.5 million in annual state funding for the unit, which ironically investigates wrongdoing by public officials across Texas.
Perry has the right to veto whatever he likes, but threatening to do so to get something he wanted was illegal, according to Texans for Public Justice, a liberal group that filed the complaint against Perry.
Location, location, location
A blueberry in a bowl of tomato soup. That's what Perry calls Travis County, where Democrats like Lehmberg reign. The county, home of the state capital, Austin, is a spot of blue in an overwhelmingly red state. In 2012, Travis County voted for President Obama while the rest of the state overwhelmingly went for Mitt Romney.
The members of the grand jury that approved the indictment were selected from that Democratic county, but those involved in the legal case say their decision had nothing to do with politics. CNN spoke to several grand jurors, and they said politics never entered their secret discussions. One did add though that the decision to indict the governor was not unanimous. They said the special prosecutor, Mike McCrum, was fair and demonstrated how the governor violated the law.
The law
Lehmberg pleaded guilty to DWI, served nearly three weeks in jail, went to rehab and then went back to her job as the district attorney, able to ignore the calls for her to step down. The felony charges against Perry are much more serious and would not allow him such latitude were he to be found guilty. He faces one count of abuse of official capacity and one count of coercion of a public servant, with the maximum sentence for both at more than 100 years in prison.
Perry calls the charges an "injustice." "The actions I took were not only lawful and legal but right," he told reporters at the Travis County Court, where he appeared voluntarily to have his mugshot and fingerprints taken.
Indeed, legal analysts, including CNN's Jeffrey Toobin, a former federal prosecutor, question the indictment. "The governor has the power to veto this money," Toobin said. "So, the question is, how can it be a crime to threaten to use a power that is entirely within the powers of your office?"
Perry is now in his last few months in office after his 14 years in the governor's mansion. Speculation that he's eyeing the White House continues, but he may well have to solve this court case first.
5 reasons Gov. Perry is underrated