STORY HIGHLIGHTS
The second video of an American beheaded by ISIS prompted fast calls for more action
Members of Congress from both sides of the aisle urge President Obama to act quickly
Experts say ISIS is a sophisticated organization and more robust action may be complicated
Obama "is now forced to respond because of this cruel and savage use" of social media, one expert says
Washington (CNN) -- If nothing else, the latest ISIS act of barbarism brought a quick political consensus, and added pressure on President Barack Obama: Caution in the face of repugnant horror just won't do.
The president responded Wednesday in his first public remarks since the beheading of journalist Steven Sotloff. He promised results while pleading for time to deal with Islamic terrorists in Iraq and Syria.
"Our objective is clear: That is to degrade and destroy ISIL so it's no longer a threat," Obama said during a news conference in his trip to Estonia.
"It's going to take some time, it's going to take some effort," he said.
His comments came the day after lawmakers from both sides of the aisle called for action.
"We must use every tool at our disposal, short of introducing ground forces in combat roles, to put an end to the threat they pose to our national security," Democratic Sen. Jeanne Shaheen of New Hampshire said in a statement Tuesday.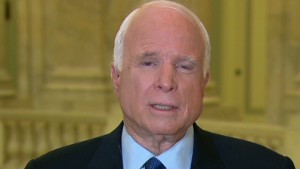 McCain: ISIS is a direct threat to U.S.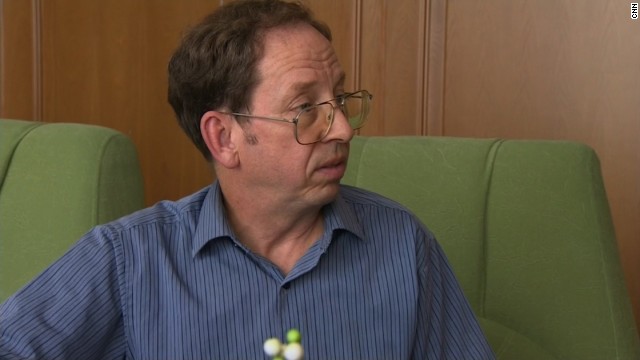 Jeffrey Edward Fowle, one of three Americans detained in North Korea, was released and is now on his way home, a State Department official told CNN on Tuesday, October 21. Fowle was accused of leaving a Bible in a restaurant. North Korea announced Fowle's detention in June, saying he had violated the law by acting "contrary to the purpose of tourism." Fowle told CNN: "I've admitted my guilt to the government and signed a statement to that effect and requested forgiveness from the people and the government of the DPRK."
Matthew Todd Miller, another one of the detained Americans in North Korea, began serving his six-year sentence on September 25. He spoke to CNN's Will Ripley on September 1 and implored the U.S. government for help. The 24-year-old is accused of tearing up his tourist visa and seeking asylum upon entry.
In May 2013, a North Korean court sentenced Kenneth Bae, a U.S. citizen, to 15 years of hard labor for committing "hostile acts" against the state. North Korea claimed Bae was part of a Christian plot to overthrow the regime. In a short interview with CNN on September 1, Bae said he is working eight hours a day, six days a week at a labor camp. "Right now what I can say to my friends and family is, continue to pray for me," he said.
American journalist Peter Theo Curtis was handed over to U.N. peacekeepers on August 24 after nearly two years in captivity. He is believed to have been captured in October 2012 and held by the al-Nusra Front, a Syrian rebel group with ties to al Qaeda.
Alan Gross, at right with Rabbi Arthur Schneier, has been in Cuban custody since December 2009, when he was jailed while working as a subcontractor. Cuban authorities say Gross tried to set up illegal Internet connections on the island. Gross says he was just trying to help connect the Jewish community to the Internet. Former President Jimmy Carter and New Mexico Gov. Bill Richardson have both traveled to Cuba on Gross' behalf, but they were unable to secure his release.
An Iranian court threw out a 2011 death sentence for Amir Hekmati, a former U.S. Marine charged with spying. But he was secretly retried in Iran and convicted of "practical collaboration with the U.S. government," his sister told CNN on April 11. He has been sentenced to 10 years in prison, she said. Hekmati was detained in August 2011 during a visit to see his grandmother. His family and the Obama administration deny accusations he was spying for the CIA.
This undated image provided by the U.S. Army shows Sgt. Bowe Bergdahl, who had been held by insurgents in Afghanistan since 2009. The White House announced Bergdahl's release on May 31. Bergdahl was released in exchange for five senior Taliban members held by the U.S. military.
Retired FBI agent Robert Levinson has been missing since 2007. His family says he was working as a private investigator in Iran when he disappeared, and multiple reports suggest Levinson may have been working for the CIA. His family told CNN in January that they have long known that Levinson worked for the CIA, and they said it's time for the government to lay out the facts about Levinson's case. U.S. officials have consistently denied publicly that Levinson was working for the government, but they have repeatedly insisted that finding him and bringing him home is a "top" priority.
Warren Weinstein, a contractor held by al Qaeda militants, is a U.S. citizen who has been held hostage in Pakistan since August 2011.
U.S. tourist and Korean War veteran Merrill Newman arrives at the Beijing airport on December 7 after being released by North Korea. Newman was detained in October 2013 by North Korean authorities just minutes before he was to depart the country after visiting through an organized tour. His son Jeff Newman said the Palo Alto, California, man had all the proper paperwork and set up his trip through a North Korean-approved travel agency.
Mexican authorities arrested Yanira Maldonado, a U.S. citizen, right, in May 2013, for alleged drug possession. She and her husband, Gary, were traveling from Mexico back to the United States when their bus was stopped and searched. She was released a few days later and is now back in the United States.
Saeed Abedini, a 33-year-old U.S. citizen of Iranian birth, was sentenced to eight years in prison in January 2013. He was accused of attempting to undermine the Iranian government and endangering national security by establishing home churches.
North Korea has arrested Americans before, only to release them after a visit by a prominent dignitary. Journalists Laura Ling, center, and Euna Lee, to her right, spent 140 days in captivity after being charged with illegal entry to conduct a smear campaign. They were freed in 2009 after a trip by former President Bill Clinton.
Former President Jimmy Carter negotiated the release of Aijalon Gomes, who was detained in 2010 after crossing into North Korea illegally from China. Analysts say high-level visits give Pyongyang a propaganda boost and a way to save face when it releases a prisoner.
Eddie Yong Su Jun was released by North Korea a month after he was detained in April 2011. His alleged crime was not provided to the media. The American delegation that secured his freedom included Robert King, the U.S. special envoy for North Korean human rights issues.
Robert Park was released by North Korea in 2010 without any apparent U.S. intervention. The Christian missionary crossed into North Korea from China, carrying a letter asking Kim Jong Il to free political prisoners and resign. North Korea's state-run news agency said Park was released after an "admission and sincere repentance of his wrongdoings." Here, Park holds a photo of Kim and a malnourished child during a protest in Seoul.
Josh Fattal, center, Sarah Shourd, left, and Shane Bauer were detained by Iran while hiking near the Iraq-Iran border in July 2009. Iran charged them with illegal entry and espionage. Shourd was released on bail for medical reasons in September 2010; she never returned to face her charges. Bauer and Fattal were convicted in August 2011, but the next month they were released on bail and had their sentences commuted.
Haleh Esfandiari, an Iranian-American scholar, was detained at Iran's Evin Prison, spending months in solitary confinement before Iran released her on bail in August 2007. Esfandiari was visiting her ailing mother in Tehran when she was arrested and charged with harming Iran's national security.
Sixteen Americans were among the dozens arrested in December 2011 when Egypt raided the offices of 10 nongovernmental organizations that it said received illegal foreign financing and were operating without a public license. Many of the employees posted bail and left the country after a travel ban was lifted a few months later. Robert Becker, right, chose to stay and stand trial.
Filmmaker Timothy Tracy was arrested in Venezuela in April 2013 on allegations of funding opponents of newly elected President Nicolas Maduro, successor to the late Hugo Chavez. Tracy went to Venezuela to make a documentary about the political division gripping the country. He was released in June 2013.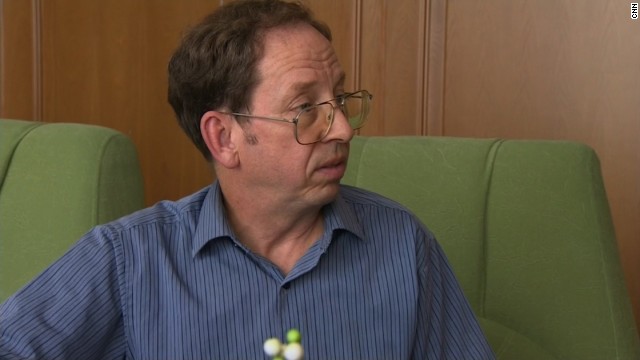 Photos: Americans detained abroad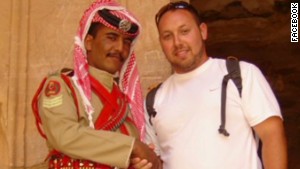 Rep. King: This was an attack on the U.S.
Florida GOP Sen. Marco Rubio, rarely on the same page as Shaheen, also called on Obama to respond, and quickly.
"There is no disease that becomes easier to treat the longer you wait," Rubio said.
But whether increased bipartisan pressure will translate into a dramatically new and bolder administration approach is an open question.
"He is not going to plunge America into another trillion-dollar social science project because two American journalists have been killed, no matter how horrific it is," said longtime State Department hand Aaron David Miller, now a scholar at the Wilson Center.
ISIS video shows beheading of American journalist
Still, given the second barbaric beheading in a few weeks and the growing political calls for more decisive action, Miller said, "You can't imagine him not responding in some way."
The rush of statements from politicians shared similar language calling for action and a better explanation of U.S. policy.
'Let there be no doubt, we must go after ISIS right away," said Democratic Sen. Bill Nelson of Florida, the senior senator from the home state of American journalist Steven Sotloff.
"It is long overdue for the Obama administration to present to the Congress, the American people, and our allies around the world a comprehensive strategy to respond to the horrific threat ISIS poses," moderate GOP Sen. Susan Collins said in a statement.
What can the U.S. do against ISIS in Syria?
And Sen. Lindsey Graham of South Carolina, already among the Republicans suggesting Obama has been too timid in responding to the ISIS threat, said it was time to stop debating whether to use U.S. air power against ISIS leadership targets in Syria.
"Condemnation is not enough to deal with this scourge. It is time we act decisively," Graham said. The GOP hawk said airpower had proven to be effective against ISIS targets on a limited basis in Iraq and said now: "It's a tactic that should be aggressively pursued both in Syria and Iraq. Mr. President, if you can't come up with a strategy, at least tell us what the goal is."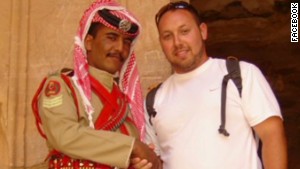 Analysis of the ISIS beheading videos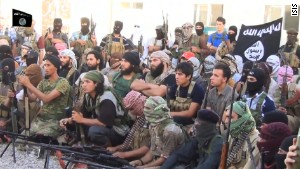 Fmr. CIA operative: ISIS is here in U.S.
The timing also adds to the pressure on the President.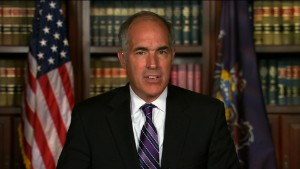 Senator: Arab countries need to do more in fight against ISIS
ISIS released the video showing the purported murder of Sotloff as Obama traveled to Europe to attend a NATO summit, where responding to ISIS is a top agenda item.
Miller sees sad irony in the fact that a president who made a name for himself in politics with innovative uses of social media to communicate "is now forced to respond because of this cruel and savage use of it."
Obama 'cautious' approach on ISIS is panned
As the commander in chief traveled, a top State Department official urged patience even in the wake of the apparent Sotloff beheading.
"Obviously, ISIS is a very sophisticated organization," Deputy Assistant Secretary of State Brett McGurk told CNN's Christiane Amanpour. "You cannot just go in militarily and start dropping bombs, and hope that it's going to work out. You have to have a very sophisticated approach to this."
In the short term, veteran diplomats and intelligence experts acknowledge the pressure on the White House to respond with force will be intense, but they cautioned the menu of options might not be terribly appealing.
"I'm not sure there is a one-off airstrike or small set of airstrikes that would achieve much right now," Miller said. "And I don't think they are ready, in terms of identifying the targets, for a sustained and comprehensive set of strikes in Syria right now."
Why a strategy to fight ISIS in Syria will take time
Given that the options are hardly appealing, Miller said the President's often-criticized caution makes considerable policy sense. "But his risk aversion is politically a disaster for him."
While mulling new military and diplomatic moves, Miller and others suggested a growing urgency for the president to set a speech or some other event to explain in detail the ISIS threat and his deliberations.
"It took 10 years to take down al Qaeda," Miller said. "Given some of the advantages ISIS has it will probably take 20. He will be handing off to the next guy or woman who is going to have to continue the fight. But he has got to figure a way to lay out a strategy, and explain the generational aspect. That is something a president needs to do."
Apparent ISIS executioner: 'I'm back, Obama'