STORY HIGHLIGHTS
Sen. Kirsten Gillibrand's new book reveals that her colleagues called her fat and porky
Pepper Schwartz: Gillibrand doesn't need to tell names; this is a bigger issue of sexism
She says men need to act professionally and respectfully toward women in any workplace
Schwartz: Gillibrand doesn't out names because she wants trust and efficacy at her job
Editor's note: Pepper Schwartz is professor of sociology at the University of Washington and the author of many books, the latest of which is "The Normal Bar." She is the love and relationship ambassador for AARP and writes the Naked Truth column for AARP.org. She is also a senior fellow at the Council on Contemporary Families, a nonprofit organization that gathers research on American families. The opinions in this commentary are solely those of the author.
(CNN) -- Sen. Kirsten Gillibrand's new book reveals that her colleagues in Congress have called her "porky" and "fat" and made other remarks about her weight. Yes, of course the public is outraged by her insensitive colleagues. Should we know who did the name-calling? And should they be shamed into offering public apologies?
Here's the thing: The flurry about whether Gillibrand should disclose names is the fatuous response of reporters who, for their own professional goals, would love a further gnashing of teeth.
Gillibrand has clearly shown it's not easy to be in a boys club in Congress. But she doesn't owe anyone to reveal names. This is not about a bunch of crude senators, it's about men needing to know how to behave professionally and respectfully toward women in any workplace environment.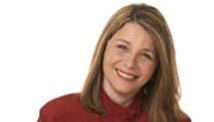 Pepper Schwartz
There are two good reasons Gillibrand did not reveal names. One is to keep the conversation about the problem of harassment in general rather than focus on specific colleagues. Two, she has to work alongside her colleagues. If she named names, she would be seen as a snitch, even to those men who agreed that egregious treatment had occurred. She would lose support, trust and efficacy.
It's not supposed to be this way. Yet haven't we all swallowed some lousy treatment in order to get our job done? Yes, there are employment laws to protect us. But while it might save our job, it will not restore a workable climate.
In my personal experience, I wished I had the guts to tell some of my professors in graduate school to stuff it. There would be faculty-student parties where we were all flirtatious -- no problem. That was the late 1960s, a bit of sexual intrigue was expected in social situations. But being pawed during a random academic conversation or whispered unwelcome sexual suggestions repeatedly after refusing them was tiresome. While I was annoyed, I wasn't punished professionally for refusing sexual invitations, and so I just fended off the offenders rather than make a formal complaint.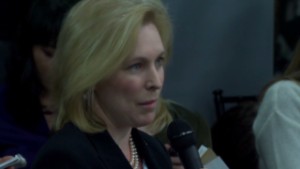 Senator says lawmaker called her 'porky'
I had far more to lose if I spoke out than if I kept quiet. So, I understand why some women make the decision to create a dialogue about this issue rather than go after the person who was inappropriate. It's easy for others to say that names should be named, but in Gillibrand's case, what good would it do and what political gains would be lost?
Most members of Congress know who is piggy already -- and do they do anything about it? No. Unless it's something terrible, like rape or sexual assault, they let "little things" like a random sexist comment, a minor grope, or a sexual innuendo pass. They have a tacit agreement to not rock the boat on these things, especially if the offender votes the way you need him to vote.
To this point, I remember a serious incident from over 30 years ago. An acquaintance of mine on the East Coast was working for a senator and she had a highly placed position. She quit within a week of her appointment and went to live in another state. I happened to be in her city at the time and met her for coffee because I was so shocked at the abrupt end of her fabulous job. She had bruises up and down her arm and told me her boss had tried to wrestle her into sexual submission. I could scarcely believe it and encouraged her to report the incident to the police.
She said if she did report the attack, she would never get a political job again, and if she caused the downfall of the politician in question, who represented her political values, she worried that important close votes might end with the other side winning. She never did anything.
This is not what we want victims to do. But let's face it -- sometimes people have deeply held goals that they rank even higher than their own rights and dignity. They want to do their job or they want to further their values, and if the insults are minor enough (like being called chubby) you take it and wait for the right time to address it in a way that does not undermine your work or your job.
Kristen Gillibrand took this path. She wants to put her colleagues on notice that some of them are insulting and inappropriate and that their remarks about her body or sexual allure are gross, unwelcome and unprofessional. She knows that other women out there get similar treatment or worse and she wants to give notice from her more protected perch as an elected official that men who feel entitled to make these kinds of demeaning comments better cut it out.
Gillibrand stopped short at naming names because she is not vengeful, petty or inconsiderate. It's a sad fact, but sometimes women have to make a choice between identifying people who have humiliated and undermined them and letting those people stay anonymous so they can finish the work they got hired, or elected, to do.
Read CNNOpinion's new Flipboard magazine
Follow us on Twitter @CNNOpinion.
Join us on Facebook.com/CNNOpinion