STORY HIGHLIGHTS
NEW: New NATO unit not a threat to Russia, White House says
NATO Leader: New unit will "travel light, but strike hard if needed
Moscow asks Ukrainian military to retreat from civilian locations
Russian Foreign Minister Sergei Lavrov calls for talks, not threats of sanctions
Kiev, Ukraine (CNN) -- NATO members meeting this week in Wales are expected to create "a very high-readiness force" to deal with Russian aggression in Ukraine and other international conflicts, NATO Secretary General Anders Fogh Rasmussen said Monday.
In a speech on the NATO website, Rasmussen said the fighting force will be part of an overall Readiness Action Plan that "responds to Russia's aggressive behavior -- but it equips the alliance to respond to all security challenges, wherever they may arise."
He said this "spearhead" force would be able to "travel light, but strike hard if needed."
NATO will look at possible upgrades to infrastructure that could include airfields and ports, he said.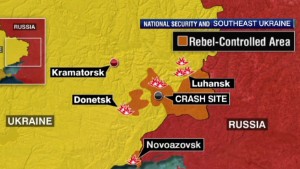 Ukrainians brace for rebel attack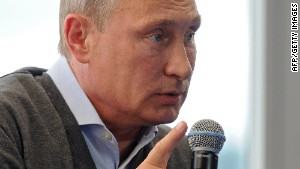 Putin: Don't mess with us, we're nuclear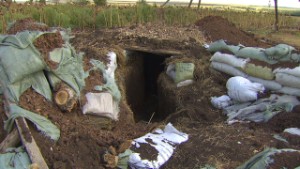 Why did Ukrainian forces leave border?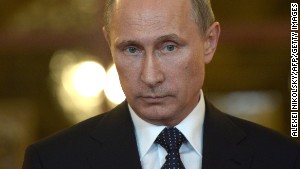 Russia denies invasion of Ukraine
The White House supports the idea of a rapid response team for NATO, but National Security Spokesman Caitlin Hayden cautioned that the force would be "defensive" in posture.
The new force is "not intended as a provocation, or as a threat to Russia, but rather as a demonstration of NATO's continued commitment to our collective defense," Hayden said.
New bases will be set up and equipment pre-positioned at bases, a NATO diplomatic source said.
"We are also facing crises to the southeast and south," said a senior NATO official. The plan "needs to be able to deal with all crises that we might be facing in the future from wherever they might come."
Rasmussen said President Petro Poroshenko of Ukraine will attend the summit and NATO will "make clear our support for Ukraine."
On the ground, Ukrainian forces appear to be outgunned by Russian rebels.
"We have seen as recently as Saturday, that the Ukrainian army is very, very unarmed compared to the rebels," said Michael Bociurkiw, a spokesman for the Organization for Security and Cooperation in Europe, which is monitoring the situation in Eastern Ukraine.
On Monday, U.K. Prime Minister David Cameron told Parliament that the presence of Russian soldiers on Ukraine soil is completely unjustified and unacceptable.
"Russia appears to be trying to force to Ukraine to abandon its democratic choices through the barrel of a gun," he said.
Cameron said new sanctions measures will be drawn up by the EU within a week.
Ukraine airfield attack reported
A Russian army tank attacked airfields in eastern Ukraine on Monday, Ukrainian military officials said, amid worsening tensions between Kiev and Moscow.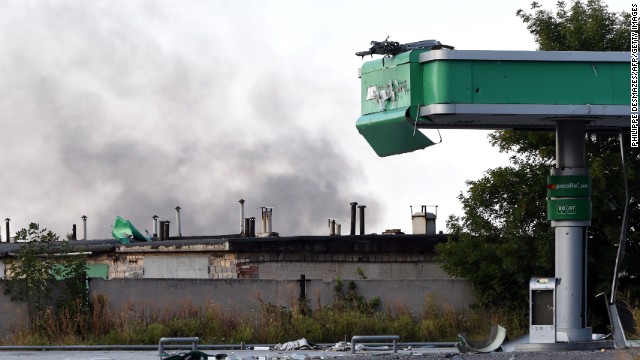 Smoke rises around the Donetsk International Airport on Saturday, September 13, as shelling continues between pro-Russian forces and the Ukrainian army. The fighting in the country has left more than 2,500 people dead since mid-April, according to the United Nations.
A Ukrainian soldier stands guard as residents rally in support of a united Ukraine in the southern Ukrainian city of Mariupol, on September 13.
Russian trucks, flying Russian flags and carrying humanitarian aid for eastern Ukraine, line up at a border check point in the town of Donetsk. The second convoy of Russian trucks that entered rebel-held territory in eastern Ukraine earlier Saturday, is reportedly filled with almost 2,000 tons of humanitarian aid.
Workers unload supplies from Russia in the town of Luhansk, eastern Ukraine, on September 13. More than 200 Russian trucks entered Ukraine with supplies for the city of Luhansk, which has been cut off from electricity and water for weeks.
Ukrainian soldiers ride on an armored vehicle near the eastern Ukrainian city of Kramatorsk, in the Donetsk region, on September 13.
People look at a large crater on September 13 from a reported missile strike that hit a bus station the day before in Makiyivka, near Donetsk, eastern Ukraine.
Workers clear rubble Thursday, September 11, after the bombing of a mine in Donetsk, Ukraine. A fledgling truce between the Ukrainian government and pro-Russian rebels is already under threat, as both sides have accused the other of violating it.
A column of Ukrainian forces is seen in Volnovakha, Ukraine, on September 11.
An elderly woman sits next to a Ukrainian soldier standing guard in Volnovakha on September 11.
Armed pro-Russian rebels walk September 11 in front of the destroyed Luhansk International Airport in Luhansk, Ukraine. The rebels took control of the airport on September 1 after heavy fighting with the Ukrainian army.
Residents of Lutuhyne, Ukraine, push containers in a wheelbarrow September 11 as they walk between destroyed armored vehicles left behind by the Ukrainian army.
Ukrainian troops protect themselves from a nearby shooting in Debaltseve, Ukraine, on Tuesday, September 9.
Young residents of Berdyansk, Ukraine, dig trenches September 9 to help Ukrainian forces protect the city from possible rebel attacks.
Ukrainian President Petro Poroshenko, left, inspects military personnel during a visit to Mariupol, Ukraine, on Monday, September 8.
A pro-Russian rebel stands next to a truck with a heavy machine gun attached to it Sunday, September 7, in Donetsk.
Homes smolder after being hit by shelling in Donetsk on September 7.
A woman stands next to a road sign September 7 after an overnight bombing attack at an Ukrainian army checkpoint on the outskirts of Mariupol.
Ukrainian troops stand on a deserted road as they patrol the border area of the Donetsk and Luhansk regions Friday, September 5, near Debaltseve.
A man repairs damage to a building caused by shelling in Donetsk on September 5.
Smoke rises on the outskirts of Mariupol after pro-Russian rebels fired heavy artillery on September 5.
Ukrainian soldiers ride a tank on a road close to where pro-Russian rebels fired heavy artillery outside Mariupol on September 5.
A wounded Ukrainian soldier is helped by a medical team on the outskirts of Mariupol on September 5.
A pro-Russian rebel holds a destroyed weapon in the village of Novokaterynivka, Ukraine, on Thursday, September 4.
Unmarked military vehicles burn on a country road in Berezove, Ukraine, on September 4 after a clash between Ukrainian troops and pro-Russian rebels. For months, Ukrainian government forces have been fighting the rebels near Ukraine's eastern border with Russia.
People wait by their cars near Berezove on September 4 as rockets hit the road ahead.
A pro-Russian rebel holds a dog, which has a hand grenade attached to its leash, in Donetsk on Wednesday, September 3.
Pro-Russian rebels fire at Ukrainian army positions in Donetsk on September 3.
A Ukrainian military vehicle patrols in the Donetsk region on September 3.
Pro-Russian rebels hold a man near a column of destroyed Ukrainian military vehicles in Novokaterynivka on Tuesday, September 2.
A Ukrainian military truck passes by a serviceman resting in his military camp in Ukraine's Donetsk region on September 2.
A destroyed Ukrainian military vehicle sits abandoned on the side of the road near Novokaterynivka on September 2.
Men clear rubble in Ilovaisk, Ukraine, on Sunday, August 31.
Ukrainian troops leave the rebel-held town of Starobesheve on Saturday, August 30.
A Ukrainian loyalist fighter from the Azov Battalion stands guard on a hill on the outskirts of Mariupol on August 30.
A pro-Russian rebel listens to the news on a transistor radio in the town of Novoazovsk, Ukraine, on Friday, August 29.
Ukrainian soldiers stop on a roadside as they wait for the start of their march into Mariupol on Wednesday, August 27.
A man opens a box filled with rocket-propelled grenades left by the Ukrainian army in Starobesheve.
A pro-Russian rebel walks through a local market damaged by shelling in Donetsk on Tuesday, August 26.
Ukrainian servicemen of the volunteer battalion Azov leave for Novoazovsk on August 26.
Pro-Russian rebels escort captured Ukrainian soldiers in a central square in Donetsk on Sunday, August 24.
People yell as Ukrainian prisoners are paraded through Donetsk in eastern Ukraine on August 24.
A pro-Russian rebel delivers a speech atop a damaged Ukrainian armored personnel carrier in Donetsk on August 24.
People look at damaged Ukrainian military equipment in Donetsk on August 24.
The first trucks of a Russian aid convoy roll on the main road to Luhansk in eastern Ukraine on Friday, August 22. The head of Ukraine's security service called the convoy a "direct invasion" under the guise of humanitarian aid since it entered the country without Red Cross monitors.
A pro-Russian rebel holds shrapnel from a rocket after shelling in Donetsk on August 22.
Residents sit in a makeshift bomb shelter during a shelling in Makiyivka, Ukraine, on Wednesday, August 20.
Dogs play together as a Russian convoy carrying aid supplies stops at a border control point with Ukraine, in the Russian town of Donetsk, on August 20.
Ukrainian forces take their position not far from Luhansk, Ukraine, on August 20.
Clouds of smoke are on the horizon as Ukrainian forces and pro-Russian rebels clash in Yasynuvata, a suburb of Donetsk, Ukraine, on Tuesday, August 19.
An Ukrainian helicopter flies near Kramatorsk, Ukraine, on August 19.
Ukrainian soldiers load a missile during fighting with pro-Russian rebels Monday, August 18, near Luhansk.
Boys play at a refugee camp, set up by the Russian Emergencies Ministry, near the Russian-Ukrainian border on August 18.
Ukrainian soldiers carry weapons at a checkpoint near Debaltseve, Ukraine, on Saturday, August 16.
Pro-Russian rebels greet each other as they pass near Krasnodon, Ukraine, on August 16.
A fireman tries to extinguish a fire after shelling in Donetsk on August 16.
Ukrainian border guards patrol near Novoazovsk on Friday, August 15.
Trucks of a Russian humanitarian convoy are parked in a field outside the town of Kamensk-Shakhtinsky, in the Rostov region of Russia about 20 miles from the Ukraine border, on August 15. Ukrainian officials were preparing to inspect the convoy, which was bound for the conflict-torn east.
A truck driver from the convoy jumps out of a trailer on August 15. The Ukrainian government had expressed fears that the convoy was a large-scale effort to smuggle supplies or troops to pro-Russian rebels.
A tank belonging to pro-Russian rebels moves along a street in Donetsk on August 15.
A Ukrainian soldier walks past a line of self-propelled guns as a column of military vehicles prepares to head to the front line near Ilovaisk, Ukraine, on Thursday, August 14.
A Ukrainian soldier prepares a mortar at a position near Ilovaisk on August 14.
A man inspects damage at his house after a shelling in Donetsk on August 14.
A convoy of trucks, which Moscow said was carrying relief goods for war-weary civilians, moves from Voronezh, Russia, toward Rostov-on-Don, Russia, on August 14.
Pro-Russian rebels on the outskirts of Donetsk stand at a checkpoint near a bullet-riddled bus on Wednesday, August 13.
A pro-Russian rebel inspects damage after shelling in Donetsk on Thursday, August 7.
Smoke billows from a Ukrainian fighter jet crash near the village of Zhdanivka, Ukraine, on August 7.
Residents of eastern Ukraine cry in a hospital basement being used as a bomb shelter August 7 in Donetsk.
Ordnance from a Ukrainian rocket launcher shoots toward a pro-Russian militant position in the Donetsk region on August 7.
Relatives of Ukrainian military member Kyril Andrienko, who died in combat in eastern Ukraine, gather during his funeral in Lviv, Ukraine, on August 7.
Refugees from southeastern Ukraine wait at a refugee camp in Donetsk on Wednesday, August 6.
A pro-Russian rebel adjusts his weapon in Donetsk on August 6.
Men walk past a bomb crater in Donetsk on August 6.
A man steps out of his car as Ukrainian soldiers inspect the vehicle at a checkpoint in Debaltseve on August 6.
Ukrainian servicemen sit on a bus near Slovyansk, Ukraine, on Tuesday, August 5.
A pro-Russian separatist guards a road as Australian, Malaysian and Dutch investigators prepare to examine the crash site of Malaysia Airlines Flight 17 near the village of Rossipne, Ukraine, on August 5. U.S. and Ukrainian officials allege that a Russian-made missile shot down the plane from rebel-held territory, killing all 298 people on board. Russia and the rebel fighters deny involvement.
Rescue workers carry the body of a woman who was killed during a bomb shelling in Donetsk on August 5.
A boy stands in a hallway of a refugee hostel run by pro-Russian rebels in Donetsk on Monday, August 4.
Ukrainian servicemen from the Donbass volunteer battalion clean their guns Sunday, August 3, in Popasna, Ukraine.
Ukrainian soldiers fire shells toward rebel positions near Pervomaysk, Ukraine, on Saturday, August 2.
Ukrainian troops patrol near the village of Novoselovka on Thursday, July 31.
A woman says goodbye to her mother as she flees her home in Shakhtersk, Ukraine, on Tuesday, July 29. See more photos of the crisis from earlier this year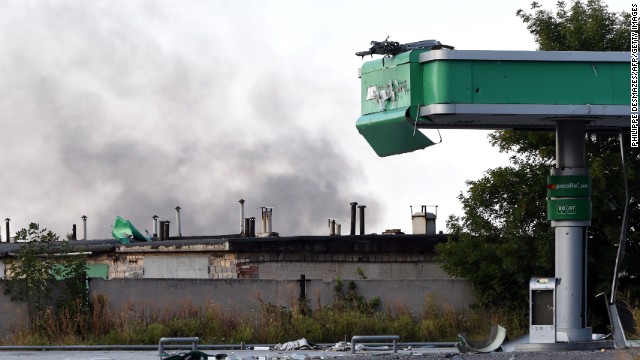 Photos: Crisis in Ukraine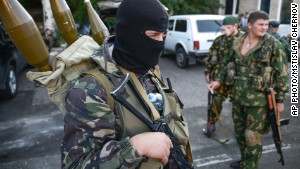 Russian troops in Ukraine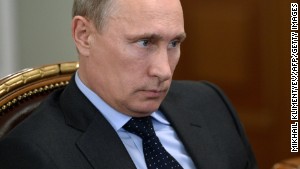 Russia's message on Ukraine
A battle is under way at the airport of the eastern city of Luhansk, Ukrainian counter terrorism officials said.
"There is a very, very bad situation developing in Luansk," Bociurkiw said. "Ukrainian officials are warning of a humanitarian catastrophe due to the lack of water and electricity."
Shortly before the attack, Russia urged the Ukrainian military to retreat from civilian locations in the east, saying pro-Moscow separatists in the region will not disarm for fear of getting killed.
The same day, Ukraine said one of its patrol boats was capsized and two of its crew are missing off the coast of the city of Mariupol. Officials did not say who was behind the attack.
Poroshenko has said thousands of Russian troops are in his nation's east, helping the separatists.
Though Russia has denied sending its troops to Ukraine, it defended the rebels' action in the east.
"Washington and Brussels need to ask Kiev authorities to stop shelling the houses, schools, hospitals and so on because you leave militia with no choice but to stand up to protect their people," Russian Foreign Minister Sergei Lavrov said.
Lavrov: 'Let us sit down and talk'
"Let's not ask militia to lay down their weapons and allow themselves to be killed."
Lavrov said negotiations, not threats, will help resolve the crisis between the two neighbors.
"Let us sit down and talk instead of threatening with sanctions and stubbornly making absolutely unrealistic demands of the militia laying down arms," he said. "This is what the peace plan of Poroshenko is about."
Russian President Vladimir Putin sparked controversy when he talked about "statehood" for eastern Ukraine.
"Substantive meaningful talks related to the issues of society's political organization and statehood in southeastern Ukraine should start immediately in order to protect people living there," Putin said Sunday.
The Kremlin later denied that Putin was calling for statehood in the region, saying he was referring to inclusive talks with all sides represented.
Russia annexed Ukraine's Crimean Peninsula in March following the ouster of President Viktor Yanukovych the previous month.
Violence broke out in the eastern Donetsk and Luhansk regions in April when separatist leaders declared independence from the government in Kiev. Since then, the conflict between the pro-Russia rebels and the Ukrainian military has killed 2,500 people, according to the United Nations.
U.S. lawmaker visits Ukraine
A U.S. lawmaker called for the arming of Ukrainian forces along the eastern border.
Sen. Robert Menendez, D-New Jersey, is in the Ukrainian capital of Kiev. He said the conflict in eastern Ukraine is not a rebel uprising, but a Russian invasion.
"We should be providing the Ukrainians with the type of defensive weapons that will impose a cost upon Putin for further aggression," said Menendez, chairman of the Senate Foreign Relations Committee.
In the past, U.S. President Barack Obama has opposed supplying Ukraine with weapons. .
Poroshenko warned that his nation's crisis with Russia has worsened, and is inching closer to a "full-scale war."
The European Union has demanded Moscow withdraw its troops or face additional sanctions.
European Council President Herman Van Rompuy said new sanctions are in the works for Russia. Proposals will be ready for consideration in a week, he said over the weekend.
READ: After eight months of conflict, what's next for Ukraine?
READ: What is Russia doing in Ukraine, and what can West do about it?
READ: Opinion: Fog lifts to show Russia at war
CNN's Victoria Butenko reported from Kiev, Jim Acosta reported from Washington and Faith Karimi wrote and reported in Atlanta.