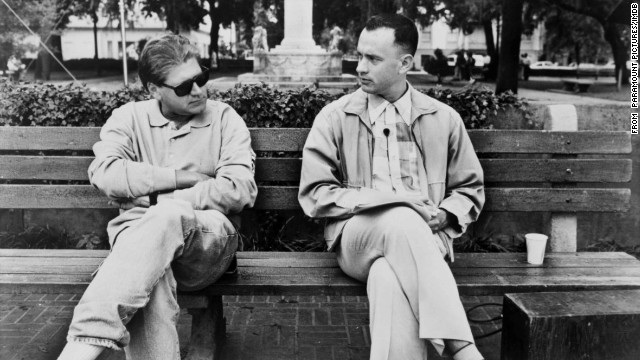 "My mama always said life was like a box of chocolates; you never know what you're gonna get." The summer of 1994 was a lot like that box of chocolates. From "Forrest Gump," which was released July 6 and became the top domestic grossing film of the year, to a lion king and a white Bronco, let's run through some highlights from that summer 20 years ago.
Hakuna matata! Disney certainly had "no worries" after the release of the animated feature "The Lion King" on June 15. The film was a roaring success, grossing more than $312.9 million worldwide in its initial release. Adding to the acclaim was an Oscar-nominated soundtrack with songs like "Circle of Life" and "Can You Feel the Love Tonight?" by Elton John and Tim Rice.
Arnold Schwarzenegger teamed up with director James Cameron again after the success of the "Terminator" franchise for the action-comedy "True Lies." It was the year's top-earning R-rated movie, edging out another action film debut that summer: "Speed," starring Sandra Bullock and Keanu Reeves.
Flintstones, meet the Flintstones ... in non-animated form: The live-action movie starring John Goodman, Elizabeth Perkins, Rick Moranis and Rosie O'Donnell made its big-screen debut on May 27. Despite negative reviews, the film was a box-office success.
Ben Stiller made his directorial debut with the cult classic "Reality Bites." Ethan Hawke and Winona Ryder play two recent graduates navigating post-collegiate life. The indie film, also starring Stiller and Janeane Garofalo, struck a chord with the Generation X market and was punctuated with timely pop-culture references.
Lisa Loeb's single "Stay (I Missed You)" stayed on the top of the Hot 100 Billboard chart for three weeks starting August 6. Its success came shortly after it appeared in "Reality Bites."
No summer camp slow dance was complete without All-4-One's smash "I Swear." The R&B ballad spent 11 weeks at the top spot on the Billboard Hot 100. The group went on to win the Grammy for the best pop performance by a duo or group with vocal in 1995. All-4-One's version wasn't the first; singer John Michael Montgomery performed the song earlier in 1994 to much success in the country market.
"Don't Turn Around" by Swedish pop group Ace of Base was another chart-topper and spent 31 weeks on the Billboard Hot 100.
Brazil beat Italy in a penalty shootout to win its fourth World Cup. That year, the soccer tournament was hosted by the United States.
The World Cup didn't go without controversy: Argentina's captain, Diego Maradona, was suspended during the event after failing a drug test. And on July 2, Colombian player Andres Escobar was murdered after accidentally scoring a goal for the United States that would eliminate Colombia.
On June 17, ex-football star O.J. Simpson led police -- and the nation -- on a 90-minute chase in a white Ford Bronco driven by his friend Al Cowlings. Simpson surrendered at his home later that night and was taken into custody after being charged with the murder of his ex-wife, Nicole Simpson, and her friend Ronald Goldman.
On June 14, the New York Rangers defeated the Vancouver Canucks in game seven of hockey's Stanley Cup finals.
"Strike" took on a whole new meaning for Major League Baseball in the summer of '94: On August 12, the players' association decided on a lockout over a proposed salary cap for players. Play didn't resume until 232 days later, and it was the first year since 1904 that there wasn't a World Series.
On May 26, the King of Rock 'n' Roll's daughter, Lisa Marie Presley, married the King of Pop, Michael Jackson, in a surprise ceremony.
In another shocking nuptial, Playboy model Anna Nicole Smith wed billionaire J. Howard Marshall. The groom was 89 years old and the bride 26.
Summer of 1994
Summer of 1994
Summer of 1994
Summer of 1994
Summer of 1994
Summer of 1994
Summer of 1994
Summer of 1994
Summer of 1994
Summer of 1994
Summer of 1994
Summer of 1994
Summer of 1994
Summer of 1994
Summer of 1994
STORY HIGHLIGHTS
Twenty years ago, the United States played host to soccer's World Cup
"Forrest Gump" and "The Lion King" reigned supreme at the box office
OJ Simpson led police on a low-speed chase through Los Angeles
Editor's note: CNN Living's Summer List series brings you the best parts of summer all season!
(CNN) -- "My mama always said you've got to put the past behind you before you can move on."
Wiser words were never spoken, Mr. Gump. But this summer, we've been ignoring Mama Gump's sage advice and looking back at summers past in search of a little nostalgic kick.
First, we revisited the "Freedom summer" of '64, then the "Me" summer of '74 and finally the totally tubular summer of '84. Now, as the end of the season draws near, let's revisit some of the most notable moments from 20 years ago, the summer of 1994.
Inspirational movies reigned supreme, electro-pop and boy bands ruled the radio, and the "crime of the century" was the talk of the country. Here's more on the summer that was: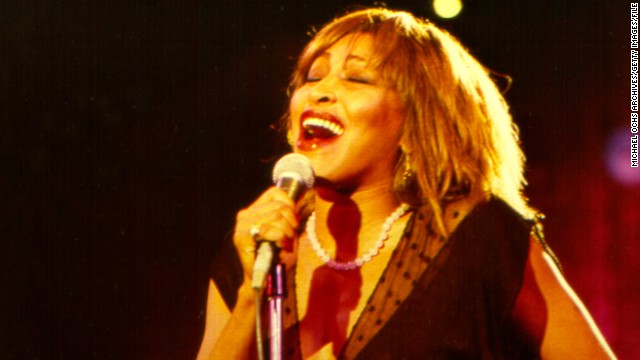 "What's Love Got to Do With It?" In the summer of 1984, pretty much everything. Tina Turner's second single from the "Private Dancer" album was her first Billboard Top 10 single since the 1970s. It spent three weeks in the No. 1 spot, making the singer, then 44, the oldest solo female artist at the time to climb to the top of the charts. Here are some other sights and sounds from that summer 30 years ago:
The single "When Doves Cry" from Prince's "Purple Rain" reigned for five weeks at the top of the Billboard charts in the summer of '84.
Who ya gonna call? The "Ghostbusters" squad if you want a hit on your hands. The tale of a ragtag bunch of supernatural exterminators -- Ernie Hudson, Bill Murray, Dan Aykroyd and Harold Ramis -- shot to the top of the box office.
Underdogs still wax rhapsodic about "The Karate Kid" with Ralph Macchio -- a tale of unlikely tutelage between a humble handyman and his picked-on protege, who sweeps victory out from under a blond martial arts bully.
American athlete Carl Lewis achieved victory on the world stage during the 1984 Summer Olympics with his lifelong dream of matching Jesse Owens' four gold medals in a single Games.
Soviet bloc countries boycotted the Los Angeles Olympics, but Mary Lou Retton (and her iconic bouncy haircut) showed up and became the first American to win the women's all-around gymnastics gold.
Neon, big belts, workout wear and oversize hair were hallmarks of style in 1984 (as showcased by Cher) -- not to mention a strong showing by Swatch watches and seersucker.
Suddenly, everyone and their cousin fancied themselves a master of backspin, windmills and the worm, toting cardboard at all times in case a breakdance battle busted out -- as in "Breakin'2: Electric Boogaloo."
What was cooking in the summer of 1984? Probably fajitas, grilled over mesquite. (Seriously -- So. Much. Mesquite.) Not to mention, at least half of what was on the table was likely produced by Beatrice -- the mega-food manufacturer that most people hadn't heard of before its ubiquitous "We've been here all along" ad campaign during the Summer Olympics.
It would seem the totalitarian forecast of George Orwell's 1949 novel, "Nineteen Eighty-Four," failed to come true, which is totally tubular by us, dude.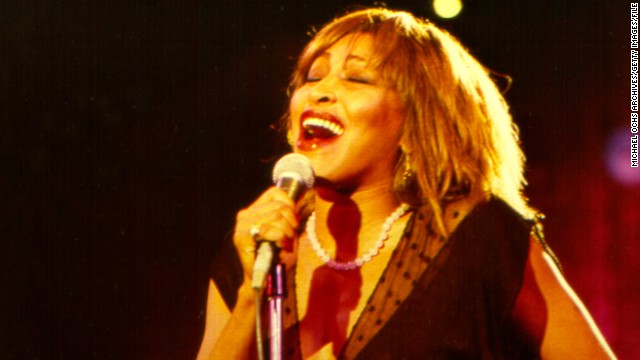 Photos: Summer of 1984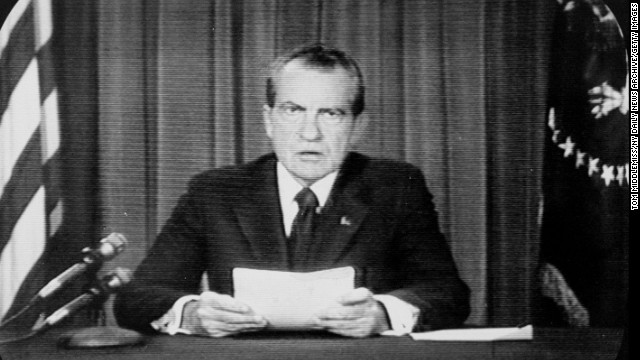 The summer of 1974 stands out in American history with the culmination of the Watergate scandal, leading President Richard Nixon to announce his decision to resign August 9. Click through the gallery for more world events and pop culture landmarks in 1974 that helped define the decade.
French aerialist Philippe Petit dazzled onlookers below as he walked across a tightrope suspended between the World Trade Center's twin towers on August 7 in New York. Petit's long road to this feat was documented in James Marsh's 2008 documentary "Man on a Wire."
Streaking, or the act of running naked through a public place, became popular on college campuses in the 1960s and continued into the 1970s in what the press called an "epidemic."
"CBS Evening News" anchor Walter Cronkite was voted "the most trusted and objective newscaster on television" in 1974 in a national opinion poll. As anchor of the "Evening News" from 1962 to 1981, "Uncle Walter" was the face of network, bringing Americans some of the biggest news events of the latter half of 20th century.
American tennis pro Chris Evert's Grand Slam streak began at the 1974 French Open in June and continued for 13 consecutive seasons. The next month, she won her first singles championship at Wimbledon.
The Oakland Athletics' journey to their third World Series in a row continued in the summer of 1974, culminating in a Game 5 win over the Los Angeles Dodgers.
L.A. Dodger Steve Garvey was named the National League Most Valuable Player in 1974, the same year he made his debut at the All-Star Game.
1974 is considered one of the best years in movies, thanks to the ascendance of counterculture directors including Roman Polanski, whose hit "Chinatown" opened June 20.
Martin Scorsese's groundbreaking hit, "Alice Doesn't Live Here Anymore," about a single mother's attempt to build a life, hit theaters May 30. As CNN's Todd Leopold writes, "Alice" and other films of 1974 "reinforced the confusion of the times."
In 2006, CNN.com conducted an unscientific survey to find the worst song of all time, and 1974 stood out as an exceptionally bad year for song production. Supporting this theory is the fact that Paul McCartney & Wings' "Band on the Run," which was released in December 1973, was still dominating the top 10 in the summer of 1974.
The 1970s did not exactly usher in a new wave of groundbreaking television. One exception was Garry Marshall's nostalgia vehicle "Happy Days," a hit among viewers, who made it one of NBC's most-watched shows during the summer of 1974.
On other networks, long-running television series such as NBC's "Columbo" dominated the airwaves. Even in summer reruns, viewers eagerly tuned in to see Peter Falk's beloved homicide detective solve crimes in a reverse whodunit format.
CBS coasted through 1974 on the success of "All in the Family," which broke ground for its depiction of a working-class family whose constant bickering stood in stark contrast to the peaceable families of 1960s television. The series debuted in 1971 and was still one of the network's top-rated shows in the summer of 1974.
Books released earlier in the year such as Peter Benchley's "Jaws" remained popular reads into the summer.
"Tinker, Tailor, Soldier, Spy," the first novel of John LeCarre's Karla Trilogy, debuted in June 1974.
The beloved Rubik's cube was invented in 1974 by Hungarian professor Erno Rubik. It would take a few years for it to land in American toy stores and become one of the most iconic toys of the 1980s.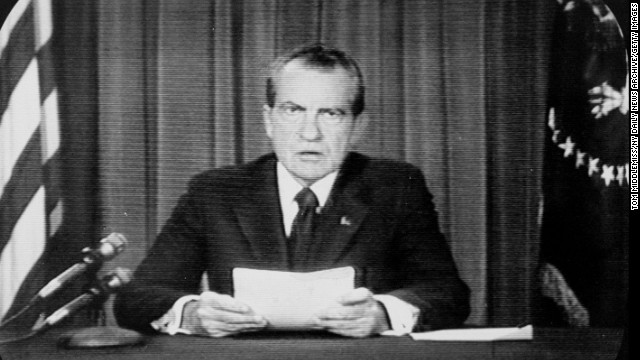 Photos: Summer of 1974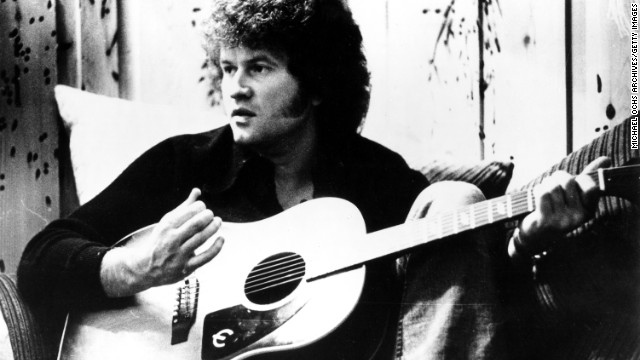 There was something draining about 1974. Richard Nixon resigned the presidency; the final pullout from Vietnam was in sight. The pop charts often reflected this fatigue with some of the most criticized music of the rock era -- not least Terry Jacks' "Seasons in the Sun," a Jacques Brel tune with lyrics by Rod McKuen. It spent three weeks at No. 1 in March.
Bo Donaldson and the Heywoods' "Billy, Don't Be a Hero," about a woman begging her lover not to volunteer for the military, hit No. 1 in June.
Paper Lace, a British band that had done the original version of "Billy, Don't Be a Hero," topped the U.S. charts themselves in August with "The Night Chicago Died," set on "the East Side of Chicago" (which most people would think of as Lake Michigan, though some of the city has used that term). Both "Billy" and "Chicago" were written by the same songwriters: Mitch Murray and Peter Callander.
Maria Muldaur hit the Top 10 with "Midnight at the Oasis," a romantic song that sent camels to bed and maintained that cactus "is our friend."
Paul Anka hit No. 1 in late August with "(You're) Having My Baby," a song that won a 2006 CNN.com survey of the worst songs of all time. What a lovely way to say how much you love me, indeed.
But 1974's music wasn't all bad -- far from it. Stevie Wonder was at his peak. In 1974 he put out the Grammy-winning "Fulfillingness' First Finale" album and hit No. 1 with "You Haven't Done Nothin'."
Singer-songwriter Joni Mitchell hit the Top 10 with her single "Help Me" from her album "Court and Spark," which remains Mitchell's best-selling work.
Elton John mania, which dominated the 1970s, continued in 1974, helped by his late 1973 album "Goodbye Yellow Brick Road." That No. 1 album produced a 1974 No. 1 single, "Bennie and the Jets." John also released the No. 1 album "Caribou" in 1974.
The Three Degrees were one of many acts on the influential Philadelphia International Records who had hits in 1974, including "TSOP" (in which they backed up MFSB) and "When Will I See You Again."
The Ramones played their first show in 1974, helping pave the way for the punk/New Wave movement that produced Blondie, Talking Heads and Patti Smith. In August, not far into their career, they played CBGB for the first time and soon became regulars.
1974 is considered a great year for movies. "The Godfather Part II," starring Al Pacino, was a huge success at the box office -- and won best picture at the Academy Awards.
Mel Brooks directed two of the year's most popular films: "Blazing Saddles," with Gene Wilder, left, and Cleavon Little; and "Young Frankenstein."
"Chinatown," directed by Roman Polanski and starring Jack Nicholson, left, and Faye Dunaway, was a well-received detective story about corruption in 1940s Los Angeles.
Albert Finney played Hercule Poirot, Agatha Christie's famed detective, in an all-star version of "Murder on the Orient Express." The film was directed by Sidney Lumet.
"The Towering Inferno," starring Paul Newman, left, and Steve McQueen, was the biggest of the year's disaster films. Others included "Earthquake" and "Airport 1975."
"Benji," about a goodhearted stray dog who saves the lives of two children, was a sleeper hit. It was among the top 10 box-office successes of 1974 and spawned a number of sequels.
Another surprise hit was "The Life and Times of Grizzly Adams," starring Dan Haggerty as a frontiersman who becomes pals with a bear. The film was later turned into an NBC TV series.
"The Trial Of Billy Jack," starring Tom Laughlin, was the sequel to the surprise 1971 smash "Billy Jack." It was even more successful at the box office than the first film and helped pioneer the idea of the wide release.
"The Texas Chain Saw Massacre" was an early example of the slasher film -- considered so violent at the time that it was dropped from many theaters. Marilyn Burns, Ed Guinn and Gunnar Hansen starred in the work, directed by Tobe Hooper.
MGM mined its vaults for musical clips -- including this one of Fred Astaire in "Royal Wedding" -- for "That's Entertainment," touted with the tagline, "Boy, do we need it now."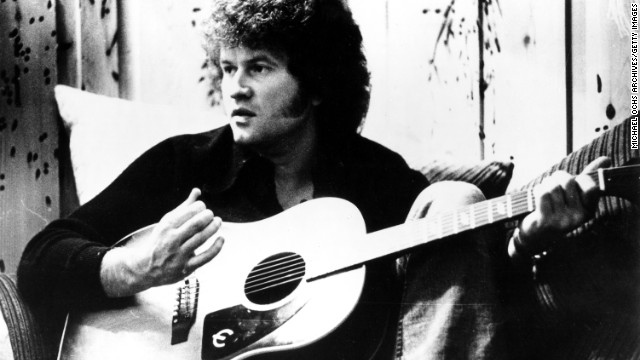 1974: A year of pop culture chaos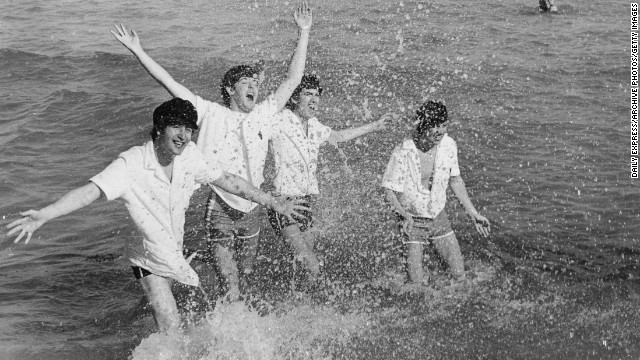 Beatlemania was in full swing in the summer 1964 as the album and film "A Hard Day's Night" swept across the country. Here, the Fab Four frolicked in the surf in Miami Beach, Florida, that year.
Meanwhile, the California-bred band the Beach Boys had a big year of their own in 1964, with the quintessential summer hits "I Get Around" and "Fun, Fun, Fun." They performed "I Get Around" on "The Ed Sullivan Show" later that year.
The musical "Mary Poppins" kicked off the film career of stage star Julie Andrews, who went on to win an Academy Award for her portrayal of the loving-but-firm nanny. The film debuted in August 1964.
The musical "The Unsinkable Molly Brown," starring Debbie Reynolds and Harve Presnell, was among the most popular movies in the summer of 1964. Reynolds was nominated for an Academy Award, but lost to Julie Andrews.
Ava Gardner and Richard Burton starred in an adaptation of the Tennessee Williams play "The Night of the Iguana" that debuted in summer 1964.
Ernest Hemingway's autobiographical book "A Moveable Feast" was among the top sellers in the summer of 1964.
Spy stories were big sellers that summer, including John Le Carre's "The Spy Who Came in from the Cold," Helen MacInnes' "The Venetian Affair" and Ian Fleming's James Bond tale "On Her Majesty's Secret Service."
"Crisis in Black and White," Charles Silberman's analysis of racial oppression in the United States, stayed on bestseller lists throughout the summer of 1964.
Avant garde fashion designer Rudi Gernreich's beachwear turned heads in the summer of 1964. His "monokini," pictured here in yellow and white wool, was a topless suit for women that garnered a moment of high-fashion attention before becoming the stuff of museum exhibitions.
Birkenstock sandals made their debut in Germany in 1964. It would be a couple more years until Margot Fraser began importing them to the United States after trying on the clunky, cork-soled sandals during a visit to a Bavarian spa.
Discotheque dresses -- short, sleeveless numbers that allowed women room to move -- began appearing in the summer of 1964. Model Twiggy wore this version at the Blaises Nightclub in London in 1967.
Skateboards had just started to take off in 1963, after onetime California lifeguard Larry Stevenson perfected a wheeled version of the surfboard. During the summer of 1964, the boards spread around the United States. Here, boys skate past cars on the streets of New York in 1965.
Baseball was big around the country as exciting young players, like Tony La Russa, joined lineups. La Russa, pictured here with the Kansas City A's in 1963, will be inducted into the National Baseball Hall of Fame in Cooperstown, New York, in July 2014.
The Kodak Instamatic camera was released in 1963 and became an immediate success, thanks to its simple controls and lightweight design. With millions of Instamatics in circulation within a few years, there's no telling how many summer vacation photos these snappers shot.
The Schwinn Sting-Ray, a motorcycle-inspired bicycle, debuted in 1963 and first appeared in Schwinn's catalog in 1964. Its banana seat and deep handlebars, shown here in 1966, became a fast favorite among young cyclists.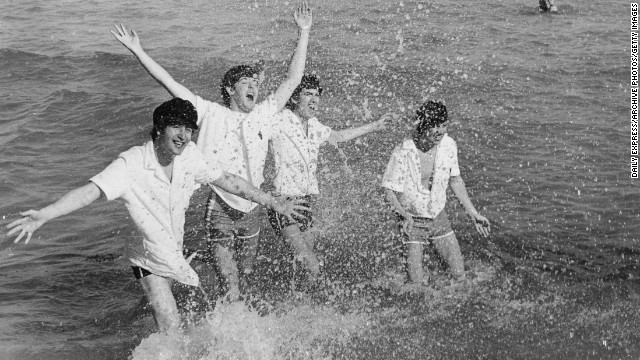 Summer of 1964
Blockbusters and summer 1994 were like peas and carrots
"The Lion King" taught moviegoers young and old about the circle of life via the coming-of-age adventure of a young lion cub named Simba. With a little musical help from his friends, a warthog, a meerkat and Elton John, the movie became a roaring multiplatform success: After its June 15 release, the animated musical earned multiple Golden Globe, Oscar and Grammy nominations and was the highest-grossing film worldwide that year.
Meanwhile, the domestic box office was dominated by a simple man. His name? Forrest, Forrest Gump.
That summer, we also met "The Flintstones" in a live-action film that was received poorly by critics but ran the box office for several weekends after its May 27 release date. Thirty-two writers famously worked on the script, but one key line still remained: yabba-dabba-doo!
"The Mask" was another sssssmokin' late-summer hit: The slapstick comedy starring Jim Carrey and Cameron Diaz made more than $23 million on its opening weekend of July 29.
And no summer movie season is complete without an action film -- or three: "True Lies," "Speed" and "Clear and Present Danger" all screeched onto the big screen in the summer of '94.
Soulful and Swedish tunes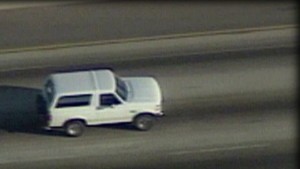 The police chase seen around the world
Swedish pop group Ace of Base showed no signs of stopping with two hits that summer: "The Sign" and "Don't Turn Around."
Listeners swore by the soulful harmonies of All-4-One's "I Swear," which dominated the Billboard Hot 100 charts for 11 straight weeks. During the week of August 6, the top spot went to "Stay (I Missed You)" by the bespectacled Lisa Loeb after the song's appearance in the post-grad film "Reality Bites."
Loeb was usurped after three weeks by another all-male vocal group, Boyz II Men, and their single "I'll Make Love to You."
Meanwhile, MTV viewers were going "Crazy" for Alicia Silverstone and Liv Tyler, who played two schoolgirls cutting class in Aerosmith's music video.
Don't miss out on the conversation we're having at CNN Living.
Follow us on Twitter
and
Facebook
for the latest stories and tell us what's influencing your life.
Baseball players cry foul, and World Cup fever
Hockey's New York Rangers ended their 54-year wait for the Stanley Cup with a defeat of the Vancouver Canucks in game seven of the finals on June 14, 1994.
Three days later, on June 17, legendary golfer Arnold Palmer made his final appearance in the U.S. Open.
World Cup fever was at an all-time high in a notoriously soccer-averse nation: Not only did the United States play host nation with a cumulative attendance of 3,587,538, but the home team advanced to the round of 16 for the first time since 1930 with the help of popular players like Alexi Lalas and Tony Meola.
As soccer fever cooled, Major League Baseball frustrations heated up. Players went on strike August 12 over a proposed salary cap. They would strike for 232 days; it was the first year without a World Series since 1904.
Summer of scandals -- and O.J.
Speaking of the World Cup, Argentine player Diego Maradona was sent home early after he tested positive for the drug ephedrine. This was not the first time Maradona faced drug trouble: The famed soccer player was suspended for 15 months by FIFA in 1991 over alleged cocaine use.
In a more tragic turn of events, Colombian player Andres Escobar was gunned down in the streets on July 2 after accidentally scoring a goal for the United States and ultimately eliminating his nation's team. Cartel bodyguard Humberto Castro Munoz confessed to the murder, but it is widely speculated that he did not act alone and was employed by a cartel that lost significant money betting on Colombia.
In England, the tabloids were aflutter after the Prince of Wales admitted in a televised documentary to committing adultery with Camilla Parker Bowles. The documentary was supposed to paint Charles in a sympathetic light after his very public separation from Princess Diana after 11 years of marriage.
And then, of course, there's O.J. Simpson. On June 17, 1994, the Heisman trophy winner and NFL Hall of Famer led police on a low-speed chase on Los Angeles freeways after the killings of his ex-wife Nicole Simpson and her friend Ronald Goldman. The now-legendary white Ford Bronco has been burned into the brains of the collective American audience, as the events unfolded on live television before 95 million viewers. Simpson would be charged and found not guilty of murder.
And that's all we have to say about that.