STORY HIGHLIGHTS
CNN's David McKenzie has tasted everything from worms to grasshoppers while on the road
China's cockroaches are his latest culinary adventure
Cockroach farmer in China profits from breeding the scuttling insects
Jinan, China (CNN) -- I've eaten some unusual things on the road.
There were salted Mopani worms in Botswana at the hotel buffet (black and squishy); sun-dried nsenene grasshoppers in Uganda (yellow and juicy); whole roasted goat in the desert in Mauritania (delicious), and chicken head and feet soup in Beijing (only unusual if you are not from China).
Officially, my travel advice to you is this well-worn phrase: If you can't boil it, cook it or peel it, then don't eat it.
But between you, me, and the screen, sometimes it's best to put the energy bars and canned nuts aside and feed your culinary curiosity.
That's just what I was challenged to do when I visited a thriving cockroach farm in Jinan, China. But more on that later.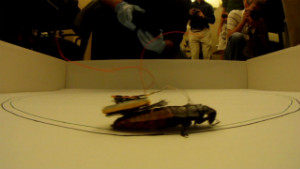 Bionic cockroaches to the rescue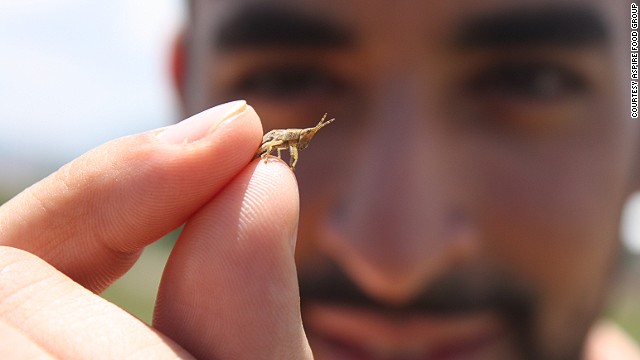 Mohammed Ashour (pictured) launched Aspire with four fellow MBA students at McGill University. The idea? To give people more access to edible insects. The concept's not as strange as you might think. Two billion worldwide already eat insects.
Compared to beef, chicken and fish, insects are cheaper to produce and require less land, water and feed. They are also higher in nutrients like iron and amino acids. Aspire believes increased access to insects would eradicate malnutrition in some communities.
Aspire is partnering with rural farmers in Ghana to breed palm weevils -- the insect of choice for many Ghanians living in the north and east. In doing so, Aspire is hoping to launch a whole new industry in the region.
Aspire would give farmers the necessary kits and buy back the palm weevils, which it would then manufacture into different products and distribute throughout Ghana.
In addition to distributing the raw product, Aspire is planning on creating a flour made from palm weevils, which would serve to fortify any food with extra iron, protein, and a range of other nutrients.
Ashour notes that in Ghana, animal feed is usually made up of imported fish meal. Replacing the feed with locally reared palm weevils would also bring down the price of livestock.
Aspire also set up a pilot grasshopper-farming program in Mexico, and is looking into introducing cricket farming in Kenya. It is also looking at bringing entomophagy to the United States.
Though Kenya, like Ghana, has a strong tradition of insect consumption, until recently, the insects were mainly harvested by hand.
Aspire did ground research in Thailand -- one of the few countries with a strong insect farming tradition -- to learn about techniques to pass on to other countries.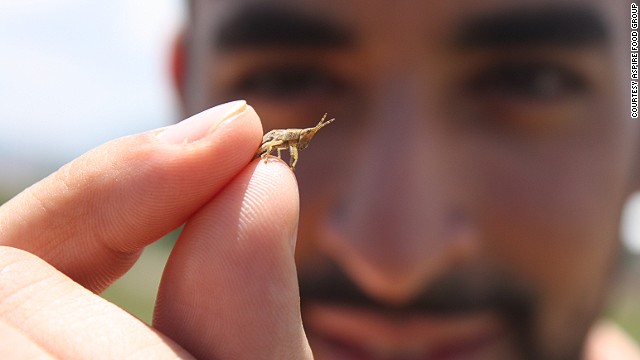 Saving the world with insects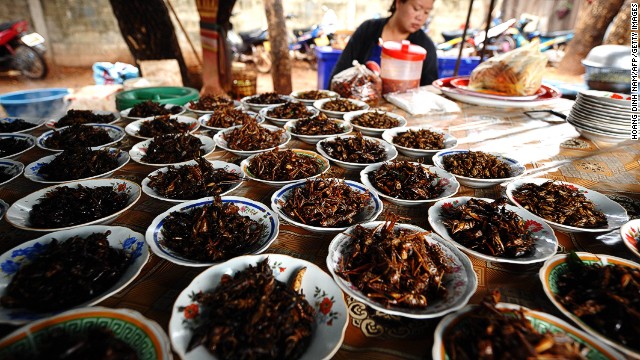 Crickets are some of the most commonly eaten insects in the world and are regarded as a solution for the malnutrition problem plaguing Laos. Fried crickets and grasshoppers are sold at markets like this one in Vientiane. According to consumer feedback in the U.N. report, farmed crickets are tastier than the ones picked in the wild.
These long worms are considered delicacies in Thailand and many other southeast Asian countries. Called rot duan (meaning "express train") in Thai, the bamboo worm is commonly served as a deep-fried snack. They are normally found on sale via bug carts at night all over Thailand. CNN Travel's Bangkok resident Karla Cripps describes them as "delicious" and says a small bag of them costs 20 baht (around 65 cents).
Fried or grilled spiders are a popular daytime snack in Cambodia, and are sold in markets such as Phnom Penh's central market (shown here), and in city restaurants. Spiders are chock full of zinc and iron, and provide a significant source of income for many impoverished Cambodian farmers, says the U.N. report.
Tourists will find this Cambodian insect dish slightly more appealing than the giant spiders. Mixed in with beef and holy basil, the red tree ants add a sour flavor to this stir-fried dish.
Bug buffets hosted by the Specktakel restaurant in the Netherlands sold out last year -- the innovative restaurant served up samosas with mealworms and buffalo worms, and received rave reviews. Mealworms are also highly nutritious -- they're comparable to fish and meat in terms of protein, vitamin and mineral content, but are three times more expensive than pork and five times more expensive than chicken, says the U.N. report.
Although scorpions aren't technically 'insects,' they still made it onto the U.N. report. They're more of a tourist draw than conventional Chinese cuisine, and can be found at street stalls dotting Beijing's major shopping street of Wangfujing. "They taste like anything deep-fried -- crunchy and oily but no real flavor," says Soon Ho Lee, one of the adventurous tourists in this photo (left).
Chewing on locusts is nothing new in Asia. Japanese and Thais are partial to them too. Vendors at Beijing's popular Donghuamen Night Market out these six-legged insects as an environmentally friendly alternative to meat, and also for their high fiber content. Loaded with protein, deep-fried locust tastes a bit like fried chicken.
Called beondegi in Korean, boiled silkworm pupae are sold in small paper cups at street stalls in many Korean markets. Korea also uses silkworm powder as medicine for diabetes as it lowers blood glucose levels. This cup cost 2,000 won (about $2) from Seoul's Namdaemun market.
The annual Taipei Chinese Food Festival in August features all kinds of unusual dishes, including those made with different worm species. Local chefs reportedly like to use worms in their culinary endeavors for the subtle taste.
The classic Aussie bush tucker cliche -- this Australian caterpillar is a well-known staple of the indigineous Australian diet. It's highly filling -- just look at the size of that thing -- and can be eaten raw or seared/barbecued. "You will find the taste is quite pleasant, having a fried egg flavor with a hint of nuts and the skin resembles that of fried chicken," one Australian chef told us.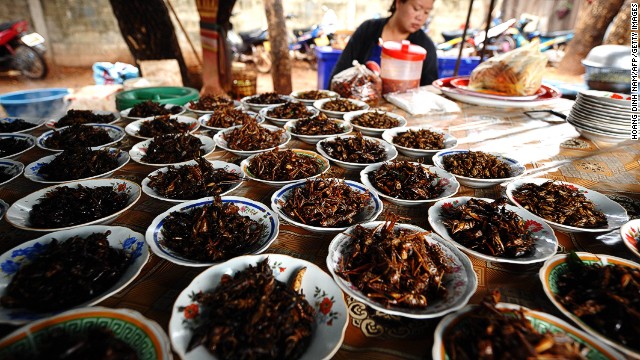 A traveler's guide to eating insects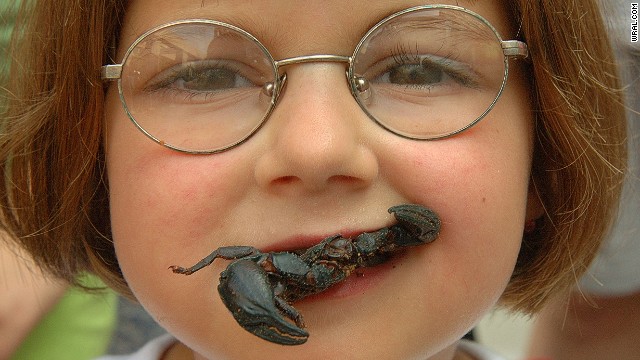 A one-day insect festival sponsored by the North Carolina Museum of Natural Sciences, Bugfest attracts 25,000 visitors a year and serves up a range of creepy, crawly dishes. This year's festival theme is scorpions.
In a bid to woo tourists, Thailand's Lopburi province started up the annual Monkey Buffet Festival. Last year, more than 4,400 pounds of fruit and vegetables (and the odd soda) was served up to the region's primates.
At the Räbechilbi Turnip Festival in Switzerland, locals create elaborate floats using 40 tons of hallowed out turnips. Creations include replicas of ships, animals and pop divas.
Brits observe the first day of Lent with Pancake Day, and often celebrate the occasion with pancake races. Each year, members from the British houses of Parliament host their own race to raise awareness for charity.
Mashed Potato wrestling is one of the most popular activities at Potato Days, a two-day celebration of the humble spud that takes place in Barnesville, Minnesota.
Octoberfest, Munich's ode to beer, may be the largest food and drink festival in the world. The 16-day event attracts upwards of six million visitors each year.
Abbeville, Louisiana celebrates its French roots with the Giant Omelette Celebration, a tradition imported from Bessieres, France. The festival supposedly originates from when Napolean stopped through the town and ordered the villagers use every egg to feed his army.
Visitors to West Virginia's Roadkill Cook-off can sample a range of exotic animal dishes (many freshly peeled off the road). Last year's winners of the cook-off (pictured) won with a dish called Stuffed Bear-Ron-A-Soar-Us.
Hawaii is the U.S.'s largest consumer of Spam. To celebrate the pink meat, the city of Waikiki hosts the annual Spam Jam -- a celebration of all things Spam-related. The mascot, Spammy, entertains the kids.
Each year, hordes of competitors join in the annual Cooper's Hill Cheese Rolling, and race an eight-pound Double Gloucester cheese down a steep hill. It is not uncommon for the day to end in an ambulance ride.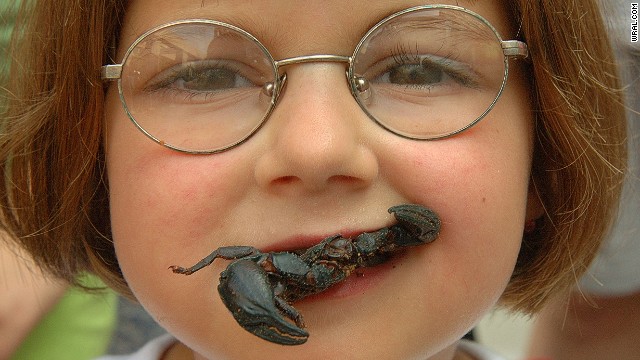 The world's weirdest food festivals
An appetite for adventure
Some of my favorite travel experiences have been of eating street food or home-cooked delicacies that I have never heard of before.
After 10 hours in the desert sun, chicken barbequed on a coal fire in Chad tastes like a Michelin-starred offering.
And I don't know what the guy put into his pot of chicken and broth in the foothills of the Himalayas, but it was worth choking on the smoke from the stove inside his hut.
There are pitfalls for the adventurous eater. I have yet to meet a journalist with a well-worn passport who hasn't had a bout or two of gut-wrenching giardiasis (I will spare you the details).
And sometimes you do regret a culinary decision (goat-bile on the shores of Lake Victoria, I'm talking to you).
Occasionally, it's best to say "no" -- so I declined the dried mice in Malawi skewered on a stick and offered by the side of the highway, despite the insistence of our producer.
Which all gets me, in a roundabout way, to Wang Fuming, the kingpin of cockroaches in Jinan, China.
Scuttling legs
Wang has a dream: To put roaches on plates and bowls throughout China as a high protein meal.
"I love these cockroaches, I feel very close to them," he tells me.
In a tumble-down industrial district on the shabby outskirts of Jinan, Wang farms millions of cockroaches. Ten million before "harvest time," he tells me.
He keeps the roaches in warehouses with narrow corridors and hives made of cement roof shingles. Stepping inside is like a waking nightmare or a scene from the film "Alien." There's a strong smell of ammonia and the sound of scuttling legs.
Wang breeds American cockroaches (actually, they're originally from Africa) and he sells them to pharmaceutical companies in China by the ton.
They are usually ground and stuffed into pills and advertised as a cure for all manner of stomach, heart, and liver ailments.
In recent years, they have become a staple in Chinese medicine shops here, promising wondrous results. Cockroach medicine is having something of a boom.
Crunchy, with an aftertaste
But Wang prefers them fresh and wants me to try one, so he drags a gas stove into his office and throws a steel bowl full of roaches into peanut oil.
If you don't try it, you will regret it for the rest of your life.
Wang Fumin, cockroach farmer
He promptly scoops them out. "Is that it?" I ask.
"No, twice fried," he says, throwing them back into the oil.
After which, Wang promptly starts tucking in. He really seems to enjoy it. "I felt so much better after I started eating cockroaches," he says.
Now, all that is left is for me to try one. Wang points out a suitable roach on the corner of the dish. "Its wings have come off, so it's easier to eat," he says.
I pop it in my mouth and chew -- American roaches are, unfortunately, too big to swallow whole.
The verdict. They're crunchy, like a spindly overcooked French fry, and they leave an aftertaste that has serious staying power.
I realize that roaches may not be the best way to convince you to be an adventurous eater, but think of them as the standard bearer.
Or take Wang's word for it.
"If you don't try it, you will regret it for the rest of your life," he exclaims.
READ: U.N.: Eat insects, save the world
READ: A traveler's guide to eating insects
READ: World's weirdest food festivals