STORY HIGHLIGHTS
China has announced changes to election procedures in Hong Kong
New "nominating committee" rules would likely see pro-Beijing candidates elected
Pro-democracy campaigners in Hong Kong are angry, "Occupy Central" protests planned
Bush: Result of changes will be "continuing instability from a frustrated public"
Editor's note: Richard C. Bush is a senior fellow and director of the Center for East Asia Policy Studies at the Brookings Institution. He's written a number of books on Asian international relations and is currently writing a book about the future of Hong Kong. The opinions expressed in this commentary are solely those of the author.
(CNN) -- In 2012, China announced that in 2017 Hong Kong could elect its chief executive through "universal suffrage."
Previously, the leader of the Hong Kong government was picked by an election committee of between 800 and 1,200 members, most of whom were trusted by Beijing.
In effect, Beijing had established procedures that ensured that a member of the territory's establishment would be in charge.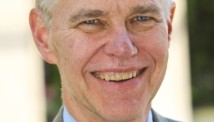 Richard C. Bush
But China's 2012 promise created hopes among the public that the chief executive would be picked through a truly democratic election. Those hopes have now been dashed, and it is likely that China has bought itself more instability, not less.
Beijing preserves control
On August 31, the Standing Committee of the National People's Congress announced a decision regarding the procedures for the next chief executive election.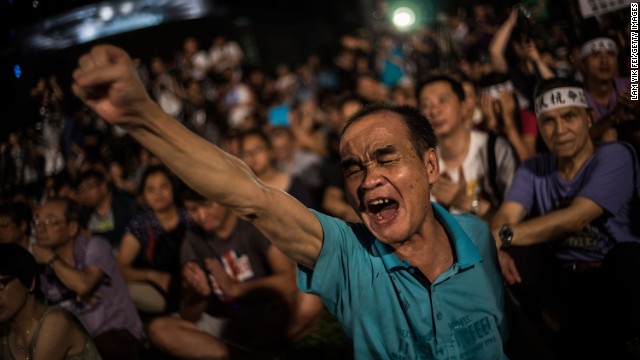 Hong Kong protesters denounce the Chinese government on August 31, 2014, after Beijing announced candidates for Hong Kong's next leader must be approved by a Beijing-backed committee.
Hong Kong protesters say the Chinese government's proposal breaks the promise of full universal suffrage for Hong Kong, as agreed upon in 1997 when the British handed Hong Kong back to China.
Police ready for demonstrations on August 31, 2014, following an announcement from Beijing that Hong Kong will not have fully open elections.
Tens of thousands of people marched through Hong Kong on Sunday, August 17 in support of China and to protest Occupy Central, a pro-democracy movement that says it will plan to stage a civil disobedience sit-in unless the Chinese government allows the Hong Kong public to nominate and vote for its next leader.
A group of pro-China protesters marches in downtown Hong Kong on August 17. Local media accused organizers of paying people to participate in the Anti-Occupy Central protest.
Tens of thousands of demonstrators marched during a pro-democracy rally in Hong Kong on Tuesday, July 1, to express frustration over the influence of Beijing on the city. More than 500 people were arrested during a sit-in after the march.
Demonstrators staged a sit-in on Chater Road in Central district after the march.
Policemen began clearing out protesters from the sit-in after midnight.
Demonstrators lingered in Central district the night after the march.
Protesters hold props as they marched on a street during the annual pro-democracy protest.
Organizers said 510,000 demonstrators marched, while police counted 98,000 people.
During the march, Joshua Wong, 17, the founder of pro-democracy student group Scholarism, announced he would stage an illegal sit-in on the night of July 1. "I may get arrested tonight. Will you all support me?" he yelled to the crowd.
A river of protesters, wearing white T-shirts to show their support for democracy, flowed through Hong Kong's Causeway Bay. Police counted more than 98,000 participants.
Demonstrators walked through downtown Hong Kong.
Rain poured down upon protesters intermittently throughout the day.
As rain begins to come down on the protesters, umbrellas fly open.
Policemen stood guard in front of a store in the Central district of Hong Kong during the rally.
Tens of thousands of people gathered in Hong Kong's Victoria Park before the march begins.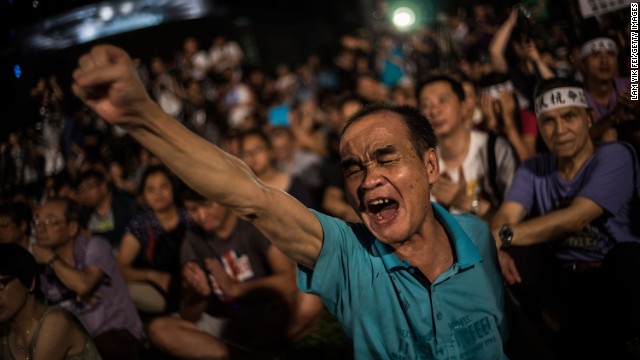 Photos: Political protests in Hong Kong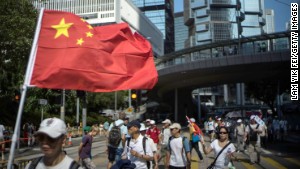 Huge pro-government rally in Hong Kong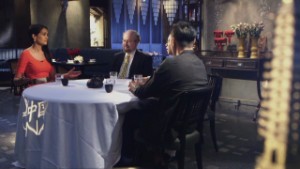 Democracy for Hong Kong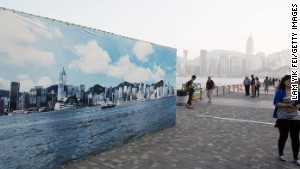 Is Hong Kong in decline?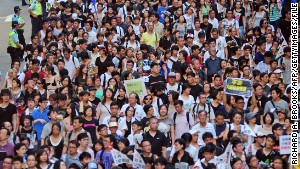 Tracing Hong Kong's antagonism
If the plan is actually passed, Hong Kong will get universal suffrage in the narrow sense that eligible voters will be the ones to pick the chief executive, not an election committee.
But Beijing has preserved significant control by instituting a restrictive process for nominating candidates. It insisted that a nominating committee would pick candidates (not political parties, and not by popular nomination). And surprise, surprise: the nominating committee will be modeled on the old election committee.
The new body would be composed mainly of people who are sympathetic to Beijing's desire for order and who don't want to see Hong Kong's economic growth, in which many of the members are invested, disrupted by politics.
In addition, over half of the nominating committee would have to approve each candidate, which means that no pan-democrat could get nominated if Beijing disapproved of him or her. So under the plan Hong Kong voters would have a choice, but the pro-democracy camp suspects that the choice will be among two or three like-minded and Beijing-friendly candidates.
Will it be approved?
This new system is unlikely to be established because it must be approved by a two-thirds vote of Hong Kong's legislature. If pro-democracy lawmakers stick together, they have enough votes to veto the scheme, in which case the selection procedure reverts to the prior, "small-circle" system. That would be a great tragedy.
A sensible compromise was objectively possible -- one that democratized the nominating process in such a way that produced a competitive election and a clear choice between an establishment and pro-democracy candidate. That was an approach that would have likely commanded two-thirds approval.
In the short-term, Hong Kong faces the prospect of major disruption, because the more radical elements of the pan-democratic camp, which have insisted on nomination of candidates through citizen petition, have now promised to mount a campaign to "Occupy Central," the major business district, through large demonstrations and even civil disobedience.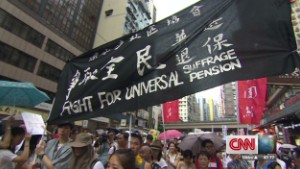 Protestors arrested in Hong Kong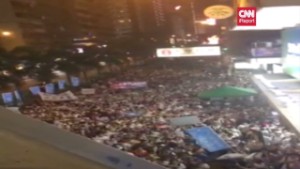 Hong Kong mass protest for democracy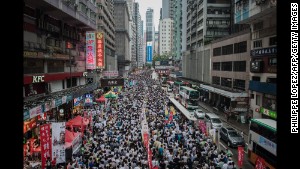 Do democracy protests threaten Beijing?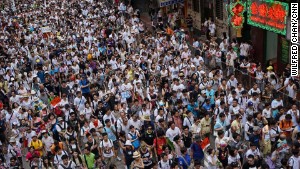 Protesters demand democracy in Hong Kong
The radicals' proposal was always unrealistic and not necessary to achieve a competitive election. The Hong Kong police are perfectly capable of controlling the protests (still, the People's Liberation Army is waiting in reserve).
But whatever one thinks of Occupy Central's goals and tactics, it has given voice to the more general public desire for genuine democracy and to frustration at Beijing's rigidity.
Why invite trouble?
Why did China choose this course of action? First of all, it has feared that if pan-democrats ran the Hong Kong government, they would use it as a base to destabilize Communist Party rule in the rest of China.
Second, it believed that the United States and Britain were manipulating the pan-democrats to further their own disruptive goals. (Both fears have no basis in reality, but what counts is that Beijing believes them).
Third, the Chinese government and the Hong Kong tycoons it listens to worried that a democratic election would increase demands for costly social welfare programs.
Fourth, there was the prospect of continued disruption if Hong Kong radicals concluded that Beijing would always back down in the face of mass protest.
Finally, Chinese leaders may have worried that granting genuine democracy to Hong Kong would stimulate similar demands in China.
Problems compounded?
In the end, Beijing opted for the certainty of knowing that it could control Hong Kong's leadership by controlling the nomination process for the chief executive election.
It will likely achieve that goal, but the price will be continuing instability from a frustrated public.
True universal suffrage would not have solved all of the governance problems of what is becoming a more unequal and polarized society.
But without genuine elections to legitimize Hong Kong's leaders, solving those problems will be impossible.