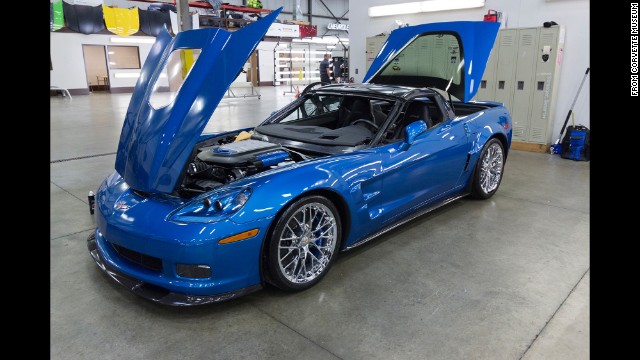 Hard to believe that this 2009 Blue Devil ZR1 was swallowed by a freak sinkhole at the National Corvette Museum back in February. The car was one of eight Corvettes that fell into the hole. Only this one and two others will be restored.
When it exited the sinkhole, the Blue Devil was deemed to be in surprisingly good shape. Its carbon fiber running boards were shattered. There was some minor paint damage and a small crack in the windshield.
It's not often car restorers get a chance to rescue a vehicle this special. This job was handled by a ten-member team with a less-than-sexy handle: GLS — Global Logistics Services. "We need to come up with a better name — like the Corvette Restoration SWAT Team!" laughed GM spokesman Monte Doran.
This is no ordinary car. Even though it's only 5 years old, the Blue Devil has been dubbed a "supercar" and "legendary" with a top speed of more than 200 mph.
Much of the Blue Devil restoration involved returning its paint job to pristine conditions, said Doran.
This coming Monday work is set to begin to fill a 30-foot-deep sinkhole which ruined the museum's round Skydome. Estimated cost of the eight-month project: $3.2 million.
GM says
it was built around 2 p.m. on July 2, 1992, at Corvette's Bowling Green Assembly Plant. The 1 millionth Corvette was a white convertible with red interior, as was the first-built Corvette in 1953 -- like the car on the right.
The second car that is slated for restoration is the 1 millionth Corvette ever produced.
It "has much, much more damage than the Blue Devil" said Doran. It's "going to be a much harder, much longer process. Simply because the car is older so it's hard to get replacement parts. We don't have all the expertise in house that we do with current Corvettes like the Blue Devil. One of the biggest decisions is how many of the parts on the car should be replaced. "One of the guys in design calls it a 'respectful restoration,'" Doran said. "You want to keep as much of the orginal components as you possibly can to preserve the history of the car."
The third car that will be restored is a 1962 beauty dubbed the "Black Corvette. It's been deemed just too old for GM to handle. The company says it no longer has the institutional knowledge required to properly put it back in shape. That job is expected to be done by a hand-picked restoration specialist team, the museum said. "We haven't identified who's fixing it yet."
Despite the car's sinkhole ordeal, museum board member Dana Forrester said it appears the 1962 Corvette "really didn't sustain all that much damage, and I think it will be fairly easily restored. It's just going to need some repair of some punctured or cracked fiberglass. It kind of amazed me that that older fiberglass seemed to hold up better than some of the newer composite plastics that they have."
according to GM
. It served in one of the world's richest racing events, the PPG Indy Car World Series. Gear-heads will appreciate that it features a Katech engine with chassis by George Foller. The body is by Diversified Glass Product and the finish is Deltron Acrylic Urethane Orange Glow Candy.
The 1984 PPG Pace Car is a one-of-a-kind concept car developed by PPG in cooperation with Chevrolet,
After workers hauled the PPG from the hole, it became apparent the Corvette had been chopped by a large slab of concrete, according to GM. This photo shows that its rear panels have gone missing.
The 1993 40th Anniversary Corvette stood out for its special ruby red exterior, matching leather seats and wheel centers. It also had a "40th Anniversary" logo emblazoned on its side. In total, 6,749 40th Anniversary Corvettes were built -- as coupes or convertibles, Forrester said.
told GM
, "The 40th Anniversary looks much worse than it really is. Practically every body panel and piece of glass will need to be replaced. However, underneath the frame looks straight, the suspension seems to be intact, and the steering gear still works. It is definitely salvageable." A nearly identical
40th Anniversary Corvette was donated to the museum
this month, after its owner saw what had happened to this one.
After it came out of the hole, Chevrolet manager John Spencer
After engineers hauled it to the surface, one museum official said the Mallett Hammer had been reduced to "just a tire." Sadly, no one at the museum disagrees that the Mallett Hammer sustained the worst damage of all eight sinkhole Corvettes. It's the least likely to be restored.
according to GM
. "While the weakening economy was clearly on everyone's mind, there was still an excitement in the air..."
This is the 1,500,000th Corvette ever built. It came off the assembly line in Bowling Green on May 28, 2009,
Seen here after its rescue, the "1.5 Millionth" Corvette obviously took a beating.
Corvette sinkhole survivor: Blue Devil ZR1
Damaged Blue Devil
Blue Devil restoration
Blue Devil restoration
Re-painting the Blue Devil
The sinkhole
1992 '1 Millionth' Corvette: Before
1992 '1 Millionth' Corvette: After
1962 tuxedo black Corvette: Before
1962 tuxedo black Corvette: After
1984 PPG Pace Car: Before
1984 PPG Pace Car: After
1993 ZR-1 Spyder: Before
1993 ZR-1 Spyder: After
1993 40th Anniversary Ruby Red: Before
1993 40th Anniversary Ruby Red: After
2001 Mallett Hammer Z06: Before
2001 Mallett Hammer: After
2009 '1.5 Millionth' Corvette: Before
2009 '1.5 Millionth' Corvette: After