STORY HIGHLIGHTS
NEW: Putin: Russia doesn't want big conflicts, but it will be ready if they happen
NEW: Russia is a "powerful nuclear nation," he says
UK source: Up to 5,000 Russian troops are in Ukraine, 20,000 more on border
NATO chief says Russia is trying to "destabilize Ukraine as a sovereign nation"
(CNN) -- Don't mess with Russia.
That was President Vladimir Putin's message on Friday, the same day a British government source claimed that Russian troops had significantly ratcheted up their military incursion into Ukraine.
Moscow doesn't want or intend to wade into any "large-scale conflicts," Putin insisted at a youth forum, state-run ITAR-Tass reported. A few breaths later, he made the point that Russia is "strengthening our nuclear deterrence forces and our armed forces," making them more efficient and modernized.
"I want to remind you that Russia is one of the most powerful nuclear nations," the President said. "This is a reality, not just words."
He later warned, "We must always be ready to repel any aggression against Russia and (potential enemies) should be aware ... it is better not to come against Russia as regards a possible armed conflict."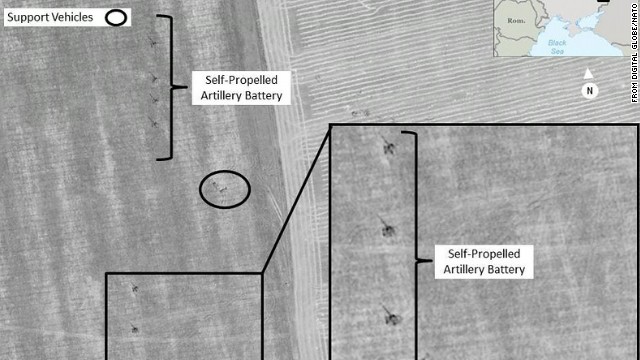 At a press conference on Thursday, August 28, Dutch Brig. Gen. Nico Tak, a senior NATO commander, revealed satellite images of what NATO says are Russian combat forces engaged in military operations in or near Ukrainian territory. NATO said this image shows Russian self-propelled artillery units set up in firing positions near Krasnodon, in eastern Ukraine.
These two images show a military deployment site on the Russian side of the border near Rostov-on-Don, NATO said. This location is about 31 miles from the Dovzhansky border checkpoint.
This image, captured on July 23, depicts what are NATO says are probably six Russian 2S19 self-propelled, 153mm guns near Kuybyshevo, Russia. This site is 4 miles south of the Ukraine border, near the village of Chervonyi Zhovten. Although the guns are not in Ukraine, NATO said, they are pointed north, toward Ukrainian territory.
This image shows a wider overview including the position of the self-propelled guns from image 4.
Pictured here, NATO said, are Russian military units moving in a convoy formation with self-propelled artillery in the area of Krasnodon, Ukraine.
Intelligence now indicates that up to 1,000 Russian troops have moved into southern Ukraine with heavy weapons and are fighting there, a U.S. official told CNN on Thursday.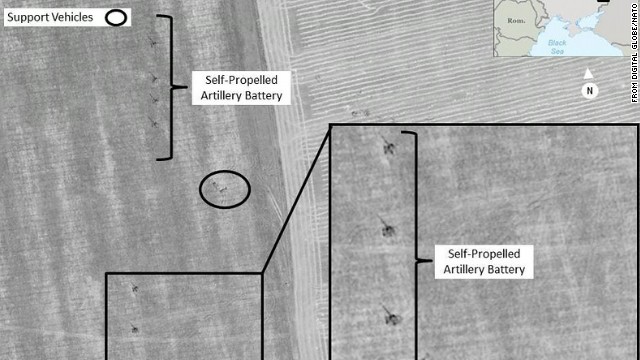 Russian Combat Forces Inside the Territory of Ukraine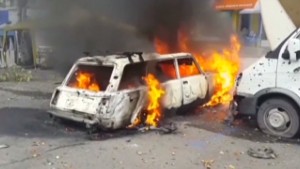 How will the world respond to Ukraine?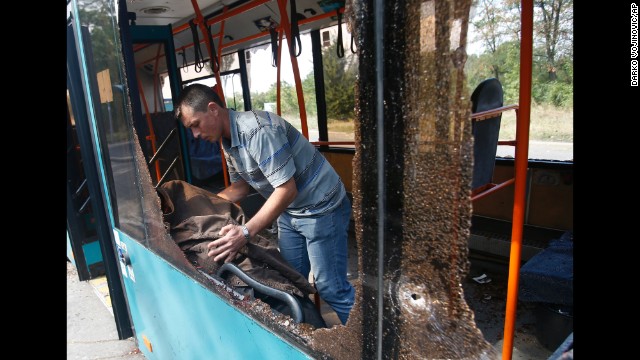 A man covers the body of his mother, who was killed on a bus during a battle in Donetsk, Ukraine, on Tuesday, September 16. The fighting between Ukrainian troops and pro-Russian rebels in the country has left more than 3,000 people dead since mid-April, according to the United Nations.
People walk through a market Monday, September 15, in the Kievsky district of Donetsk.
Smoke rises around the Donetsk International Airport on Saturday, September 13, as shelling continues between pro-Russian rebels and the Ukrainian army.
A Ukrainian soldier stands guard as residents rally in support of a united Ukraine in the southern Ukrainian city of Mariupol on September 13.
Russian trucks, flying Russian flags and carrying humanitarian aid for eastern Ukraine, line up at a border checkpoint in Donetsk on September 13.
Workers unload supplies from Russia in Luhansk, Ukraine, on September 13. More than 200 Russian trucks entered Ukraine with supplies for the city, which has been cut off from electricity and water for weeks.
Ukrainian soldiers ride on an armored vehicle near Kramatorsk, Ukraine, on September 13.
People look at a large crater from a reported missile strike that hit a bus station Friday, September 12, in Makiivka, Ukraine.
Workers clear rubble Thursday, September 11, after the bombing of a mine in Donetsk.
A column of Ukrainian forces is seen in Volnovakha, Ukraine, on September 11.
An elderly woman sits next to a Ukrainian soldier standing guard in Volnovakha on September 11.
Armed pro-Russian rebels walk September 11 in front of the destroyed Luhansk International Airport. The rebels took control of the airport on September 1 after heavy fighting with the Ukrainian army.
Residents of Lutuhyne, Ukraine, push containers in a wheelbarrow September 11 as they walk between destroyed armored vehicles left behind by the Ukrainian army.
Ukrainian troops protect themselves from a nearby shooting in Debaltseve, Ukraine, on Tuesday, September 9.
Young residents of Berdyansk, Ukraine, dig trenches September 9 to help Ukrainian forces protect the city from possible rebel attacks.
Ukrainian President Petro Poroshenko, left, inspects military personnel during a visit to Mariupol on Monday, September 8.
A pro-Russian rebel stands next to a truck with a heavy machine gun attached to it Sunday, September 7, in Donetsk.
Homes smolder after being hit by shelling in Donetsk on September 7.
A woman stands next to a road sign September 7 after an overnight bombing attack at an Ukrainian army checkpoint on the outskirts of Mariupol.
Ukrainian troops stand on a deserted road as they patrol the border area of the Donetsk and Luhansk regions Friday, September 5, near Debaltseve.
A man repairs damage to a building caused by shelling in Donetsk on September 5.
Smoke rises on the outskirts of Mariupol after pro-Russian rebels fired heavy artillery on September 5.
Ukrainian soldiers ride a tank on a road close to where pro-Russian rebels fired heavy artillery outside Mariupol on September 5.
A wounded Ukrainian soldier is helped by a medical team on the outskirts of Mariupol on September 5.
A pro-Russian rebel holds a destroyed weapon in the village of Novokaterynivka, Ukraine, on Thursday, September 4.
Unmarked military vehicles burn on a country road in Berezove, Ukraine, on September 4 after a clash between Ukrainian troops and pro-Russian rebels. For months, Ukrainian government forces have been fighting the rebels near Ukraine's eastern border with Russia.
People wait by their cars near Berezove on September 4 as rockets hit the road ahead.
A pro-Russian rebel holds a dog, which has a hand grenade attached to its leash, in Donetsk on Wednesday, September 3.
Pro-Russian rebels fire at Ukrainian army positions in Donetsk on September 3.
A Ukrainian military vehicle patrols in the Donetsk region on September 3.
Pro-Russian rebels hold a man near a column of destroyed Ukrainian military vehicles in Novokaterynivka on Tuesday, September 2.
A Ukrainian military truck passes by a serviceman resting in his military camp in Ukraine's Donetsk region on September 2.
A destroyed Ukrainian military vehicle sits abandoned on the side of the road near Novokaterynivka on September 2.
Men clear rubble in Ilovaisk, Ukraine, on Sunday, August 31.
Ukrainian troops leave the rebel-held town of Starobesheve on Saturday, August 30.
A Ukrainian loyalist fighter from the Azov Battalion stands guard on a hill on the outskirts of Mariupol on August 30.
A pro-Russian rebel listens to the news on a transistor radio in the town of Novoazovsk, Ukraine, on Friday, August 29.
Ukrainian soldiers stop on a roadside as they wait for the start of their march into Mariupol on Wednesday, August 27.
A man opens a box filled with rocket-propelled grenades left by the Ukrainian army in Starobesheve.
A pro-Russian rebel walks through a local market damaged by shelling in Donetsk on Tuesday, August 26.
Ukrainian servicemen of the volunteer battalion Azov leave for Novoazovsk on August 26.
Pro-Russian rebels escort captured Ukrainian soldiers in a central square in Donetsk on Sunday, August 24.
People yell as Ukrainian prisoners are paraded through Donetsk in eastern Ukraine on August 24.
A pro-Russian rebel delivers a speech atop a damaged Ukrainian armored personnel carrier in Donetsk on August 24.
People look at damaged Ukrainian military equipment in Donetsk on August 24.
The first trucks of a Russian aid convoy roll on the main road to Luhansk in eastern Ukraine on Friday, August 22. The head of Ukraine's security service called the convoy a "direct invasion" under the guise of humanitarian aid since it entered the country without Red Cross monitors.
A pro-Russian rebel holds shrapnel from a rocket after shelling in Donetsk on August 22.
Residents sit in a makeshift bomb shelter during a shelling in Makiivka on Wednesday, August 20.
Dogs play together as a Russian convoy carrying aid supplies stops at a border control point with Ukraine, in the Russian town of Donetsk, on August 20.
Ukrainian forces take their position not far from Luhansk on August 20.
Clouds of smoke are on the horizon as Ukrainian forces and pro-Russian rebels clash in Yasynuvata, a suburb of Donetsk, on Tuesday, August 19.
An Ukrainian helicopter flies near Kramatorsk on August 19.
Ukrainian soldiers load a missile during fighting with pro-Russian rebels Monday, August 18, near Luhansk.
Boys play at a refugee camp, set up by the Russian Emergencies Ministry, near the Russian-Ukrainian border on August 18.
Ukrainian soldiers carry weapons at a checkpoint near Debaltseve on Saturday, August 16.
Pro-Russian rebels greet each other as they pass near Krasnodon, Ukraine, on August 16.
A fireman tries to extinguish a fire after shelling in Donetsk on August 16.
Ukrainian border guards patrol near Novoazovsk on Friday, August 15.
Trucks of a Russian humanitarian convoy are parked in a field outside the town of Kamensk-Shakhtinsky, in the Rostov region of Russia about 20 miles from the Ukraine border, on August 15. Ukrainian officials were preparing to inspect the convoy, which was bound for the conflict-torn east.
A truck driver from the convoy jumps out of a trailer on August 15. The Ukrainian government had expressed fears that the convoy was a large-scale effort to smuggle supplies or troops to pro-Russian rebels.
A tank belonging to pro-Russian rebels moves along a street in Donetsk on August 15.
A Ukrainian soldier walks past a line of self-propelled guns as a column of military vehicles prepares to head to the front line near Ilovaisk on Thursday, August 14.
A Ukrainian soldier prepares a mortar at a position near Ilovaisk on August 14.
A man inspects damage at his house after a shelling in Donetsk on August 14.
A convoy of trucks, which Moscow said was carrying relief goods for war-weary civilians, moves from Voronezh, Russia, toward Rostov-on-Don, Russia, on August 14.
Pro-Russian rebels on the outskirts of Donetsk stand at a checkpoint near a bullet-riddled bus on Wednesday, August 13.
A pro-Russian rebel inspects damage after shelling in Donetsk on Thursday, August 7.
Smoke billows from a Ukrainian fighter jet crash near the village of Zhdanivka, Ukraine, on August 7.
Residents of eastern Ukraine cry in a hospital basement being used as a bomb shelter August 7 in Donetsk.
Ordnance from a Ukrainian rocket launcher shoots toward a pro-Russian militant position in the Donetsk region on August 7.
Relatives of Ukrainian military member Kyril Andrienko, who died in combat in eastern Ukraine, gather during his funeral in Lviv, Ukraine, on August 7.
Refugees from southeastern Ukraine wait at a refugee camp in Donetsk on Wednesday, August 6.
A pro-Russian rebel adjusts his weapon in Donetsk on August 6.
Men walk past a bomb crater in Donetsk on August 6.
A man steps out of his car as Ukrainian soldiers inspect the vehicle at a checkpoint in Debaltseve on August 6.
Ukrainian servicemen sit on a bus near Slovyansk, Ukraine, on Tuesday, August 5.
A pro-Russian separatist guards a road as Australian, Malaysian and Dutch investigators prepare to examine the crash site of Malaysia Airlines Flight 17 near the village of Rossipne, Ukraine, on August 5. U.S. and Ukrainian officials allege that a Russian-made missile shot down the plane from rebel-held territory, killing all 298 people on board. Russia and the rebel fighters deny involvement.
Rescue workers carry the body of a woman who was killed during a bomb shelling in Donetsk on August 5.
A boy stands in a hallway of a refugee hostel run by pro-Russian rebels in Donetsk on Monday, August 4.
Ukrainian servicemen from the Donbass volunteer battalion clean their guns Sunday, August 3, in Popasna, Ukraine.
Ukrainian soldiers fire shells toward rebel positions near Pervomaysk, Ukraine, on Saturday, August 2.
Ukrainian troops patrol near the village of Novoselovka on Thursday, July 31.
A woman says goodbye to her mother as she flees her home in Shakhtersk, Ukraine, on Tuesday, July 29. See more photos of the crisis from earlier this year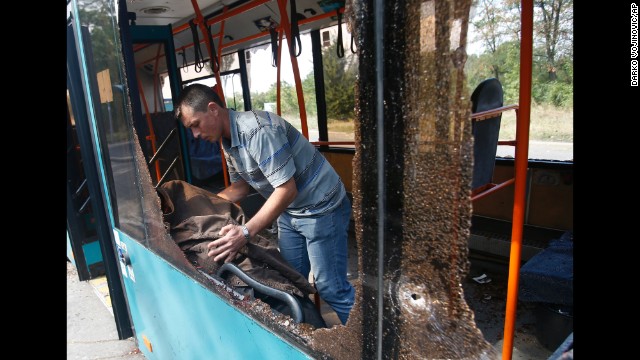 Photos: Crisis in Ukraine
The comments came the same day that Foreign Minister Sergey Lavrov accused NATO of using "images from computer games" to -- in his view -- falsely make the case that Russian troops are in Ukraine. Lavrov said "hiding the evidence is an outstanding characteristic of the U.S. and many EU countries" with regard to Ukraine.
The thing is, many in the West don't believe much of anything coming out of Russia.
White House spokesman Josh Earnest said Friday that -- whatever the Kremlin says -- the reality is Russian troops are inside the Ukraine and have fired on Ukrainian military positions.
"Those denials are completely without credibility," Earnest said.
And Russia's military may be digging in deeper in Ukraine. The British government source told CNN on Friday that Russia has moved 4,000 to 5,000 military personnel -- a figure far higher than one U.S. official's earlier claim of 1,000 troops.
The soldiers are aligned in "formed units" and fighting around Luhansk and Donetsk, said the UK source. And they may soon have company: Some 20,000 troops are on border and "more may be on the way," the source adds.
So what's Russia's endgame? Does it simply want to protect civilians or ethnic Russians in Ukraine? Or does it endeavor to develop a land bridge between Crimea -- which split from Ukraine to become part of Russia months ago, amid the unrest following President Viktor Yanukovych's ouster -- and the Russian border? Or perhaps take over all of Ukraine now?
The UK source, giving his government's analysis of Russian troop movements, surmised that right now "the primary role of the current Russian deployments inside Ukraine is probably to assist, support and take the pressure off the separatist forces in order to maintain pressure on Kiev to decentralize.
"However, we are not ruling out more ambitious plans, including a land corridor from the Russian border to Crimea."
After 8 months of conflict, what's next for Ukraine?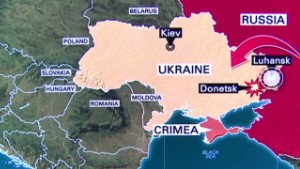 Experts: Russia is invading Ukraine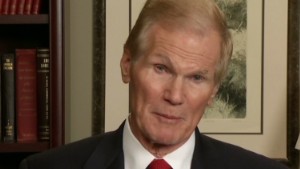 Sen. Nelson: U.S. should arm Ukraine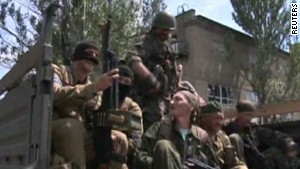 Ukraine: 'Full-scale invasion' by Russia
NATO chief blasts Russia's 'hollow denials'
Ukraine has been in crisis since last fall, when political upheaval preceded widespread violence that threatened to tear the Eastern Europe nation apart.
If anything, that violence has worsened the past several months -- as pro-Russian rebels dug in and Ukraine's military stepped up its offensive to retake its territory. The U.N. human rights office reports at least 2,593 people killed between mid-April and August 27, and that many innocent civilians have been killed, hurt or trapped in urban areas.
Predictably, both sides have taken the high road while blaming each other for humanitarian crisis and for perpetrating violence rather than having fair, sincere negotiations toward a cease-fire.
"When Kiev said that negotiations would begin only after the surrender of those whom they call 'separatists,' the militia are left with no choice but to defend their homes, their families," Russia's foreign ministry said in a statement.
Western officials say that Moscow hasn't taken any responsibility, whether for its military's on-the-ground involvement or how it can influence rebels.
Speaking after a meeting of NATO ambassadors in Brussels, Belgium, Secretary-General Anders Fogh Rasmussen said what he called "the serious escalation of Russia's military aggression against Ukraine" violates Ukraine's territorial integrity and "defies all diplomatic efforts for a peaceful solution."
"Despite Moscow's hollow denials, it is now clear that Russian troops and equipment have illegally crossed the border into eastern and southeastern Ukraine," Rasmussen said. "This is not an isolated action but part of a dangerous pattern over many months to destabilize Ukraine as a sovereign nation."
Fighting raging on multiple fronts
Whoever is to blame, whoever is involved, two things that are not in question is that the fighting is continuing and that there's no end in sight.
Ukrainian troops have been fighting on two fronts: southeast of rebel-held Donetsk, and along the nation's southern coast in the town of Novoazovsk, about 12 miles (20 kilometers) from the Russian border.
Mykhailo Lysenko, deputy commander of the Ukrainian Donbas battalion, on Thursday described the fighting in the south as "a full-scale invasion."
Analysts suggest that Russia may have sent its forces into Novoazovsk to secure a land route from the border to the Crimean peninsula it annexed from Ukraine in March, and in order to throw Ukrainian forces making gains against besieged rebel forces in the cities of Donetsk and Luhansk off balance.
In a statement issued by the Kremlin, Putin said the rebels had halted a Ukrainian military operation in eastern Ukraine that he said had endangered the civilian population and caused many casualties.
The UK government source said Russian forces are fighting alongside rebels around Luhansk and Donetsk. It's too early to gauge their impact, though even if propping up the pro-Russian separatists for months longer so that Ukraine's military doesn't next turn its attention to taking back Crimea could be considered a victory.
"At the very least, the Russian deployments are creating the conditions for a frozen conflict going into winter and ... ensure that Kiev is sufficiently distracted ... to prevent it from refocusing its attention on Crimea," the source said.
Retired Lt. Gen. Mark Mark Hertling, a 37-year veteran who once commanded U.S. soldiers in Europe, thinks that Russia may be aiming higher than that. If Ukraine folds easily to Russia's military might, neighboring nations might have good reason to worry. On the other side, Moscow could lose sway if its efforts fail.
"He is trying to influence the Europeans, and it won't stop just with Ukraine," the military analyst told CNN, predicting more Russian military intervention elsewhere. "This is something where he is trying to counter the influence of the West, and he can't afford to lose in Ukraine."
Map: Europe's thirst for Russian gas
6 questions -- and answers -- about the crisis in Ukraine
CNN's Max Foster, Alla Eshchenko, Elaine Ly and Barbara Starr as well as journalist Victoria Butenko contributed to this report.