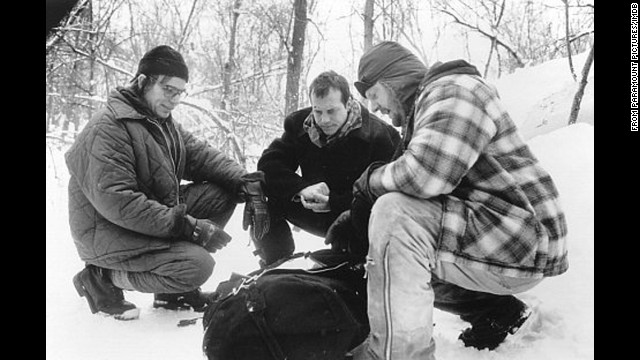 Cooler weather is coming and that's the perfect time to settle in for some streaming goodness on Netflix and Amazon Prime. September offers great programming like 1998's
"A Simple Plan,"
in which things go awry when brothers find a body and millions of dollars in cash.
(Netflix and Amazon)
"Californication" Seasons 1-7: David Duchovny plays a novelist with a weakness for excess and one-night stands struggles to make his life work in this series. (Netlix and Amazon)
"Cool Runnings" (1993): A fictionalized account of Jamaica's first bobsled team, which persuades a gold medalist to help team members train for the Olympics. (Netflix)
"Flubber" (1997): The late Robin Williams stars in this film about a professor who invents a bouncy material. ( Netflix)
"Good Morning, Vietnam" (1987): Williams also stars in this critically acclaimed film about an Armed Forces Radio disc jockey who lifts soldiers' morale. (Netflix)
"Crocodile Dundee" (1986): This tale of a crocodile hunter brought to the Big Apple by a New York reporter made actor Paul Hogan a star and earned the script an Academy Award nomination. For real. (Netflix)
"Parks and Recreation" Season 6: Amy Poehler delights as public employee Leslie Knope in this popular TV series.
"Jackass Presents: Bad Grandpa" (2013): Johnny Knoxville plays subversive "Grandpa" while he and his "grandson" enjoy a wild cross-country adventure. (Netflix and Amazon)
"Silver Linings Playbook" (2012): Bradley Cooper and Jennifer Lawrence star in this acclaimed film about a bipolar man forced to move back in with his parents. The film earned Lawrence an Oscar. (Netflix)
"Beginners" (2011) - Christopher Plummer and Ewan McGregor star in the film about a graphic artist coming to terms with both his father's impending death and his father's secret. (Netflix)
"Bones" Season 9: A forensic anthropologist (Emily Deschanel) teams up with an FBI agent (David Boreanaz) to solve crimes in this series. (Netflix)
"New Girl" Season 3: After a breakup, a socially awkward schoolteacher (another Deschanel, Zoe) moves in with three single guys in this adorkable comedy series. (Netflix)
"A Single Man" (2009): Colin Firth won critical acclaim for his portrayal of a gay college professor who plans to commit suicide after his longtime lover dies. (Netflix)
"The Blacklist" Season 1: NBC hit pay dirt with this series about a brilliant fugitive, played by James Spader, who turns himself in to help authorities capture other criminals. (Netflix)
"The Blue Lagoon" (1980): Young, forbidden love rules for Emmeline (Brooke Shields) and Richard (Christopher Atkins) who find themselves coming of age on a deserted island. (Netflix)
"School of Rock" (2003): The lovable Jack Black plays an out of work musician who snags a job as an elementary school substitute teacher. He teaches his students about the most important subject there is: rock 'n' roll. (Netflix)
"Small Apartments" (2012): What do a dead landlord, an investigator and a letter have in common? The answer is this adaptation of Chris Millis' novel starring (clockwise from top left) Billy Crystal, Matt Lucas, Johnny Knoxville, Juno Temple, James Marsden and Rebel Wilson. (Netflix)
"Swiss Family Robinson" (1960): This classic adventure film is fun for the whole family. It's about a shipwrecked family that must fight to survive on the island where they find themselves stranded.
"The Believers" (1987): After a personal tragedy, a police psychologist (Martin Sheen) moves with his young son to New York and finds himself drawn into a series of grisly murders.
"Hoodwinked" (2005): Anne Hathaway, Glenn Close and James Belushi voice some of the characters in this retelling of "Little Red Riding Hood." (Netflix)
"Jay and Silent Bob's Super Groovy Cartoon Movie" (2013): Everyone's favorite characters from "Clerks" (Kevin Smith and Jason Mewes) are transformed into superheroes after hitting the lottery. (Netflix)
"Girl Rising" (2013): Nine filmmakers profile a girl from various parts of the world in this inspiring documentary. (Netflix)
"Girlfight" (2000): A troubled girl finds redemption and release in the world of boxing in this film starring Michelle Rodriguez. (Netflix)
"Guess Who" (2005): This modern-day retelling of the classic 1967 film "Guess Who's Coming to Dinner" finds an interracial couple (Ashton Kutcher and Zoe Saldana) trying to win the approval of her father (Bernie Mac). (Netflix)
"All is Lost" (2013): Robert Redford portrays a man stranded alone at sea in this action film that has no dialogue. (Netflix and Amazon)
"Lords of Dogtown" (2005): A crew from California's Venice Beach changes the face of skateboarding in this film based on the true-life exploits of "Skateboard Godfather" Stacy Peralta. (Netflix)
"The Walking Dead" Season 4: A group of survivors try to hold it together in the wake of a zombie apocalypse in this popular television series. (Netflix)
"How I Met Your Mother" Season 9: Ted Mosby is a man in search of love with a little help from his group of friends in this long-running comedy series. (Netflix and Amazon)
"The Unbelievers" (2013): Richard Dawkins and Lawrence Krauss travel the world to promote a scientific worldview. (Netflix)
What's new on Netflix in September
What's new on Netflix in September
What's new on Netflix in September
What's new on Netflix in September
What's new on Netflix in September
What's new on Netflix in September
What's new on Netflix in September
What's new on Netflix in September
What's new on Netflix in September
What's new on Netflix in September
What's new on Netflix in September
What's new on Netflix in September
What's new on Netflix in September
What's new on Netflix in September
What's new on Netflix in September
What's new on Netflix in September
What's new on Netflix in September
What's new on Netflix in September
What's new on Netflix in September
What's new on Netflix in September
What's new on Netflix in September
What's new on Netflix in September
What's new on Netflix in September
What's new on Netflix in September
What's new on Netflix in September
What's new on Netflix in September
What's new on Netflix in September
What's new on Netflix in September
What's new on Netflix in September