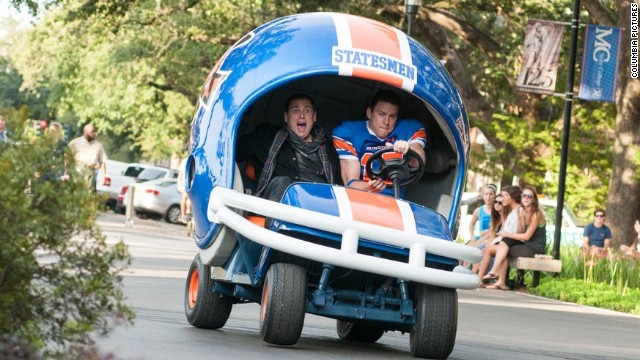 It wasn't the greatest summer for Hollywood, but it could have been worse.
"22 Jump Street"
proved that sequels didn't have to be the same old-same old -- mainly by making fun of the fact that it was, indeed, the same old-same old. The Jonah Hill-Channing Tatum vehicle earned $190 million (on a $50 million budget).
"Guardians of the Galaxy" was the summer's top hit. It has made north of $250 million and has been beloved by critics as well, with a RottenTomatoes.com approval rating of 92%. With winter's "Lego Movie" also to his credit, star Chris Pratt, pictured, has emerged as 2014's top new star.
"Transformers: Age of Extinction"
was scorched by critics -- 18% on the Tomatometer -- and had the poorest domestic showing ($244 million) of any "Transformers" film. But director Michael Bay is still laughing all the way to the bank: The film has made $821 million overseas and
set a record in China
.
"Maleficent," despite middling reviews, emerged as a solid hit, with $238 million domestically.
Star vehicles were a tough sell this summer, but Angelina Jolie's
"The Fault in Our Stars," based on the popular novel, making $124 million. Shailene Woodley and Ansel Elgort were praised for their performances; the film rates 80% on the Tomatometer.
Young adult adaptations continued their hot streak, with
"Boyhood," Richard Linklater's story of a boy (Ellar Coltrane, right, with Lorelai Linklater and Ethan Hawke) growing up. It was filmed over the course of 12 years, so Coltrane really did grow up during production. The film has 99% critical approval and has made $16 million at the box office on a tiny budget. It has been touted as an Oscar hopeful.
Perhaps the year's most talked-about film is
"Edge of Tomorrow" flopped domestically, with barely a $100 million gross on a $178 million budget. Overseas, Cruise fared better; the film has made $264 million outside the United States.
Despite solid reviews -- 90% approval at Rotten Tomatoes -- Tom Cruise's
"Hercules," a sword-and-sandals film based on the Greek myth (and a Steve Moore comic). It made $70 million, despite the presence of star Dwayne "the Rock" Johnson and director Brett Ratner.
Moviegoers gave thumbs down to
"Jersey Boys" must have seemed like a sure-fire project, with its roots in both a hit Broadway musical and the songs of the Four Seasons. But the film, starring, from left, Vincent Piazza, Erich Bergen, John Lloyd Young and Michael Lomenda, got mediocre reviews and made just $47 million.
Director Clint Eastwood's
"A Million Ways to Die in the West," directed, written by and starring MacFarlane, right, flopped, making just $43 million and scoring a dismal 33% on the Tomatometer.
Two years ago, Seth MacFarlane's "Ted" was a huge hit, making $218 million domestically and more than double that overall. But
"Get on Up" into a hit. It's grossed $29 million on a $30 million budget.
The sizzling performance of Chadwick Boseman, center, as James Brown wasn't enough to make
"The Expendables 3," which rounded up its all-star action cast and grossed less than $30 million. (It has done even worse overseas.)
The third time wasn't even close to the charm for
critics usually hate
Adam Sandler movies. Audiences, however, love them. Not so with
"Blended,"
which made $46 million on a $40 million budget. However, overseas it has made $77 million, so if there's a "Blended 2," you'll know who it's for.
The
Summer box office winners and losers
Summer box office winners and losers
Summer box office winners and losers
Summer box office winners and losers
Summer box office winners and losers
Summer box office winners and losers
Summer box office winners and losers
Summer box office winners and losers
Summer box office winners and losers
Summer box office winners and losers
Summer box office winners and losers
Summer box office winners and losers
Summer box office winners and losers