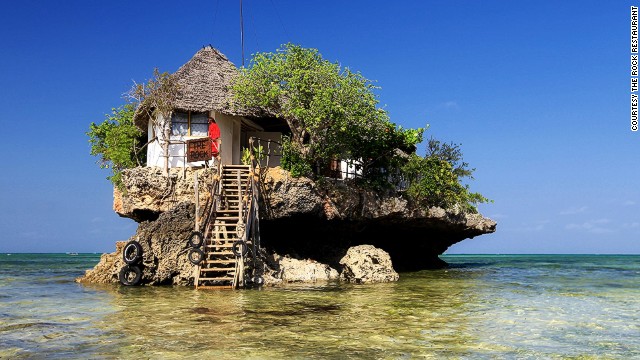 Rising on a rock off the south-east coast of Zanzibar, The Rock is a popular restaurant offering idyllic views and fresh food. Located in front of Michanvi Pingwe beach, the restaurant serves up to 12 tables.
Previously a fisherman post, The Rock can be reached by foot, if the tide is low, and also by boat when the tide is high.
Ali Barbour's Cave restaurant is well-known restaurant situated inside a naturally-sculpted coral cave 10 meters below ground level.
Located some 30 kilometers south of Mombasa, the ancient cave is thought to be between 120,000 and 180,000 years old. The restaurant's menu includes both seafood and meat options, as well as vegeterian dishes.
Dining on a rock, dining inside an ancient cave, how about dining also with sharks? The Durban-based Cargo Hold restaurant is built in a replica ship, with tables next to a wall-sized shark aquarium.
Photograph by Michael Milberger/@mmilberger.
Plane food is rarely appetizing -- but the La Tante DC 10 restaurant in the Ghanaian capital of Accra s trying to change that.
Photograph by Michael Milberger/@mmilberger.
The restaurant, located inside a plane that used to do transcontinental flights, caters for more than 100 customers.
Located near Modjadjiskloof in South Africa's Limpopo province, the Sunland Baobab Estate is home to the famous Baobab Tree bar.
Up to 15 visitors can enjoy a drink inside the pub that has been built inside the hollow trunk of the majestic tree. The estate, which hosts a multitude of animals and birds, is also home to a treehouse restaurant and can accommodate 20 overnight visitors.
The Moonlight Dinner Run promises a memorable experience inside old train carriages. Your late afternoon journey will begin from the magnificent Victoria Falls and continue into the heart of the Zambezi National Park.
There, passengers are treated to a three-course dinner, champagne and gourmet canapes under the starry sky.
The Rock Restaurant - Zanzibar, Tanzania
The Rock Restaurant - Zanzibar, Tanzania
Ali Barbour Cave - Kenya
Ali Barbour - Kenya
Cargo Hold - South Africa
La Tante DC 10 Restaurant - Ghana
La Tante DC 10 Restaurant - Ghana
The Big Baobab - South Africa
The Big Baobab - South Africa
Moonlight Dinner Run - Victoria Falls
Moonlight Dinner Run - Victoria Falls