Brad Pitt and Angelina Jolie marry in France
updated 10:10 AM EDT, Mon September 15, 2014
STORY HIGHLIGHTS
The couple married in France over the weekend
They are the parents of six children
Pitt and Jolie have been together for almost a decade
(CNN) -- Brad Pitt and Angelina Jolie married over the weekend in France, a representative for Jolie confirmed Thursday.
The couple, who are the parents of six children, have been together for almost a decade. They got married Saturday in a small, private ceremony in a chapel at Château Miraval in the village of Correns.
Pitt and Jolie have been the source of speculation about their relationship almost since the beginning. Tongues first started wagging after the pair met on the set of "Mr. & Mrs. Smith" in the summer of 2004, when Pitt was still married to actress Jennifer Aniston.
Angelina Jolie and Brad Pitt to co-star in 'By the Sea'
In January 2005, Pitt and Aniston announced that they were splitting. Aniston filed for divorce in March 2005.
The following month, photos surfaced of Pitt, Jolie and her adopted son Maddox together in Kenya. Jolie later adopted daughter Zahara from an orphanage in Ethiopia and in early 2006 she announced that she and Pitt were expecting a baby. Shortly thereafter, Pitt was granted the right to legally adopt Maddox and Zahara.
Their daughter Shiloh was born in May 2006 and son Pax was adopted from an orphanage in Vietnam in March 2007. Jolie gave birth to twins Vivienne and Knox in July 2008.
The couple announced their engagement in 2012.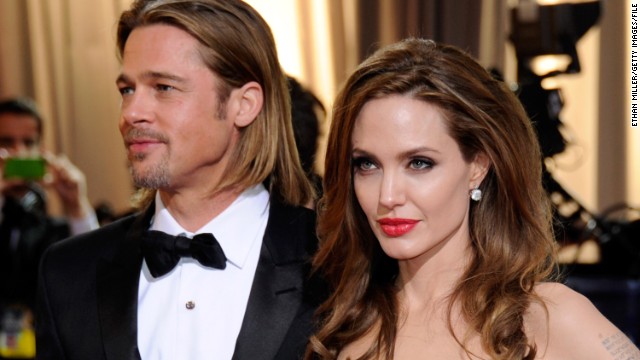 The lives of Brad Pitt and Angelina Jolie, both on and off the big screen, make headlines around the world. A representative for Angelina Jolie confirmed the couple were married in August in a small, private ceremony in France. The couple have six children together and have been together for nine years.
Jolie meets Britain's Queen Elizabeth II as she is presented with an honorary damehood Friday, October 10, at Buckingham Palace in England.
Pitt's wedding ring is visible on August 28 as he arrives for a promotional photo call for his film "Fury" at Bovington Tank Museum in Dorset, England.
Jolie listens to a speaker during the Global Summit to End Sexual Violence in Conflict, which was held in London in June.
Jolie and Pitt arrive at the premiere of Jolie's "Maleficent" at the El Capitan Theatre in Hollywood on May 28.
Pitt and Jolie, upper right, take part in a mass selfie with other movie stars during the Academy Awards in March.
A woman poses with wax figures of Jolie and Pitt at Madame Tussauds in London in December.
Jolie takes a selfie with fans at the premiere of Pitt's "World War Z" in Paris in June 2013.
In this handout image provided by the United Nations High Commissioner for Refugees, Jolie meets with refugees at the Zaatari refugee camp outside of Mafraq, Jordan, in December 2012.
Pitt and Kevin Bacon perform a one-night reading of the play "8," presented at The Wilshire Ebell Theatre in Los Angeles in March 2012.
Pitt attends a news conference for his film "Killing them Softly" at the Cannes International Film Festival in France in May 2012.
Jolie visits a man in a hospital in Misrata, Libya, in October 2011 in this handout photo provided by UNHCR.
Jolie and Pitt visit refugees in the village of Medjedja, Bosnia, in April 2010.
From left, Pitt, George Clooney, Jerry Weintraub and Matt Damon pose for a photo during their handprint ceremony on Hollywood's Walk of Fame in June 2007.
Pitt and Jolie get close in a scene from their first film together, "Mr. and Mrs. Smith," in 2005.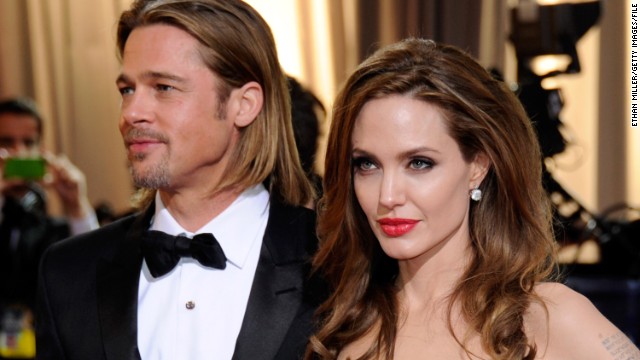 Brad Pitt and Angelina Jolie
Pitt and Jolie recently told People that the wedding would be a family affair.
"We are discussing it with the children and how they imagine it might be," Jolie said. "Which is verging on hysterical, how kids envision a wedding...They will, in a way, be the wedding planner. It's going to be Disney or paintball -- one or the other!"
According to a statement from the family "Angelina was walked down the aisle by her eldest sons Maddox and Pax. Zahara and Vivienne threw petals, gathered from the garden. Shiloh and Knox were the ring bearers."
"In the days before coming to France, and as citizens of California, Brad and Angelina filled out their paperwork and obtained a marriage licence from a local judge, who also travelled to France to conduct the ceremony at Chateau Miraval," the statement said. "They are therefore married under Californian law."
Brad Pitt: Angelina is 'sexy as ever'
The uniting of Pitt and Jolie in matrimony has been one of the most anticipated marriages in Hollywood. In 2006 Pitt told Esquire magazine that he and Jolie would not marry until "everyone else in the country who wants to be married is legally able." He reaffirmed their commitment to marriage equality in a 2011 interview with People.
"Thanks to the tireless work of so many, someday soon this discrimination will end and every American will be able to enjoy their equal right to marriage," Pitt said in a statement to the magazine following the legalization of same-sex marriage in New York State.
CNN's Rachel Wells contributed to this report.