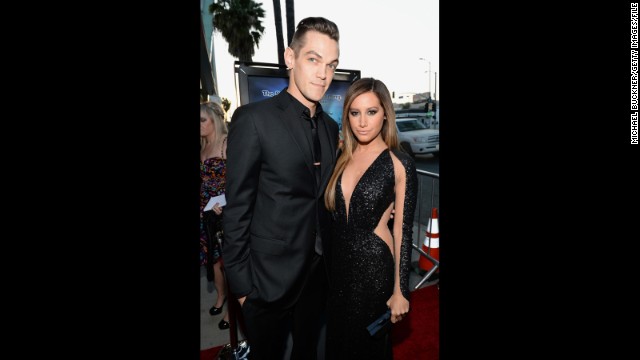 When "High School Musical" star Ashley Tisdale married musician Christopher French on September 8, she reportedly had a plan in place to keep the ceremony private.
According to E!
, the couple had guests arrive at a different location before shuttling them over to the wedding's private venue. Here are more celebrity couples who kept their weddings quiet until they felt like sharing:
After a 10-year relationship and two kids together, David Burtka and Neil Patrick Harris finally tied the knot in Italy the weekend of September 5 without a peep of advance notice.
The same weekend that Neil Patrick Harris and David Burtka married, TV star Fran Drescher was quietly marrying Dr. Shiva Ayyadurai at their home. Drescher met Ayyadurai, who developed an email program when he was a teenager, just over a year ago. She shared the surprise marital update on Twitter September 7.
Despite being one of the most closely watched couples in the world, Brad Pitt and Angelina Jolie managed to get married in complete privacy. Their French wedding on August 23 was so secretive it took five days for the rest of the world to hear about it.
Beyonce and Jay Z are professionals in every sense of the word, especially when it comes to keeping their private life hidden. The couple, pictured here in 2008, dated for six years before secretly marrying in New York on April 4, 2008. They were so insistent on keeping it just between them that Jay Z
out-of-the-blue engagement to French dancer
Benjamin Millepied
, which was announced at the same time as her first pregnancy.
Portman keeps her personal life so hush-hush that onlookers thought she and Millepied had wed months before they actually tied the knot in August 2012.
Good luck guessing what Natalie Portman is going to do next. The star isn't known for sharing much about her private life, but when she does she drops some doozies. In December 2010, the actress caught fans off guard with her
Ben Affleck and Jennifer Garner declined to officially announce their engagement in April 2005, and they were just as elusive with their secret island wedding that June.
she pulled off another hush-hush wedding
in 2012, when she married Wissam Al Mana in a "quiet, private, and beautiful ceremony."
Janet Jackson just isn't one to marry and tell. The pop superstar wed Rene Elizondo, Jr. in 1991, but no one knew about it until Elizondo filed for divorce around 2000. Jackson's so good at keeping secrets that
Cutting down on the number of attendees is one way to keep your matrimony on the DL. In 2006, Sacha Baron Cohen and Isla Fisher swapped vows in Paris in front of just six wedding guests.
but the actress refused to say whether it happened or not
. She played it similarly close to the vest when she became very evidently pregnant toward the end of 2013.
Like Saldana, Kerry Washington has been extremely reluctant to talk about her husband or her baby. There were multiple reports that the "Scandal" actress had wed football player Nnamdi Asomugha in June 2013 in Idaho,
but no one saw their Southern wedding coming
. That August, Lively and Reynolds secretly said "I do" in South Carolina. Even though the wedding had Florence Welch of Florence and the Machine performing, somehow the couple managed to keep the ceremony so under wraps,
we still don't know
what the bride wore.
In 2012, we knew that Ryan Reynolds was romantically linked to "Gossip Girl" actress Blake Lively,
paparazzi caught the bride in her custom Valentino dress
-- but at least the walkup to her private affair wasn't publicized.
When Anne Hathaway wanted to create a low-key wedding, she made like Natalie Portman and headed for Big Sur in California. The Oscar winner didn't fully escape all eyes as she wed Adam Shulman in September 2012 --
When Britney Spears wants to get married, she doesn't hesitate. The singer first had a quickie wedding to childhood friend Jason Alexander in Las Vegas in January 2004. Then, after getting that 55-hour marriage annulled, she held a second surprise wedding in September 2004 to backup dancer Kevin Federline. Her secret there was the switcheroo: The ceremony was held a month prior to the date that was publicized.
In 2011, LeAnn Rimes played a Britney Spears card and tricked the media. While friends and family thought they were attending an engagement party for Rimes and actor Eddie Cibrian that April, they were actually attending their wedding.
declined to get married until their gay friends could legally wed, too
. But
once that was accomplished
, Shepard and Bell didn't make a big deal out of their ceremony. In October 2013, they went over to the Beverly Hills County Clerk's Office and
had a "no-frills" ceremony
that
Shepard later said
set them back just $142.
Like Brangelina, Dax Shepard and Kristen Bell
was just as private
when it came to their wedding in Costa Rica that May. The couple is
now expecting
their first child.
Former Destiny's Child star Kelly Rowland is just as secretive as her friend Beyonce. The singer kept her engagement to her manager, Tim Witherspoon, to herself for months before revealing the news in December 2013, and
as of March 2012
-- when Martinez himself let the news slip -- but
Berry didn't talk about it until weeks later
. The couple's moves toward the altar were closely tracked, which meant that even though they didn't talk about it, we still knew they were
tying the knot in a private affair in France in July 2013.
The world knew that Halle Berry was planning to marry French actor Olivier Martinez
Kelly Clarkson tried to trick us into believing
that she and Brandon Blackstock wouldn't have a wedding, and instead would just elope. But in October 2013,
she shared photos of herself and her new husband
getting hitched at Blackberry Farms in Tennessee.
At first,
Jessica Alba and Cash Warren were so intent on keeping their marriage private that they did away with wedding guests altogether. The only other person present at the couple's uber-private ceremony at a Beverly Hills courthouse in May 2008 was the official who married them.
happily shared their baby news
, but tried to keep their status as newlyweds a secret. It didn't quite work. While fans were anticipating the arrival of Paltrow and Martin's first child, the press sniffed out the news that the couple had gotten married in a surprise, secret ceremony two days after announcing they were expecting.
In December 2003, Gwyneth Paltrow and Chris Martin
Surprise! We're married!
Surprise! We're married!
Surprise! We're married!
Surprise! We're married!
Surprise! We're married!
Surprise! We're married!
Surprise! We're married!
Surprise! We're married!
Surprise! We're married!
Surprise! We're married!
Surprise! We're married!
Surprise! We're married!
Surprise! We're married!
Surprise! We're married!
Surprise! We're married!
Surprise! We're married!
Surprise! We're married!
Surprise! We're married!
Surprise! We're married!
Surprise! We're married!
Surprise! We're married!
Surprise! We're married!
Surprise! We're married!