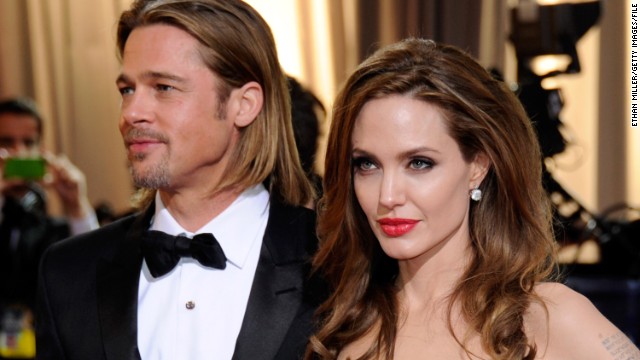 The lives of Brad Pitt and Angelina Jolie, both on and off the big screen, make headlines around the world. A representative for Angelina Jolie confirms the couple were married Saturday in France in a small, private ceremony. The couple have six children together and have been together for nine years. They announced their engagement in 2012. Pictured here, Pitt and Jolie arrive at the Academy Awards in February 2012 in Hollywood.
Pitt's wedding ring is visible as he arrives for a promotional photocall for his latest film, "Fury," at Bovington Tank Museum in Dorset, England, on Thursday, August 28.
Jolie listens during to a speaker during the Global Summit to End Sexual Violence in Conflict in London on June 12.
Jolie and Pitt arrive at the premiere of Jolie's "Maleficent" at the El Capitan Theatre in Hollywood on May 28.
Pitt and Jolie (upper right) appear in a mass selfie with other movie stars during the Academy Awards in March.
A woman poses with wax figures of Jolie and Pitt at Madame Tussauds in London in December 2013.
Jolie takes a selfie with fans at the premiere of Pitt's "World War Z" in Paris in June 2013.
Jolie meets with refugees at the Zaatari refugee camp outside of Mafraq, Jordan, on December 6, 2012, in this handout image provided by the United Nations High Commissioner for Refugees.
Pitt and Kevin Bacon perform a one-night reading of the play "8," presented at The Wilshire Ebell Theatre in Los Angeles, in March 2012.
Pitt attends a press conference for his film "Killing them Softly" at the Cannes International Film Festival in France in May 2012.
Jolie visits a man in a hospital in Misrata, Libya, in October 2011 in this handout photo provided by UNHCR.
Jolie and Pitt visit refugees in the village of Medjedja, Bosnia, in April 2010.
Pitt, George Clooney, executive producer Jerry Weintraub and Matt Damon pose for a photo during their hand-print ceremony on Hollywood's Walk of Fame in June 2007.
Pitt and Jolie get close in a scene from their first film together "Mr. and Mrs. Smith" in 2005.
Brad Pitt and Angelina Jolie
Brad Pitt and Angelina Jolie
Brad Pitt and Angelina Jolie
Brad Pitt and Angelina Jolie
Brad Pitt and Angelina Jolie
Brad Pitt and Angelina Jolie
Brad Pitt and Angelina Jolie
Brad Pitt and Angelina Jolie
Brad Pitt and Angelina Jolie
Brad Pitt and Angelina Jolie
Brad Pitt and Angelina Jolie
Brad Pitt and Angelina Jolie
Brad Pitt and Angelina Jolie
Brad Pitt and Angelina Jolie