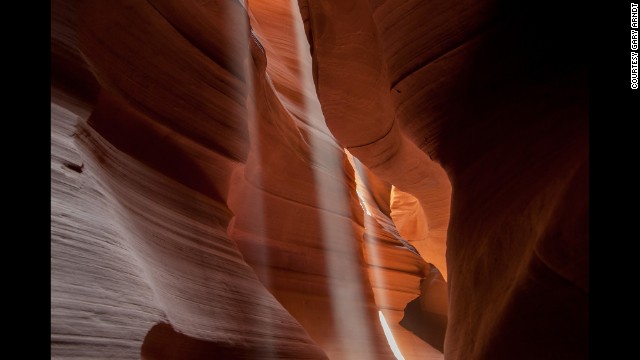 Get to Arizona's Antelope Canyon when the sun is at its highest, travel photographer Gary Arndt says, to see this light streaming through the slot canyon.
Utah's Monument Valley Navajo Tribal Park, which is part of the Navajo Nation's parks and recreation system, has been a backdrop for countless Western movies.
The most popular national park in the United States, Great Smoky Mountains National Park hosted more than 9 million visitors in 2013. The park straddles Tennessee and North Carolina.
Chicago's Millennium Park features cutting edge architecture and art, including Cloud Gate, shown here, which is British artist Anish Kapoor's first public outdoor work in the United States.
Skagway in Alaska was the starting point for the Klondike gold rush, which is why it swells in the summer months with cruise ship passengers. Book a trip on the White Pass & Yukon Route Railroad to travel the same route prospectors took to get to the Yukon.
Everglades National Park in Florida is the largest protected wilderness area east of the Mississippi River.
The Grand Canyon should be on everyone's list of places to visit, says Arndt. "It is hard to take a bad photo of the Grand Canyon," he says. "Most people visit the South Rim of the canyon, but consider visiting the North or East rims as well. For the more adventurous, also consider rafting down the Colorado River or hiking to the canyon floor."
Because North Dakota's Theodore Roosevelt National Park manages a herd of about 100 feral horses, visitors can experience the badlands as it was when Theodore Roosevelt visited for the first time in 1883.
Arndt likes to visit Yosemite National Park in California in early to mid-May, avoiding the summer crowds, but still witnessing the waterfalls at their peak.
The Golden Gate Bridge, which connects the city of San Francisco with Marin County, is named after the Golden Gate Strait. The strait is the entrance to San Francisco Bay from the Pacific Ocean.
While the Big Apple offers plenty of landmark buildings, Arndt says the most photogenic parts of New York are "the small things you can see walking around almost any neighborhood."
a 50-mile road
which crosses the park from the borders of its east to west entrances.
Visitors to Glacier National Park in Montana shouldn't miss driving the Going-to-the-Sun Road,
Carlsbad Caverns National Park has the "most beautiful cave in the United States," says Arndt. "The stalagmites and stalactites are lit up to enhance their beauty."
Lower Antelope Canyon, Arizona
Monument Valley, Utah
Great Smoky Mountains National Park
Millennium Park, Chicago
Skagway, Alaska
Everglades National Park, Florida
Grand Canyon National Park, Arizona
Theodore Roosevelt National Park, North Dakota
Yosemite National Park, California
Golden Gate Bridge, California
New York City
Glacier National Park, Montana
Carlsbad Caverns National Park, New Mexico