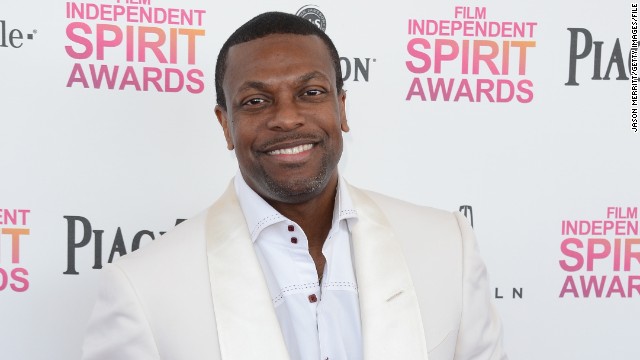 Comedic actor Chris Tucker has been able to reach a deal with the IRS after the government filed a $2.5 million tax lien against him. According to a rep for Tucker, the "Silver Linings Playbook" star worked out the resolution on Friday, August 29, leading to a settlement.
Vanessa Williams might soon be writing a very big check. The IRS has filed a tax lien against the actress, saying that she owes $369,249 to the federal government for her earnings in 2011. At the time, Williams was working on the ABC prime-time soap "Desperate Housewives."
reportedly
$1.3 million in debt, with $1.2 million of that being in back taxes.
Actor Mekhi Phifer has filed for bankruptcy, according to court papers obtained by CNN. The "Divergent" star is
According to TMZ
, Polo owes about $772,000 in back taxes and more than $36,000 in credit card debt.
Actress Teri Polo, from "Meet the Parents" and ABC Family's "The Fosters," filed for bankruptcy in April.
Singer Aaron Carter filed a bankruptcy petition
to shed more than $2 million in debt, mostly taxes owed from his days as a teen sensation, his publicist told CNN in November.
Singer Lauryn Hill was sentenced to three months
in prison in May 2013. She told a judge she intended to pay taxes but it was just a question of when.
Judy Garland's tax debt forced her to do something she vowed she would never do: host a television show. To pay the IRS for delinquent taxes dating back a decade, the singer/actress signed a $24 million deal with CBS for "The Judy Garland Show" in 1962.
Willie Nelson cleared his $32 million tax debt by selling assets and an album titled "The IRS Tapes: Who'll Buy My Memories?" Nelson discovered in 1990 that his accountants had not fully paid his taxes -- a find made tougher by investment losses in the 1980s.
In 1990, baseball legend Pete Rose spent five months in prison for tax evasion convictions stemming from money made selling autographs and memorabilia. The tax man returned to his door in 2004 with a $1 million lien for back taxes.
Lil' Kim blamed her accountant when her tax troubles arose in 2005. Seven years later, the rapper still had to pay more than $1 million to the government.
While O.J. Simpson has known bigger legal problems, delinquent taxes are on the list. The former football star, who's serving a long prison sentence in Nevada, owed the IRS and the state of California hundreds of thousands of dollars, according to court documents.
Comedian Sinbad racked up a large unpaid tax bill, owing $8 million to the IRS for income from 1998 to 2006, according to an IRS court filing in 2012. California officials also reported that he owed the state $2 million. After filing for bankruptcy and selling his home, Sinbad used the tax troubles as material for a reality show.
Actor Nicolas Cage revealed in 2010 that he owed $14 million in back taxes, which he has been working to pay off since. A federal tax lien said he owed $6.2 million from income in 2007.
Wesley Snipes walked out of a federal prison in April 2013 after serving a tax evasion sentence that began in December 2010. The actor claimed that he was not legally obligated to pay federal taxes, an argument a jury did not buy.
Rapper Jeffrey Atkins, also known as Ja Rule, was sentenced to 28 months in prison in July 2011 for failing to file tax returns with the IRS. Atkins admitted that he did not file his taxes for five years.
Ozzy Osbourne and his wife, Sharon, were hit with a federal tax lien in April 2011 on one of their Los Angeles homes. The couple owed $1.7 million in back taxes from 2008 and 2009. Sharon Osbourne initially blamed an accountant but later took personal responsibility.
Dionne Warwick filed for bankruptcy in March 2013, citing more than $10 million in tax debt dating to 1991. Her publicist blamed "negligent and gross financial mismanagement."
Actress Pamela Anderson was hit by a big back-tax bill in December 2012, totaling about $370,000.
In 1997, "Hollywood Madam" Heidi Fleiss was sentenced to 30 months in a federal prison for convictions on conspiracy, tax evasion and money laundering relating to a high-priced prostitution ring. She served 20 months.
Celebrity tax woes
Celebrity tax woes
Celebrity tax woes
Celebrity tax woes
Celebrity tax woes
Celebrity tax woes
Celebrity tax woes
Celebrity tax woes
Celebrity tax woes
Celebrity tax woes
Celebrity tax woes
Celebrity tax woes
Celebrity tax woes
Celebrity tax woes
Celebrity tax woes
Celebrity tax woes
Celebrity tax woes
Celebrity tax woes
Celebrity tax woes