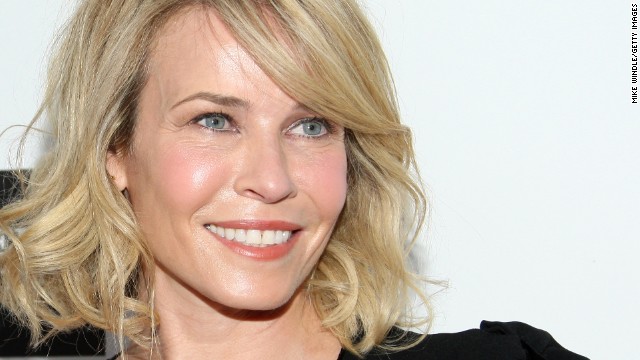 Chelsea Handler's barbed humor is taking her from late-night to Netflix. After spending seven years as the E! network's formidable comedian and celebrity interviewer, Handler's moving on to uncharted waters. Here's how she's carved her path:
prompted her entree into stand-up comedy
. It was while working as a waitress that she gave stand-up a whirl -- and immediately found her calling. She was gaining a reputation for her biting wit when she appeared on "The Tonight Show With Jay Leno" in 2004.
A New Jersey native, Handler first moved to Los Angeles at 19 with the goal of becoming an actress. At 21, she turned a legal lemon into lemonade when a DUI
In 2005, Handler released her first book, the best-selling "My Horizontal Life: A Collection of One-Night Stands."
Handler did eventually land work as an actress -- she's made appearances in TV dramas such as "The Practice" as well as comedies such as "My Wife and Kids" and "The Bernie Mac Show." But her stand-up career has been so successful that she's performed at renowned venues such as The Laugh Factory in Los Angeles.
In 2006, Handler -- pictured here, center, at the June 1, 2006, premiere of "National Lampoon's Cattle Call" in Las Vegas -- made her foray into late-night TV. Her first show was a sketch program called "The Chelsea Handler Show," which lasted for a season. The following year, "Chelsea Lately" premiered on E!.
Handler feted the "Twilight" director thusly
: "As you all know, Catherine directed 'Twilight.' When I first read that movie was about a guy who stays out all night sinking his teeth into young girls, I was like, 'Why are they making a movie about Jeremy Piven?'" When the audience hooted with surprise, Handler replied, "It's OK, you can laugh at that. He's an a**hole."
Wherever Chelsea Handler pops up, you can always expect a surprise. When she spoke at the 2009 Crystal + Lucy Awards,
Her antics
included getting "pregnant" after sharing a hot tub with the cast of "Jersey Shore" and referring to Kanye West as the "big, black elephant in the room." Needless to say,
Handler's performance was controversial.
As "Chelsea Lately" became a late-night mainstay, Handler moved on to bigger stand-up waters -- such as the MTV Video Music Awards in 2010.
It seems the more famous Handler's become, the more she hangs out with the A-listers. Jennifer Aniston, pictured here with Handler at Glamour's 2011 Women of the Year Awards, is just one of the host's celebrity pals.
In 2012, Handler's brand of comedy was so popular that NBC tried to get a piece of her success with the comedy "Are You There, Chelsea?" based on her 2008 hit book, "Are You There Vodka? It's Me, Chelsea." The sitcom starred Laura Prepon with Handler serving as an executive producer. The series only lasted one season.
Jimmy Fallon announced he was leaving "Late Night"
in 2013. Here, she joins Fallon and Steve Higgins on NBC's "Late Night" in November 2012. The show was eventually taken over by "Saturday Night Live's" Seth Meyers.
Handler had become such a popular presence on late-night TV that many were pulling for her to make the jump from cable to broadcast when
While the clamoring to see Handler move into the late-night boys club on broadcast continued -- more opportunities popped up when David Letterman, too, announced his retirement -- Handler had something else up her sleeve. "I have never had nor will have any desire to take a job someone else has already had," Handler tweeted in April 2014. "Speculation to the contrary is inaccurate. Godspeed."
It's easy to see why everyone wanted Handler to get an even bigger platform, though -- we really just want more moments like these, when she kissed "Silver Spoons" star Ricky Schroder on Bravo's "Watch What Happens Live" in 2013.
Handler said in a statement
at the time, quipping, "No offense to the 'Shahs of Sunset.' "
In the end, Handler surprised everyone in April 2014 when she announced that she was moving to Netflix. The new role will involve stand-up comedy specials and another talk show. "I'm more excited than I've been in awhile, and the team at Netflix is the most forward thinking, alert group I've sat down with in ages,"
Chelsea Handler: From 'Lately' to Netflix
Chelsea Handler: From 'Lately' to Netflix
Chelsea Handler: From 'Lately' to Netflix
Chelsea Handler: From 'Lately' to Netflix
Chelsea Handler: From 'Lately' to Netflix
Chelsea Handler: From 'Lately' to Netflix
Chelsea Handler: From 'Lately' to Netflix
Chelsea Handler: From 'Lately' to Netflix
Chelsea Handler: From 'Lately' to Netflix
Chelsea Handler: From 'Lately' to Netflix
Chelsea Handler: From 'Lately' to Netflix
Chelsea Handler: From 'Lately' to Netflix
Chelsea Handler: From 'Lately' to Netflix
Chelsea Handler: From 'Lately' to Netflix